It's possible to control multiple systems simultaneously with just one screen, keyboard, and mouse. Yes, this is possible with the help of software that facilitates this kind of work. Additionally, with the help of this process, we can save both time and money. With a KVM switch, you can control several computers using a keyboard, mouse, console, or monitor. Switching between computers is done via buttons or hotkeys on the switch. KVM switches also normally provide OSDs to switch between computers, depending on the size. Using the operational panel is also an option. With the USB KVM 4-port USB hub, you can share USB peripherals between four PCs or Macs, as if they were directly connected. Listed below are the best 4 port KVM switches with proper guides that are tested and quality-ensured.
Best 4 Port KVM Switch Reviews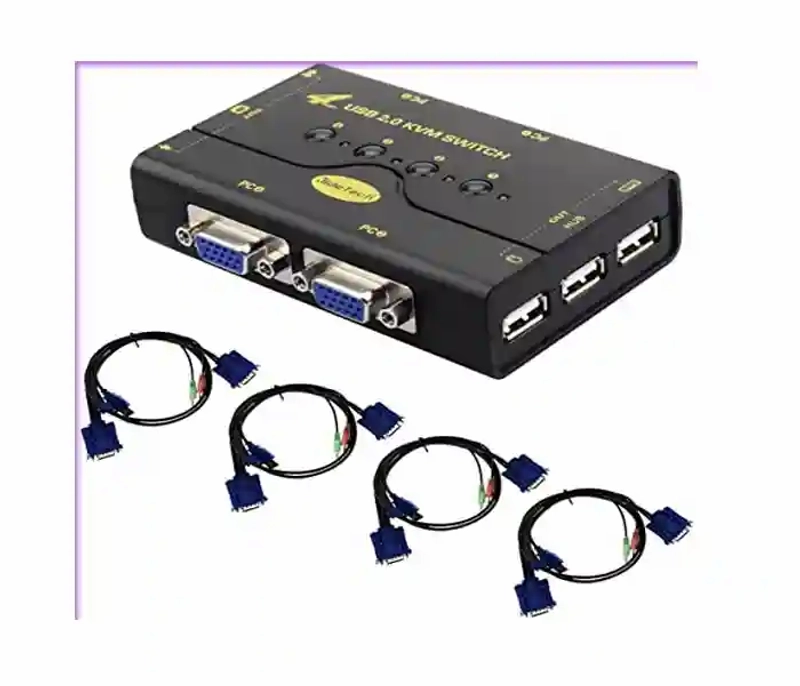 SPECIFICATIONS
Brand: JideTech | Switch Type: Push Button Switch | Item Dimensions LxWxH: 1.96 x 3.15 x 3.15 inches | Mounting Type: Plug-In Mount | Actuator Type: Push Button | Controller Type: Push Button
REASONS TO BUY
✓ No external power supply required
✓ No software or drivers required
✓ Cable is also less interference due to the USB design
✓ Can share audio speakers between pc's as well
REASONS TO AVOID
✗ Does not support wireless Peripherals
The 4 port VGA KVM Switch only gives you VGA ports to connect your computer which is kind of a little disappointing in the price bracket that it comes in. Now although it only has VGA ports you can still use it without any problems because it provides you a max resolution of 1920x1440p which is not that bad. Other features that it includes are supporting hot-plug and disconnect which allows you to connect and disconnect computers without actually rebooting other systems, Front push buttons for easy usage, No drivers or software is needed for setup, USB 2.0 Hub for connecting other devices, and USB self on the operation. Now like all the other devices this one also comes with all the necessary accessories within the box.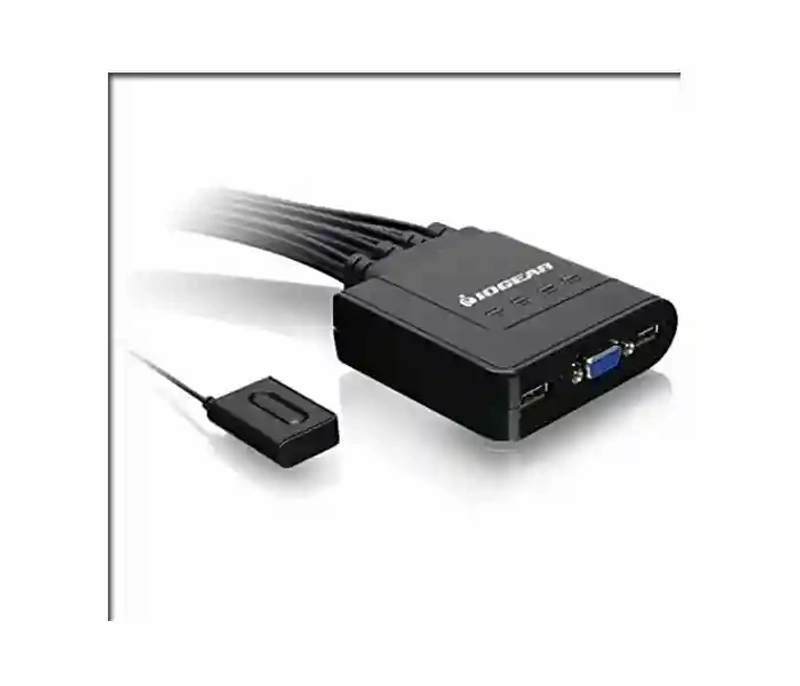 REASONS TO BUY
✓ Cables are adequate quality
✓ Full audio switching capability
✓ Easy to set up
✓ Budget Friendly
REASONS TO AVOID
✗ USB ports are very hard
This IOGEAR 4-PORT USB KVM Switch is a completely different product from the first IOGEAR Device because the first thing that you will notice about this device is that it is a very small compact based device that has 2 attached KVM (USB AND VGA) cables that can provide you with a max screen resolution of 2048x1536 but the good news is that it supports 4 Computers controlled by a single USB keyboard and mouse. Now first of all this is a very low budget device and is the reason that you are not getting any fancy things like HDMI or USB 3.0 support but the one thing that you do get at this very low price is the warranty period of 3 years and a lifetime technical support which is very nice and you don't have to worry about it anymore.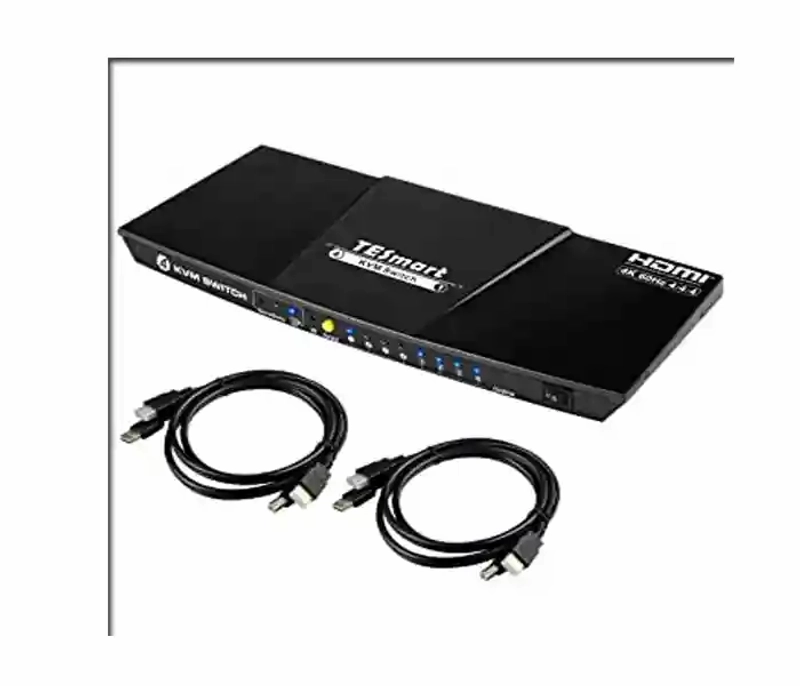 View on Amazon Read Customer Reviews
The TESMART is also another midrange device like CKLAU and just like other products it also supports a total connection of 4 PCs and can share 2 monitors with help of the keyboard and mouse Hotkeys which are also connected to the device by a normal USB port. The TESMART has 1 HDMI output and a dedicated USB 2.0 for USB Printer and other kinds of products that can be connected to it and it also supports the audio output jack. Now, unfortunately, it doesn't have any USB 3.0 port and requires its power adapter of 5V which is included in the box but it is still a better product like it has an IR Receiver and tells you the status of connected devices through LED lights which other products don't have and another thing that is worth mentioning here is that it is also a low budget product.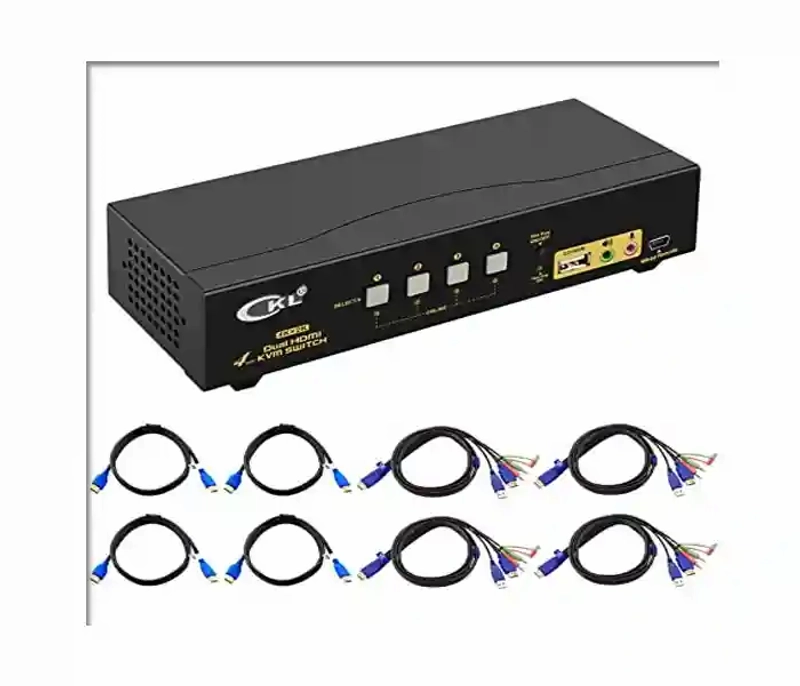 View on Amazon Read Customer Reviews
The 4 Port Dual monitor HDMI KVM Switch is made up of iron and uses a connector type of HDMI and with these HDMI Connectors the KIT provides you with a 4k resolution of 30HZ/3D/1080p for some people 30HZ may not seem to be good but it provides you with a most realistic looking image quality so watching movies or other stuff will be quite good. The KIT is powered by USB so there is no need for any additional power adapters. You just connect it with 1 USB micro power cord that comes within the box making it much easier to connect and use it. This kit also allows you to control 4 computers and share 2 monitors with the help of a mouse and keyboard.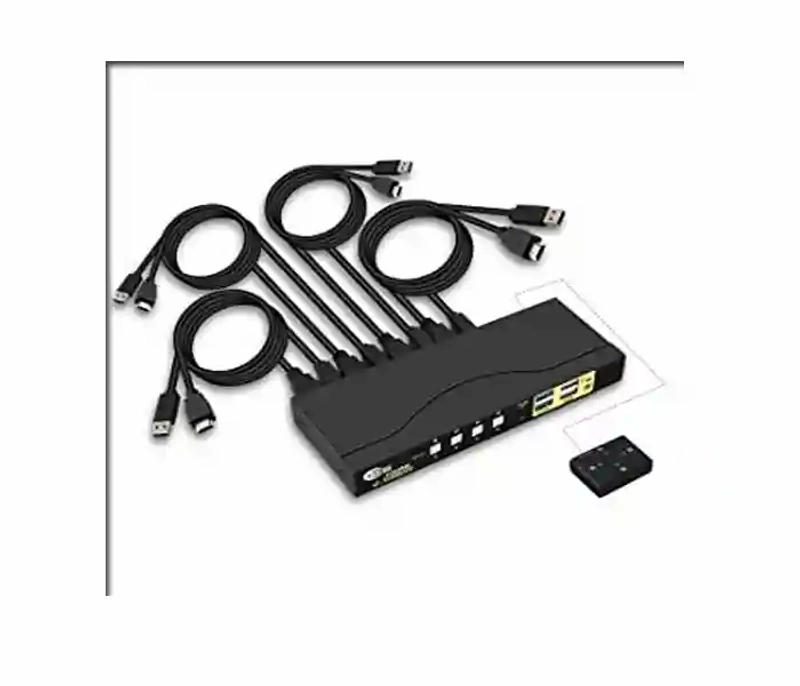 best kvm switch for gaming
View on Amazon Read Customer Reviews
The CKLAU uses a KVM switch and comes in 4 different options all having their differences of ports and other small things and this one is the mid-range one. The CKLAU is made from metal and has a 2-way circuit. The ports that are included in the CKLAU front panel are 2 USB 3.0 which provides a transfer rate of 5.0 GBPS which is 10 times faster than a USB 2.0, 2 Normal ports for USB and Mouse attachment, and audio output, and on the back, there is an HDMI Output, PC2 USB and audio output, PC1 and PC2 HDMI input and PC1 USB+ Audio output. The CKLAU can provide you with a resolution of 4096x2160 @60HZ, 3840x2160@60HZ, and 1080p. It supports a hot plug. You can switch it by mouse or keyboard independently and also this best KVM switch 4k 60hz can enter into your computer BIOS directly.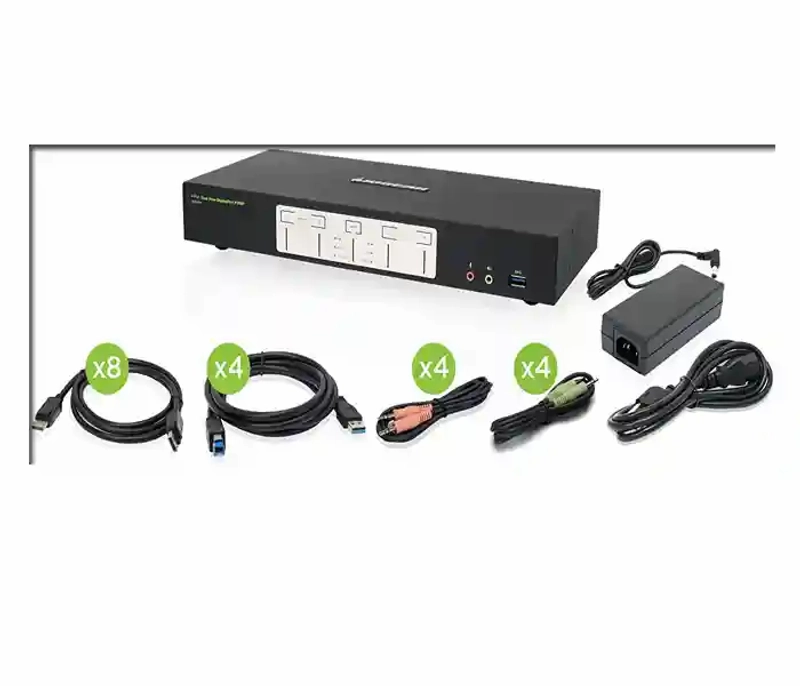 best KVM switch for wireless keyboard and mouse
View on Amazon Read Customer Reviews
The IOGEAR 4-Port DisplayPort provides a perfect solution for professional people who want to use multiple monitors at the same time because it allows you to switch between 4 systems and share 2 displays by simply pushing a button and allows you to mix and match DVI and DisplayPort connections. IOGEAR keyboard mouse switch offers you 8 DisplayPort to DVI active adapters which gives you the flexibility of Plug-N-Play features you don't need to download any kind of drivers for this to set up. Just easily switch between monitors by pressing the front button on the device or keyboard or mouse shortcut keys. The IOGEAR comes with all the accessories in the box which saves you any kind of additional money.
Conclusion
Listed above are Best 4 Port KVM Switches that come in various prices and ranges, each with its pros and cons, and now it's your decision which one you want. All the switches mentioned above would be suitable for your monitor. However, if you are considering quality, we would recommend that you purchase a 4 Port VGA KVM Switch with USB Hub, as this would be the most suitable switch for your monitor in terms of both quality and durability, but if you are not satisfied with it no worries there are several more up there, take your pick.