Motherboards are complex to operate unless you know what they do. Hundreds of motherboards are available varying from different prices. Expensive motherboards are a one-time purchase, meaning you can install any other PC component on them once you buy them, assuming that you can afford them.
Our Top 3 Recommendations
Best Pick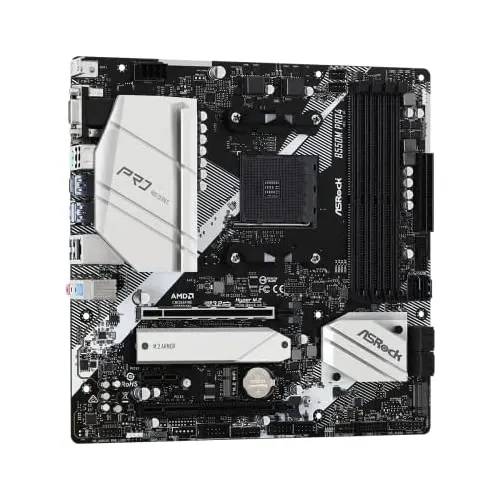 ASRock B550M PRO 4
Most Popular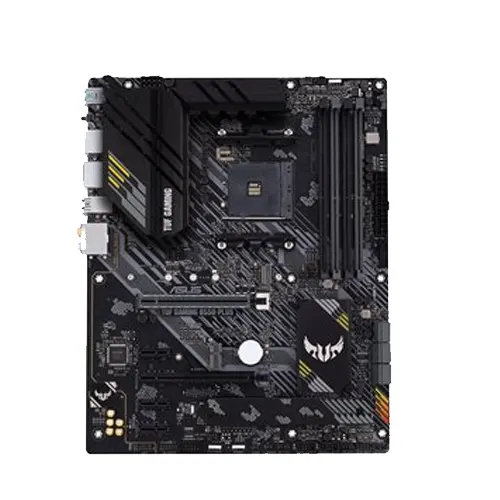 ASUS TUF Gaming B550-PLUS
Budget Pick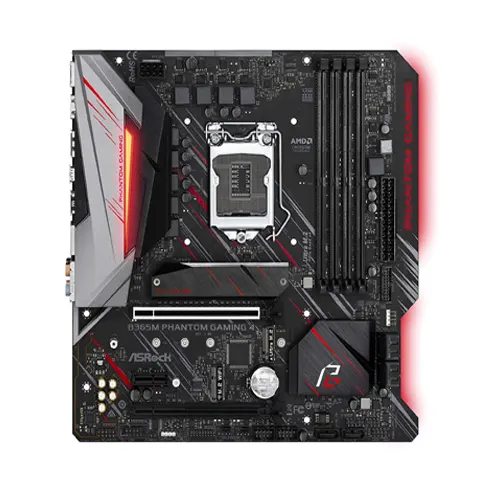 ASRock B365 Phantom Gaming 4
So, without the right amount of knowledge about the inexpensive aka low budget motherboards, there can be several problems. Expensive motherboards don't have this drawback on a big scale because these motherboards already have the latest set of hardware and features.
All the manufacturers that make motherboards with a budget-friendly price provide different types of features and hardware in it which means that many motherboards of that low price tag can lack many options and features that other motherboards have at the same price tag. Some offer good design and features whereas other motherboards lack these types of things.
Surely there are compromises in a price tag like this so you can't expect any high-end features or great hardware. In this guide, I have enlisted some of the Best Motherboards Under 150$ price tag and can be a good choice overall for your PC. So, let's get to the products and see which one is the best for under 150$.
Best Motherboard Under 150 Summary
| Award | Image | Model | Price |
| --- | --- | --- | --- |
| Best B550 Motherboard Under 150 | | ASRock B550M PRO 4 | See On Amazon |
| Best Gaming Motherboard Under 150 | | ASUS TUF Gaming B550-PLUS | See On Amazon |
| Best Gaming Motherboard Under 150 | | ASRock B365 Phantom Gaming 4 | See On Amazon |
| Best Gigabyte Motherboard Under 150 | | GIGABYTE Z390 UD | See On Amazon |
| Best MSI Gaming Motherboard Under 150 | | MSI MPG B550 GAMING PLUS | See On Amazon |
| Best AMD Motherboard Under 150 | | MSI MAG B550M Mortar Gaming | See On Amazon |
| Best Overall Motherboard Under 150 | | ASUS Prime Z390-P | See On Amazon |
| Best B450 Motherboard Under 150 | | GIGABYTE B450 AORUS PRO Wi-Fi | See On Amazon |
Best Motherboard Under 150 At a Glance:
Best Motherboard Under 150 Reviews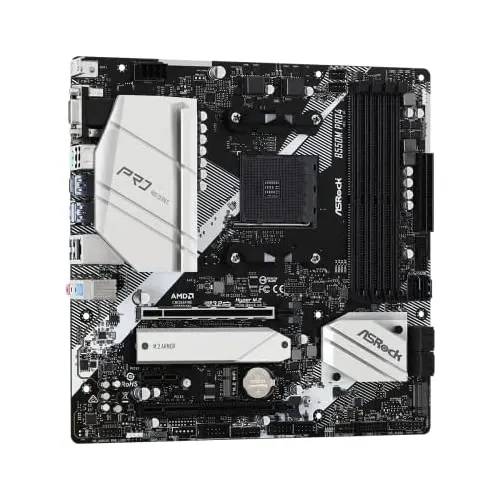 Best B550 Motherboard Under 150
Starting with the most feature-rich motherboard on the top of our list is the ASRock B550M motherboard. There are a number of things that this motherboard has which others don't and some of them are necessary as well.
Design-wise this motherboard is not top of the line but it's also not completely bad which sorts it in the middle of both good and bad. It comes in traditional black color and has frost white accents on top of it which add a little bit of life to its design and looks and to be honest it is the only downside of this motherboard.
THE B550M Pro4 comes with a B550M chipset which is not top of the line but it's an above good chipset that can work well with any Ryzen CPU. Speaking of Ryzen CPUs this 150 motherboard has an AM4 socket that can support Ryzen CPUs from 2nd gen to 5th generation and that is including the APUs.
So, in terms of compatibility and CPU upgrade, you can go wrong with this best motherboard Under 150 dollars. To maximize the performance of the CPUs it has an 8-phase power design that works well along with a Ryzen 7 chip.
There are 4 standard DDR4 memory slots available on the motherboard but the good news is that it can support 128GB of non-ECC Unbuffered DDR4 memory modules with Intel XMP profile support and these slots can handle a max speed of 4733MHz which is surprisingly good for a motherboard of this price furthermore there is also a PCI-E 4.0 x 16 slot along with PCI-E 3.0 x 16 and x8 slots that also lets you CrossFireX or use Nvidia SLI with it. The motherboard is built solid and it is the best-recommended motherboard under 150$.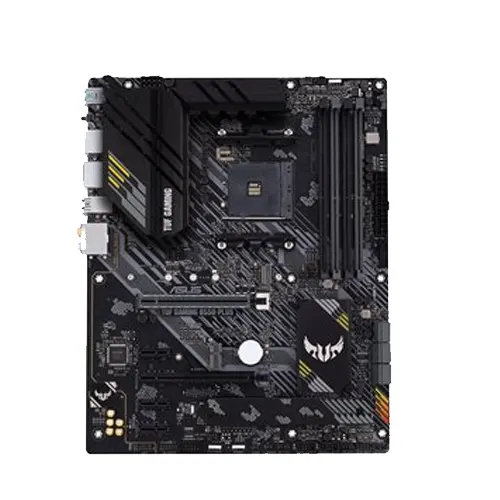 Best Gaming Motherboard Under 150
ASUS is one of the best manufacturers of PC parts in the whole market. Their products last much longer when used with care and they have better overall value so if you are willing to make an investment meaning looking for a motherboard that is going to last longer then this is the best durable motherboard for that purpose. Priced at a little above 150$ this ASUS motherboard serves some upgraded features when compared to the ASRock B550M Pro 4.
The design is the least concern when looking at a product at this price however if it looks good that is a bonus. This best b550 motherboard under 150 design could be better. It comes in overall black color and has little yellow accents with no protective metal plates but it does have a heatsink for the chipset.
The AM4 socket along with an upgraded version of the B550 Chipset allows you to install Ryzen CPUs from 2nd to 5th gen desktops CPUs. With a B550 chipset and a high-end CPU, it is going to run hot and that's why it has a VRM heatsink, M.2 heatsink, Hybrid fan headers, and Fan Xpert 4 utility inside the BIOS for better cooling.
You have the usual 4 DDR4 memory slots that can support 128GB of ECC memory with dual-channel support but no Intel XMP support but since it already supports a max speed of 4866MHz that is not an issue at all.
As for the GPU, it also comes with a PCI-E 4.0 x 16 slot and two PCI-E 3.0 x16 slots no CrossFireX or SLI is supported but it can support in the future with quick bios upgrade. SATA ports with a total transferring speed of 6GB/s allow for faster data transfers with the support of RAID 0,1,10. While it's true this motherboard costs a little more than the budget but if you can expand it then this is the best alternative to the already best ASRock B550 Pro 4.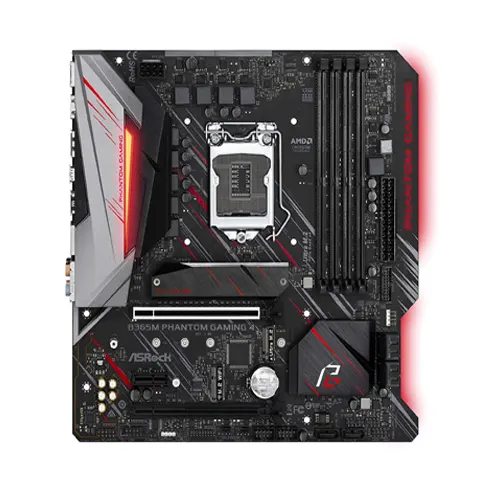 Best Gaming Motherboard Under 150
AMD has been on the rise with their new Ryzen Series CPUs and most people have switched to their CPUs because of the better value and performance but there are still some Intel fanboys who like to use the Intel CPUs.
This ASRock B365 Phantom Gaming 4 just like the B550M pro 4 is the best available motherboard for an Intel CPU. This motherboard compared to the Pro 4 has an overall better design and colors as it comes in black with red accents. On the back metallic plate, there is also RGB lighting with stylish lines. Moreover, it also has M.2 heatsink and Chipset heatsink.
This best lga 1151 motherboard under 150 is a perfect recommendation for those not willing to do highly intensive work on it. As the name already implies it is equipped with a B365 chipset that is above average and provides good performance.
This chipset along with the LGA 1151 Socket allows you to install any 8th or 9th gen Intel Core I series CPUs. Memory management is also not bad or good as it is average as it has 4 DDR4 memory slots that can only support a max speed of 2800MHz.
With 2 PCI-E 3.0 x 16 slots and 2 PCI-E 3. o x1 slots you can use AMD Quad CrossFireX which allows you to use 4 GPUs simultaneously at a single time. This greatly improves the Graphics performance in games and applications however it would be good if there was a PCI-E 4.0 slot so that newer GPUs that require it would also work on this best amd motherboard under 150.
The sound quality is more than good with 7.1 quad-channel audio output from Realtek. There is a total of 6 SATA Ports with 2 ultra-M.2 slots. In the end, it is the best motherboard for Intel CPUs available for under 150$.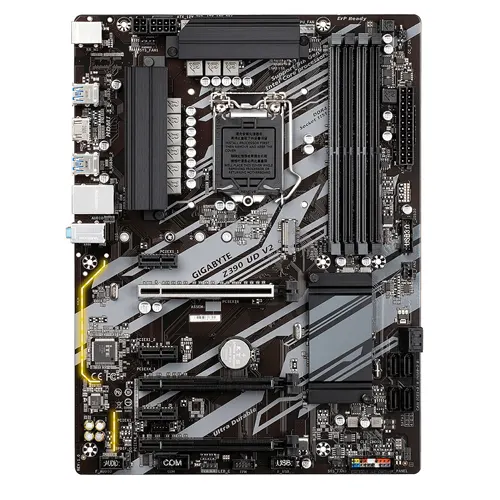 Best Gigabyte Motherboard Under 150
Gigabyte is a strong competitor to many other top manufacturers. Their products are durable and have great performance. Usually, their products have aggressive designs and with their Aorus series they have taken down the market with their beautifully designed products.
Unfortunately, this motherboard does not represent that because it is not the part of Aorus series and since it is a budget-friendly product design is the least concern here. SO, where this motherboard shines is the Hardware that it has.
For instance, it comes with an upgraded chipset, the Z390 which supposedly works better than the B365 chipset and with the help of a 12+2 power phase design it greatly helps in boosting the processor performance. So, any Intel 8th or 9th Gen I series CPU you put inside the LGA 1151 socket will work faster and to its full limits.
RAM management is greatly improved in this motherboard compared to the ASRock Phantom gaming 4. It does have the usual 4 memory slots with a max capacity of 12 gigs but they can support up to 4266MHz with the support of the Intel XMP profile. You can also use both ECC and NON-ECC memory modules with it.
The only down part in this motherboard is the only display output which is HDMI and since intel CPUs have onboard graphics it is highly possible that one would use this port and speak of onboard graphics these graphics can only have 1GB of shared memory.
The good news is that you can plug in any graphic card in this motherboard because it has both PCI-E 3.0 x 16 slot and 3.0 slots. The sound quality is once again exceptional with a 7.1 surround channel audio system. Gigabyte has also used high-quality audio capacitors that ensure greatly improved sound quality.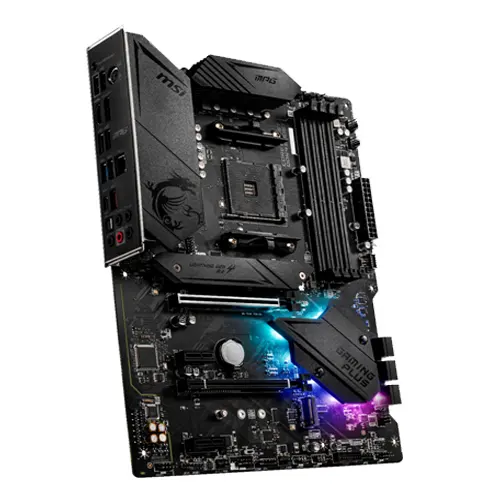 Best MSI Gaming Motherboard Under 150
MSI is yet another top manufacturer of gaming hardware and they are relatively known most in the gaming PC market for their product's cool designs and hardware enriched features. This B550M gaming Plus motherboard is a major improvement to all of its previous models and it is the best gaming motherboard for a Ryzen CPU under 150$.
The design of the motherboard is extremely good for its price as it also has great build quality with protective metal plates and RGB lighting on the sides and chipset heatsink.
The motherboard comes in a Micro ATX form factor but you don't have to worry since it has the right number of ports and features that you would want. Another advantage with this form factor is that you don't have to buy a bigger case for it so you can also easily move it around.
With its AM4 socket and B550 Chipset, you can use any Ryzen 2nd to 5th gen CPU in it and with additional features like CPU core boost baked right into the bios, it helps the CPU perform much more efficiently with low temperatures and good performance.
MSI has included tons of options into the bios so that this best am4 motherboard under 150 can perform much more efficiently and apart from that, it has multiple expansion slots like PCI-e 4.0 and 3.0 x 16 slots which also lets you Crossfire and use SLI between them.
4 memory slots with 128 GB of memory support at a max speed of 4400+is great even for power users. The usual 6 SATA ports with 6GB/s of transferring speed with the support of RAID and 2 Ultra M.2 slots with a Realtek high-end audio system this motherboard is yet another best option for under 150$.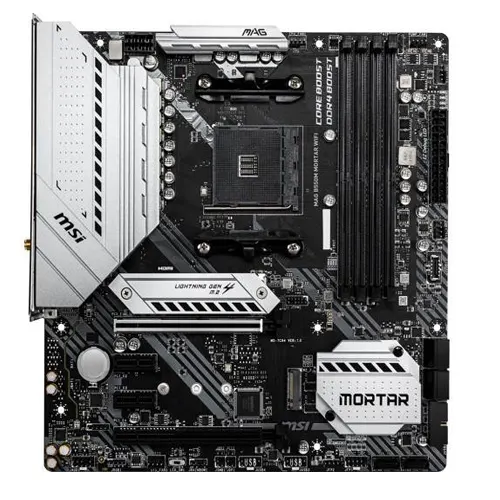 Best AMD Motherboard Under 150
MSI Mag series motherboard is built for extreme performance and has high resistance against bumps and collisions which means that it has an extremely good build quality with protective I/O shielding Great Heatsink and Protective metal plates.
All of this also adds to a great design and aesthetics. It comes in overall black color with light gray colored accents on top it which gives it a sleek-looking profile. In the daytime, it is rather easy to see but in dark areas, it's highly invisible because it has no dedicated lights on it.
The AM4 chipset along with many additional features built into the BIOS helps run the Ryzen CPUs from 2nd to 5th gen more efficiently. You can put in Ryzen 9 and this best motherboard for 150 can still handle that very well due to its optimization. RAM management is once again above good compared to the MPG B550 Gaming Plus.
It can support 128 GB of NON-ECC Un-Buffered memory at a max speed of 4400MHz with support of dual-channel and Intel XMP profile which greatly improves the RAM performance. Another good thing about this motherboard is that each layer is completely separated from the rest of the motherboard which makes the data and signals transfer easier and faster to travel without interruptions.
In this best gaming motherboard under 150, you can only use AMD CrossFireX in dual mode as it has 1 PCI-E 4.0 X16 slot and 1 PCI-E 3.0 slot. There are also 2 M.2 slots with one being the lightning Gen 4 and apart from that, there are 6 SATA ports with 8GB/s of transferring speed. Overall, this best b550 under 150 just like the rest of the motherboards in this category is a strong competitor with many same features so it all comes down to which one looks more appealing to you.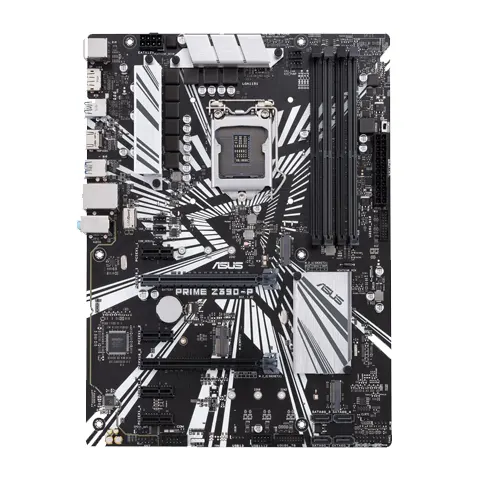 Best Overall Motherboard Under 150
Specially designed for Intel 8th and 9th gen processors ASUS Prime Z390-P gives an extremely tough time to its other competitors of the same price point. One of the most obvious reasons for buying this motherboard is the Z390 chipset.
This Chipset is more powerful and efficient than the B365 Chipset making it a more obvious winner in comparisons. ASUS has taken a more simplistic approach with this motherboard design as it does not include any big protective plates or heat sinks but with a frosted white accent and black layout of color, it does add a little life to the motherboard appearance.
ON the hardware side things are looking good as this best intel motherboard under 150 can support 8th and 9th gen CPUs and comes with the same LGA 1151 socket as a bonus feature, it can support Intel turbo boost technology so overclocking the CPU is not as difficult as before.
Moreover, it has 4 DDR4 RAM Slots but it can only support 64GB of memory which is still more than enough for a normal user and gamers usually opt for 32GB of RAM. IT does have Intel XMP profile support with dual-channel memory architecture.
This motherboard comes with 2 Display Options for the integrated Intel HD graphics with one being the HDMI and the other being the DisplayPort. Sadly, there is no PCI-E 4.0 x 16 slot as it was also missing in the previous Intel motherboard but you do have 2 PCI-E 3.0 x 16 slots which enables you to use a slightly older high-end GPU.
Intel Processors usually cost more which is why it is hard for motherboard manufacturers to provide good features at a price tag like this. So, if you are a power user this might not be the best available choice for you whereas for the rest of the people it can do the job just fine.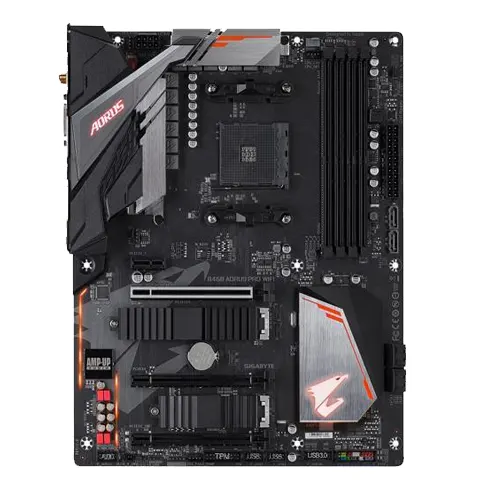 Best B450 Motherboard Under 150
Finally, to conclude our list of the Best Motherboard under 150$ here is another extremely good motherboard for its price: the Gigabyte B450 Aorus motherboard. Now as I have mentioned previously that gigabyte Aorus series products are about having the state-of-the-art design and good performance this motherboard delivers that with no compromises. So first of all, its design is nothing like any motherboard on this list.
It has Protective I/o plates on the back with an aggressively designed back heatsink and chipset heatsink with Aorus logos embedded in them. Moreover, they also have RGB lighting in them.
Although it has a slightly downgraded chipset Gigabyte has upgraded other features of the motherboard because one of the biggest selling points of this motherboard is the onboard Wi-Fi and Bluetooth connectivity and that is something that you can only expect from a motherboard of a higher price tag.
With an Am4 socket, you can still use any Ryzen CPU from the 2nd to 5th generation. Another great feature of this motherboard is the onboard graphics because if you are not going to use any external graphic card you can still enjoy playing games on it.
The Ryzen APUs are equipped with the best onboard graphics called the VEGA that can play games at 1080p high settings with smooth frame rates.
This best motherboard for 150 dollars allows you to share a total onboard graphic memory from RAM at 16GB. So, with the help of 4 memory slots that can support 128GB of maximum capacity, you should install at least 64GB of memory in this motherboard if you are planning on using the onboard graphics for playing high-end games.
Overall, it is the best-recommended motherboard for the B450 chipset as it has a great design and great specs to it.
Frequently Asked Questions
Which is the best budget motherboard?
Although there are many options to consider, even under a 150$ price tag, it's still important to choose the best available motherboard for your PC. Our verdict for this is the ASROCK B460M Motherboard, as this motherboard delivers performance beyond its price tag.
Which Brand Is Best For Motherboard?
Every company specializes in their products in a particular category so that it can make a difference from other similar products. ASUS is the number 1 manufacturer of PC products for two reasons. Their Products usually last much longer, and their design is of top quality with their ROG series. Apart from ASUS, MSI, Gigabyte, and ASRock are similar brands.
How Much RAM Is Enough?
As of today, even the standard programs like your internet browser consume at least 2GB RAM while watching YouTube or other stuff. So we recommend that you use at least 8GB of RAM for normal PC usage and 16 GB of RAM if you do a lot of multitasking, and 32GB is more than enough for any tasks that you do, including gaming and running high-end software.