It's no secret that both Intel and AMD offer a number of options when picking a CPU for your system. Nevertheless, since Intel has been around for a long time and their processors are both efficient in performance and are also rather affordable when it comes to the budget.
Recently the Intel 12th generation CPU was unveiled to the public they are good in performance and in their own terms but they are pricey and is not easy for everyone to buy one of them so going a generation two or lower is the best solution to that problem and that is where the Intel I5 9600K CPU comes in to play.
This processor easily handles even the most demanding tasks. Since the K series processors are ready for overclocking purposes you can also push this processor out of its limit and get extra performance out of it.
This CPU is still considered a good option for a good gaming PC or heavy usage. the I5 9600K is an overclocking processor which is the reason why it also requires more power to run and it runs a little hot compared to others and if not paired with a good quality cooler the CPU throttles which leads to lower life expectancy and other sets of problems which is the reason why you just can't use this processor with any ordinary cooler. Every K series processor requires a good cooler due to their higher temperatures which is why we have selected the Best CPU Cooler for i5 9600K.
You can easily pick any of the i5 9600k cooler from down below as all of these coolers are fully compatible with this CPU and all of them does a very good job in keeping the temperatures of the processor as low as possible and before we take a look at the products here is a little buying guide in case you're not familiar with what to look for when buying a CPU cooler.
Our Top 3 Recommendations
Best Pick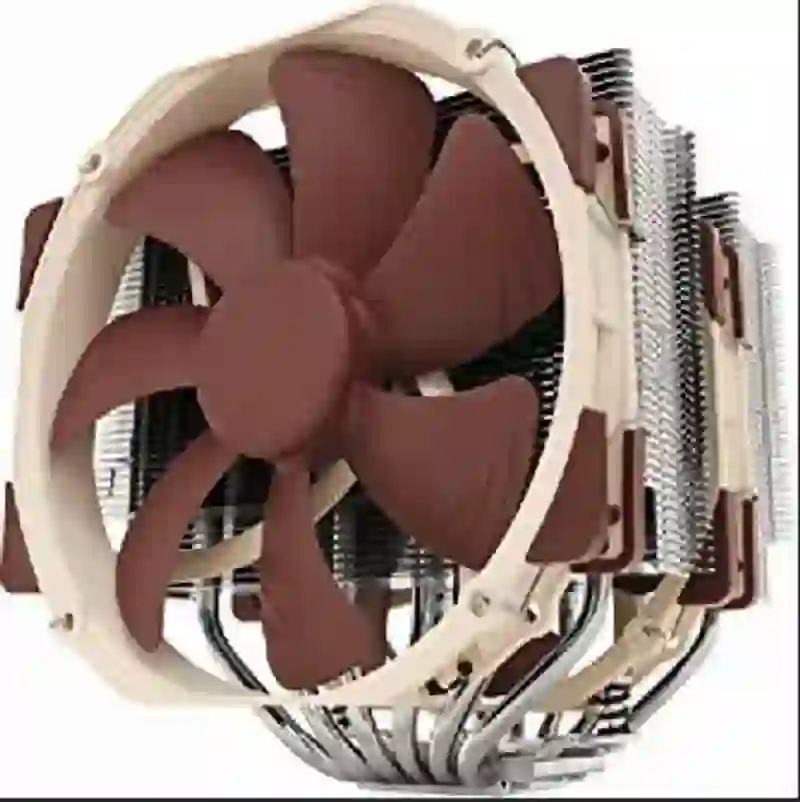 Noctua NH-D15
Most Popular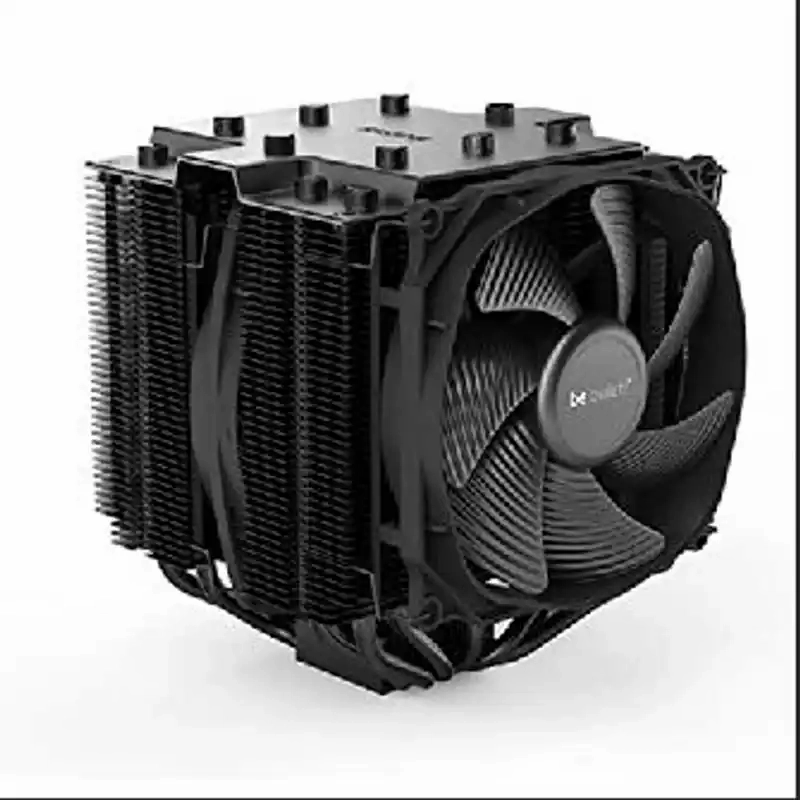 Dark Rock Pro 4
Budget Pick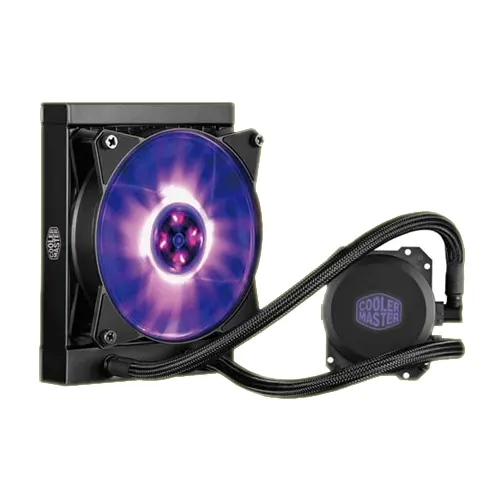 MasterLiquid ML120L RGB V2
Best CPU Cooler for i5 9600K Summary
| Award | Image | Model | Price |
| --- | --- | --- | --- |
| Best CPU Cooler for Overclocking the I5 9600K | | Noctua NH-D15 | See On Amazon |
| Best Gaming CPU Cooler for I5 9600K | | Dark Rock Pro 4 | See On Amazon |
| Best Budget Friendly CPU Cooler for i5 9600k | | MasterLiquid ML120L RGB V2 | See On Amazon |
| Best Cheap Aio Cooler for I5 9600K | | Arctic Liquid Freezer II 240 | See On Amazon |
| Quietest CPU Cooler for I5 9600K | | NZXT Kraken X53 | See On Amazon |
| Best All-Rounder CPU Cooler for I5 9600K | | Cooler Master Hyper 212 V2 | See On Amazon |
| Best Overall CPU Cooler for I5 9600K | | ID-Cooling Aura Flow | See On Amazon |
| Best Value Cooler for I5 9600K | | Scythe Mugen 5 Rev.B | See On Amazon |
Best CPU Cooler for i5 9600K At a Glance:
Best CPU Cooler for i5 9600K Reviews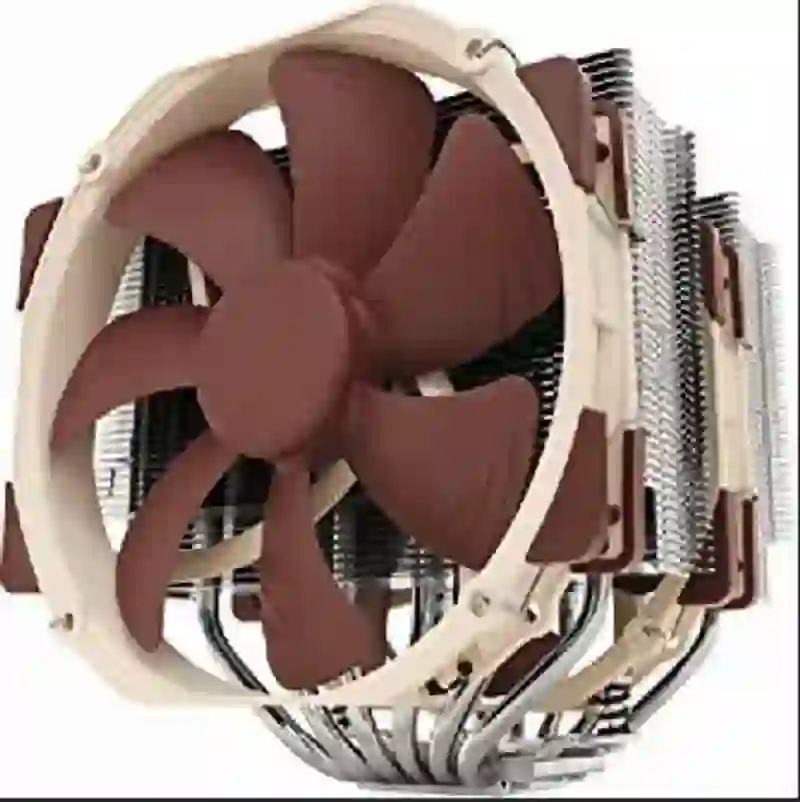 Best CPU Cooler for Overclocking the I5 9600K
Not everyone can afford a decent high-quality premium cooler for their PC and this is where the Noctua NH-D15 comes in. This cooler provides a very good experience and performs great even at a low budget price.
Noctua NH-D15 is a full-sized decent-looking Air CPU cooler for the I5 9600Kit is not the best-looking cooler out there but it is a premium level product if you are just looking to get the best performer. It has a beige and brown color to it and a stainless aluminum heat sink attached to it.
On the front, you have a full-sized 140mm fan that can spin at a rate of 1500 RPMs while maintaining a noise level of 24.6dB which is impressive for a fan of this size.
It comes in a clean-looking state-of-the-art dual tower design so you have 2 fans on it with the other one located in the middle exactly the same size and can also run at 1500RPMs. It requires a 4 pin power connector and consumes only 12V of power.
There are 6 heat pipes made of copper all connected to the lower end base which is also made of copper for maximum heat dissipation. These heat pipes go through both of the aluminum heat sinks where they are cooled by the air fans.
Inside the package, you do also get a high-quality thermal paste for your processor and a mounting system so you don't need any additional things to fit this cooler on top of the CPU. If you are intrigued by this Best CPU Cooler for Overclocking the I5 9600K and want to recommend this to a friend who uses an AMD build then don't worry this cooler is also supported for AMD CPUs.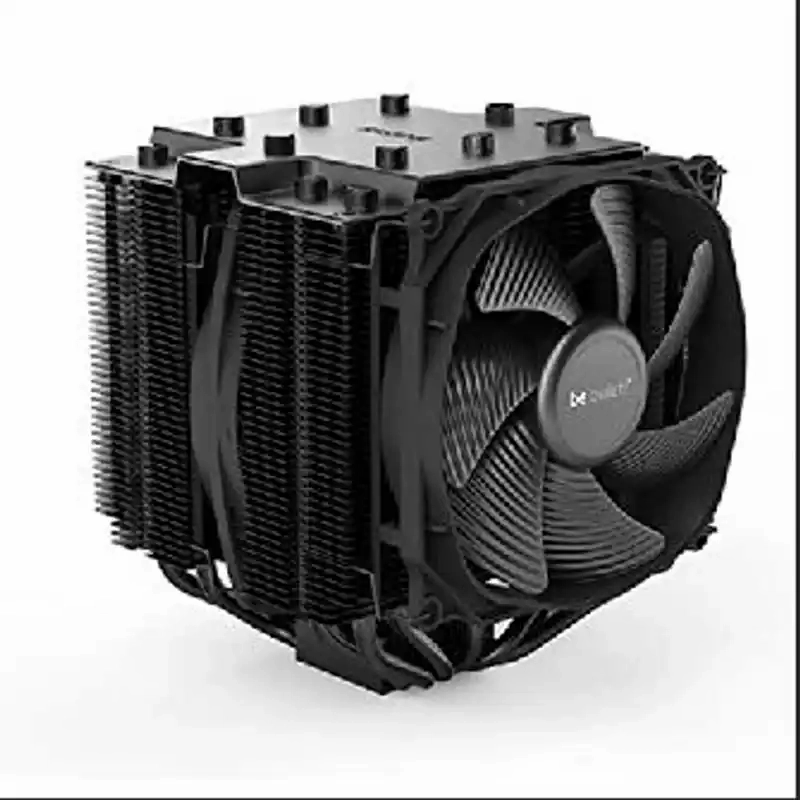 Best Gaming CPU Cooler for I5 9600K
If you are not looking for a budget-friendly cooler and want to buy a good CPU cooler without worrying about the price then you can take a look at this Be Quiet Dark Rock Pro 4 cooler. As the name already implies this cooler is all about keeping a low profile while still performing at its best.
The cooler has dark black color with ceramic coating all over it which gives it a sleek and low profile look and as a plus side, it matches with the motherboard color which also happens to be in dark color.
With its astonishing features this cooler is considered as one of the Best CPU Cooler for i5 9600K. Keeping the noise level at its lowest rate possible so even with its two massive-sized fans running at their full speed which is 1500RPMs this cooler maintains a noise level of 24.3dB which is incredible.
Talking about fans this cooler includes two PWM fans both of different sizes with one of 135mm and the other one of 120mm they also use dynamic fluid bearing which produces less noise and vibrations from the cooler. The fans are blades are made in different ways to provide the best maximum airflow to the aluminum heat sink.
On the other side, there are 7 heat pipes all made of copper and connected to the copper base as well. This cooler also uses a 4 pin power connector and has a TDP of 250W and consumes 12V of energy. This cooler is also compatible with AMD CPUs as well and offers a large variety of sockets installation for Intel CPUs.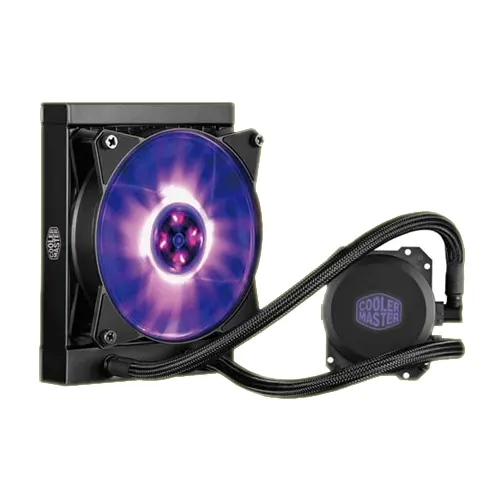 Best Budget Friendly CPU Cooler for i5 9600k
Next up, we got the Master Liquid ML120L RGB V2 from the leading brand Cooler Master. Gaming enthusiasts who often get their hands on gaming accessories would be much familiar with Cooler Master as they produce some high-end quality gears with a long-lasting performance. Master Liquid V2 is the refined and enhanced version of V1, making it more worthy in performance and price.
Assembling the newer generation of the dual-chamber pump helps the cooler while improving, the lower temperature stability. Featuring reduced noise level and boosting efficiency helps this cooler stand in long-lasting execution. An increase in radiator size compared to the V1 enables the cooler provides more room and efficiency, making it the Best Budget-Friendly CPU Cooler for i5 9600k.
Regarding aesthetics, Master Liquid figures in a sleek black design surrounded by aluminum while containing an incredible RGB Lighting 120mm single fan that delivers a pump noise level of below 15dba, including a 3 pin pump connector overall consuming a total of 2.36W Power.
Nonetheless, if you are willing to break the bank while choosing a suitable Cooler for your I5, then Master Liquid will get the job done.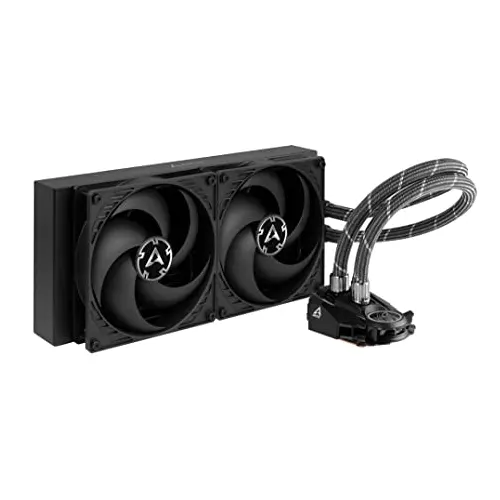 Best Cheap Aio Cooler for I5 9600K
Arctic Liquid is a well-known brand to look after. Cooler Master if you aren't satisfied with the quality it provides. The Arctic Liquid Freezer II 240 comes along at a budget-friendly price tag, making opportunities for those who aren't interested in breaking the bank. Its sleek black appearance makes it look classy among other coolers while considering the aesthetics.
Lacking the RGB doesn't make much difference as the fans carry a special design pattern which helps a lot. The Cooler Includes a 120mm PMW Fan with a maximum speed of 1800RPM, providing efficient cooling with a long-lasting duration.
Using the same fluid dynamic bearing helps in reducing the noise level for a more user-friendly experience. Moreover, The Pump is also controlled by a PWM fan which allows a maximum speed of 3000 RPM, making it selected as the Best CPU Cooler for i5 9600K.
For more enhanced performance, the Arctic Liquid thermal paste is included along with the Cooler, so no other purchase is needed as it uses the same 4-pin connector and 12V power input. Overall, this chassis is solid, and it will hold up to a PC with an I5 9600K processor without any major downside.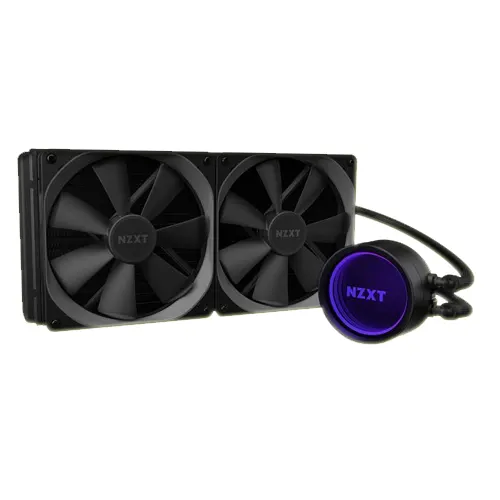 Quietest CPU Cooler for I5 9600K
NZXT is an American-based parts manufacturing company of computers and their products are also reliable and affordable at a low price and this is why I have chosen the NZXT Kraken X53 as its affordable and features all the necessary features required in a good cooler.
This Quietest CPU Cooler for I5 9600K features two 120mm fans mounted on a radiator. Both the radiator and the fans are all painted with black color with a little glossy finish to it Next to the fans are two tubes for carrying the cooling liquid to the pump. The pump features the NZXT Logo and has the support of RGB lighting in it. The LOGO has the support for spinning.
The two PWM fans are capable of spinning at 2000RPMs and they make a noise level of max 36dB. The Pump also includes a tiny fan that is capable of spinning at 2800RPMs. The lower end of the pump is made of copper for maximum heat dissipation.
The two pipes that carry the cooling liquid do not block the liquid from traveling when bending to a certain amount of level as they are covered with fine mesh nylon and they also strengthen the rubber tubing to prevent any kind of leaks from it.
For installation, it requires the standard 4 pin power connector and uses 12V of power. Inside the box, you can find your installation instructions and NZXT RGB connector and if you are having concerns about this product's reliability then don't worry because you have 6 year warranty period.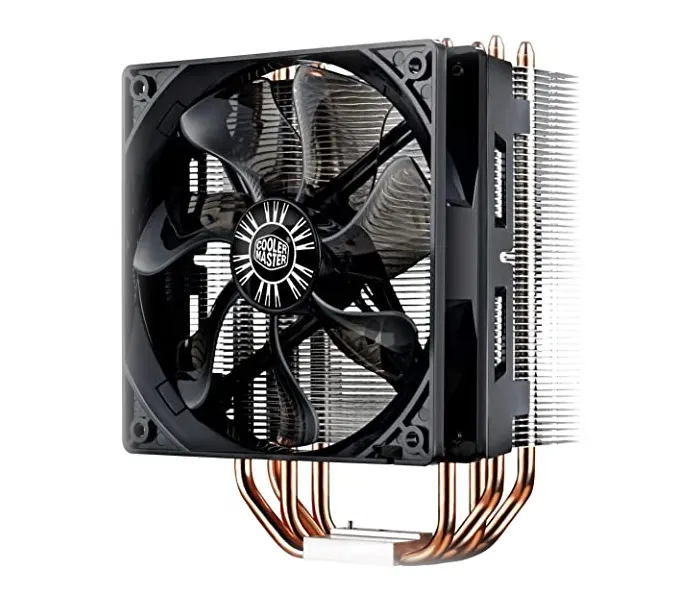 Best All-Rounder CPU Cooler for I5 9600K
Moving back to the Air coolers territory we have the Hyper 212 V2 from the cooler master. Typically just like the Liquid coolers have leakage problems Air Coolers also have a problem just not to a big extent.
The problem with Air Coolers is that they are relatively big in size and covers most of the parts around them when installed on the CPU like RAMs So this time you have a reduced height limit of 155mm for better chassis clearance and ease of access.
The 212 V2 is not painted with any type of colors so you have the exposed stainless aluminum heat sink on the back which is more visible and if you don't like this you can have the black version of the color which is called the black edition.
The installation process has vastly improved over the previous gen requiring much less effort and no backplates. The fan is 120mm and produces a noise level of a max of 27dB at a max speed of 1800RPMs.
On the back you have your standard aluminum heat sink but this time with a more amount of fins for better airflow. The Lower copper base sits directly within the contact of the CPU and is connected by 4 heat pipes which are also made of copper and they all go through the heat sink to the top with a newly designed layout of X.
There is not any type of vibrations in the cooler even when running at full speed. 4 pin standard pin connector is required for it as well for installation and to back things up there is 2 years of warranty with this All-RounderBest CPU Cooler for i5 9600K.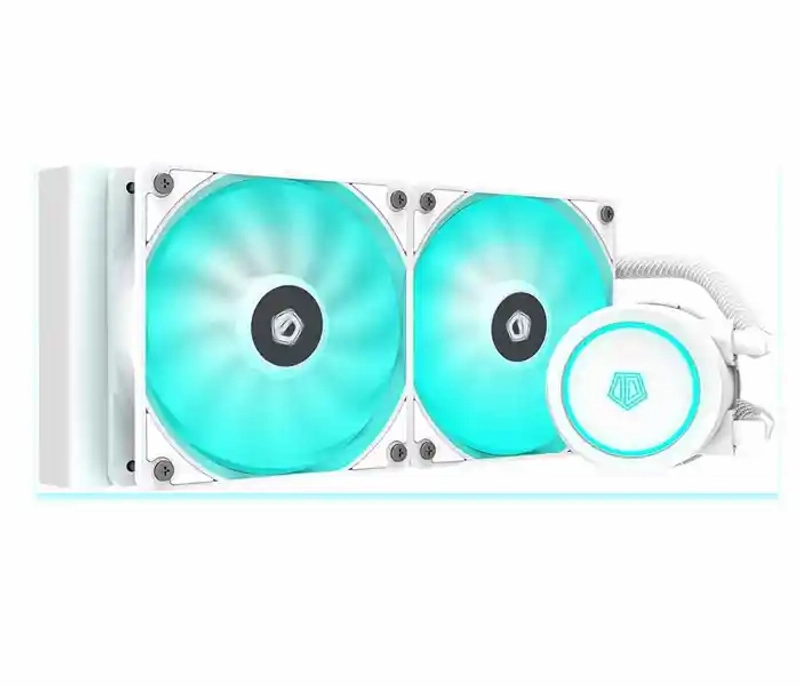 Best Overall CPU Cooler for I5 9600K
ID-Cooling Aura Flow is certainly the highest price cooler on this list but it has its own set of advantages to cover that higher price. The cooler is available in two options which include a 240mm and 350mm variant which means that it's not available as a single fan variant so you certainly need a bigger case for it in case if you don't have one for this cooler.
The fans and the radiator of the cooler look like any other cooler but it has the full support of RGB included in its fans and the pump. The Pump is differently designed and it looks more aggressive and stylish with RGB.
The fans no doubt does an extremely good job with keeping the processor cool and they can be controlled through the bios or the software with a max noise level of 35.2dB both of the fans are PWM.
The Pump has a copper base and is connected to the radiators by two tubing pipes which are made of high-quality rubber so they don't break or block the liquid. You don't need any additional power for this cooler as well as it requires the same 4 pin power connector to consume the standard 12V of power.
Installing this Best Overall CPU Cooler for I5 9600K is easy if you have a case that supports 240mm radiators and if you don't then you can try it on the front grill. One thing that justifies the build quality and high price of this cooler is that it is made of polycarbonate material instead of plastic and you also have a 3 year warranty time.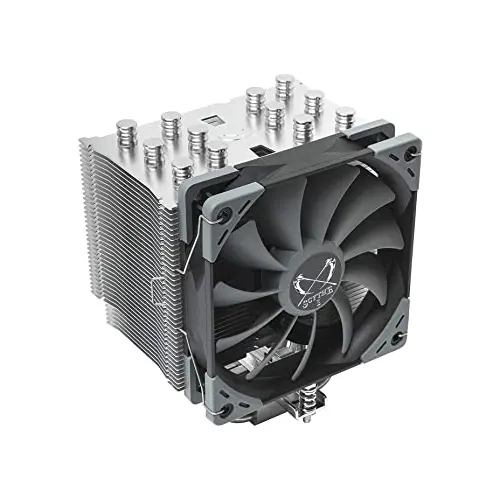 Best Value Cooler for I5 9600K
Scythe Mugen 5 is a beefy-looking air cooler especially from the back with its differently designed aluminum heat sink but this design does provide great airflow and to increase it even more there is a fan on the front with 11 blades.
The design is not the aesthetic with this cooler so instead, you have all the necessary features needed for a better cooling effect on the i5 9600K. However, the fan still adds a little stylish vibe to the cooler due to its blades cutout design and it is covered with black color as well.
The aluminum heat sink is not covered with any color so you have a pure stainless look on it. The Fan mounted on the front is PWM and uses the dynamic fluid bearing for lesser vibrations and lower noise levels.
The fan is capable of spinning at max 1200RPMs with a noise level of 22dB. Even though the fan speed is not great but it has 6 heat pipes made of copper all placed in a similar position for maximum airflow and cooling. These heat pipes are in direct contact with the copper base as well which sits directly on top of the CPU for maximum heat absorption.
The cooler also does not cover any type of other components and even if you use RAMs that have heat sinks raised at higher levels this cooler doesn't block them in any way. The installation process is also very easy with all the screws and thermal paste included in the box it is only a one-step process.
The power requirement is also standard with a 4 pin power connector and 12V of energy consumption. Even if you use your PC for a prolonged period of time and do use it for heavy purposes this cooler can still easily handle those high temperatures. You can also use this Best CPU Cooler for i5 9600K, with AMD CPUs from the newer Gen-like Ryzen series.
Frequently Asked Questions
Does I5 9600K Come With Cooler?
Although the CPU has an exact price tag that falls between the Ryzen 5 2600 and Ryzen 7 2700, Intel still does not provide you a CPU cooler along with the processor, so you have to buy one yourself while AMD provides you with one.
What Temp Should My I5 9600K Be?
Your CPU temperature is measured by different factors that are affecting it, but in an ideal way, The I5 9600K has an average operating temperature of 28 C to 35 C, and if the CPU is performing under load, then its temp should remain between 55 C to 75 C.
What Is The Best RAM Speed For I5 9600K?
Although the I5 9600K is a mid-range processor but is still powerful enough to handle heavy workloads, you should pair this processor with a RAM that has at least a speed of 3200MHz as it's compatible with it. Anything above it will improve your performance of the CPU slightly.