AMD Ryzen 5 series processors are the best mid-range processor that you can get your hands on. AMD released this process in 2018 but it's still performing great at every task whether it's gaming or running high intensive tasks this processor can handle that amount of load with ease. Many gamers are still using and buying brand new Ryzen 5 2600 series processors because it's now cheaper and there is no better option available at this time to consider any Intel processor over the Ryzen 5 2600. Some people consider the Ryzen 5 2600 a better option than the 2600x because it's cheaper and the only difference that you can find between these processors is the speed and overclocking capabilities.
The Ryzen 5 2600 and 2600X (Amazon) both are based on AMD Zen architecture with a 12nm fabrication process. Both share the same 6 cores and 12 threads but what makes the 2600X more special and price worthy is its ability to handle tasks and do gaming at a bit higher rate because of its higher clock speed and overclocking specialty. So if you are a power-hungry user you can always go with the Ryzen 2600X over 2600 as they share the same socket and TDPs but what you need more with the 2600X is a better cooling solution.
So I decided to round up some of the Best CPU Coolers For Ryzen 5 2600 and 2600X that are available for these processors and can help you in these scenarios by extending your CPU for much longer while running intensive tasks.
Best CPU Cooler For Ryzen 5 2600 Reviews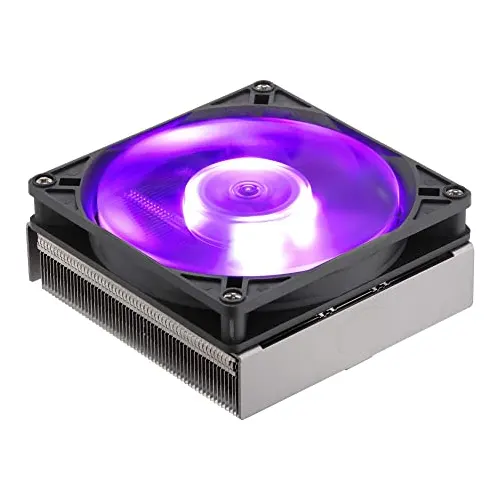 Best Overall CPU Cooler for Ryzen 5 2600 and 2600X
View on Amazon Read Customer Reviews
Taking the top spot, we have the Cooler Master G200p RGB cooler. As far as cooling solutions for PCs are concerned, Cooler Master is a great manufacturer. They also sell affordable products which are more efficient in working as the Master G200P RGB. As the name already implies the cooler does include RGB lighting in it which is not the best but it's doable since it's a budget-friendly CPU cooler. The design of this cooler is a little bit different from other standard coolers that we say as it lays directly on top of the CPU with its Fan on the front.
With regards to the fan, it comes with a 40mm fan that has the capability of running at a max speed of 2600RPM and the lowest of 800RPMs. While running at full speed this fan produces a sound level of 28dBA. Below the fan, you have an aluminum heat sink which is connected by two heat pipes.
Below the heat sink is the copper base which is also connected to these two heat pipes. The function of these heat pipes is to carry the heat directly to the heat sink so that it can be quickly dissipated by the fan. The cooler does use a 4 pin standard power connector which requires only 12V to run. In addition, it provides two year warranty period with the cooler as well.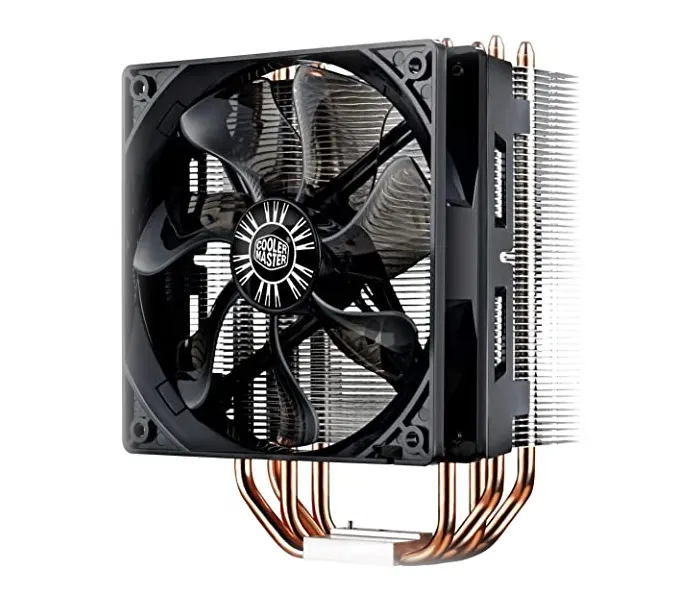 Best Performing Cooler For Ryzen 5 2600
View on Amazon Read Customer Reviews
The second spot is also occupied by another product from Cooler Master which is the Hyper 212 EVO. As the first cooler was more of a budget-friendly option for those who are not willing to spend much money but want a great cooler in that price tag. The Hyper 212 Evo is built to handle extreme temperatures which can then also be quickly cooled down due to its working mechanism. Firstly let's talk about its design the cooler includes semi-transparent wings on its fans that look great when spinning.
On the front is your fan mounted and on the back is the aluminum heat sink. Sadly it does not come with RGB lights but the wings do improvise its look by a little bit.
Since it is a performance product the fan type used in this cooler is of long-life sleeve bearing which expands the fan life expectancy and produces fewer vibrations. Its fan can spin at max 200RPMs with a noise level of 32dbA. The cooler has 4 heat pipes that are in direct contact with the bottom copper base and they go through the aluminum heat sink where they are cooled by the fan.
The direct contact enables to carry heat much more quickly to the heat sink so that more heat generated from the CPU can be escaped. The Standard 4 pin power connector with 12V is required to run this cooler. It has a two-year warranty period and the good news is that you can also use it with Intel processors.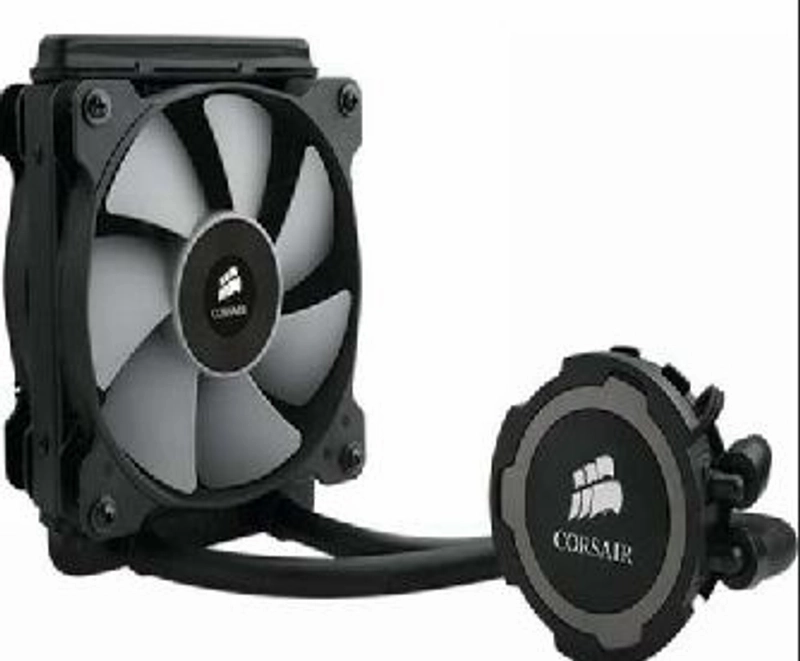 Best Budget Cooler For Ryzen 5 2600
View on Amazon Read Customer Reviews
There is no doubt that the Corsair Hydro Series H60 is one of the most impressive coolers on this list which comes up with an elegant design making it stand out among all other coolers listed. The main purpose for listing this product in the list of Best Cpu Coolers for Ryzen 5 2600 is none other than its outstanding and long-lasting performance.
Hydro Series H60 stands out to be one of the most efficient RGB coolers while comparing with others. It has an existing white logo of Corsair on the pump head, which contains RGB lighting, making it look more appealing. It contains only a single fan which is approximately no larger than 120mm but provides remarkable performance.
Users can easily adjust the fan speed according to their will from 600 RPM to 1700 RPM. Moreover, it is completely AM4 sockets and could be a good choice to pair with your precious Ryzen 5 processor.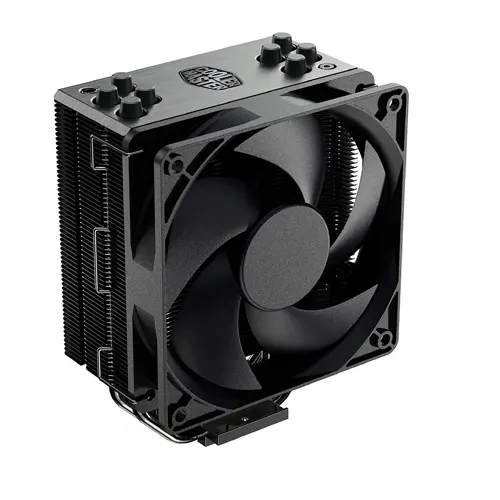 Best Entry-Level Cooler For Ryzen 5 2600
View on Amazon Read Customer Reviews
While looking for the Best CPU Cooler For Ryzen 5 2600X you can't ignore the Cooler Master Hyper 212 Black Edition. If you like the previous hyper series coolers then the Hyper 212 Black Edition is a more refined and enhanced version of that cooler. It has some major improvements in its design and parts which makes it more of a better option over the Hyper 212 Evo.
The Black Edition name already signifies the looks and appearance in general of the cooler. It is covered in all black color for a sleek-looking profile and the heat sink is also in black. There is no other color on the cooler other than black. There are no lights included with the cooler.
As I already mentioned this is a significant upgrade over the Hyper 212 Evo it does not include major or any big improvements otherwise it will be a completely different product. The fans in this cooler are a general improvement because now they can spin at a max speed of 2200RPMs which can be increased by 10% through its software. The fans are also not as noisy as they were before with a sound level of 26dBA max.
The Heat Sink is also upgraded with anodized aluminum instead of the regular one. The 4 standard heat pipes that were in the previous Hyper 212 Evo are also the same in this cooler which is again in direct contact with the copper base. The cooler is also compatible with both Intel and AMD processors however this version supports more CPUs.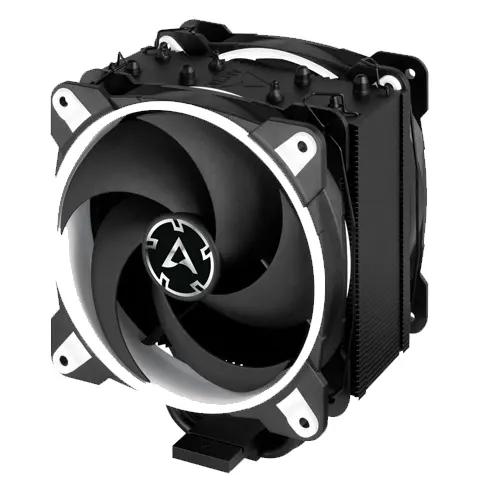 Best Silent Cooler For Ryzen 5 2600
View on Amazon Read Customer Reviews
Another addition to a list of successful brands in the Arctic Freezer company. The Arctic is not yet much popular as other big brands but they are slowly climbing to the top as well. The 34 ESports Duo is a good-looking CPU cooler with great hardware specifications as well. Starting with its design the cooler looks pleasing to the eye at a first glance and the big part of that aesthetic design is the cutter-like shaped wings of the fans.
These wings not only generate more airflow but also look very good and different from other CPU coolers. You can also choose between different sets of colors for this color which covers most of the color. Due to no addition of RGB, this seems like a nice option to enhance looks.
The fan of this cooler is not an ordinary fan because it uses the BioniX P-Series fans both on the front on the back. This fan produces much lesser vibrations at faster speeds and fewer noise levels and not only that it also extends the lifetime of fans.
With dual fans on this cooler and an anodized aluminum heat sink in the middle, you cannot experience any higher temps with this cooler even when your CPU is fully throttling at high speed. In general, this cooler is a complete all-in-one package at a fair price for users who want an extremely good CPU cooler for their PC in this price tag.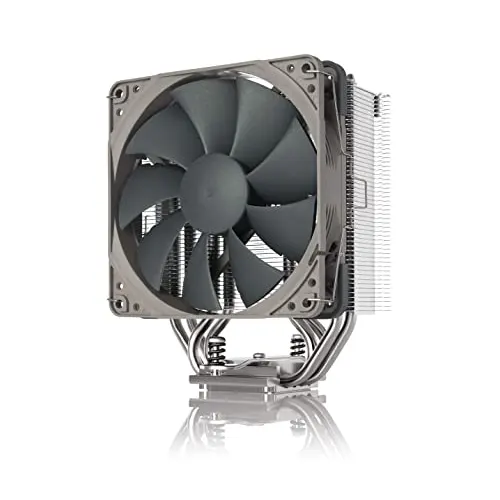 Best High-End CPU Cooler for Ryzen 5 2600
View on Amazon Read Customer Reviews
As we already know Noctua has been making some of the most effective coolers at a reasonable price this is the step above. The Noctua NH-U12S Redux is based on the award-winning cooler of this same model U12S. The Redux version brings some improvements and enhancements over the previous model. The cooler is fitted with the same 120mm fan and bearing type so it can still be fitted inside smaller cases and tight spaces.
The cooler is a little bit more silent compared to the previous model with a noise level of 25dB even when the fans are running at full speed under heavy load. This model also comes with a stainless anodized aluminum heat sink that is connected through 6 heat pipes to the bottom end copper base and it consumes only 12Volts. The design is rather simple and it comes in a grey color on its chassis.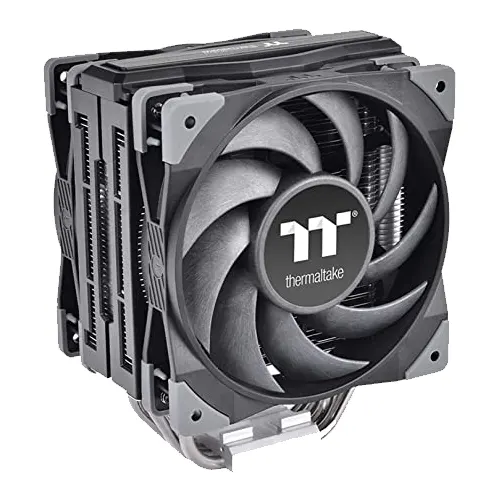 Best CPU Cooling Fan for Ryzen 5 2600
View on Amazon Read Customer Reviews
The Thermaltake Tough Air 510 is an aggressively designed beautiful-looking air cooler for your CPU as it comes with an all-black look. The cooler not only has good looks but it is also very good in its performance because it is designed to handle extreme temperatures. The cooler is based on a single tower dual fan design meaning that it has two fans mounted on a single chassis.
There is a total of 4 heat pipes on the cooler that goes through the aluminum fins and speaking of fins the layout used in this cooler is asymmetric which provides the airflow with much more ease. The two fans are 120mm which also makes it easy to install in smaller cases. The fans can spin at a max speed of 2000 RPMs. You can use this cooler with both Intel and AMD CPUs that are supported by this cooler.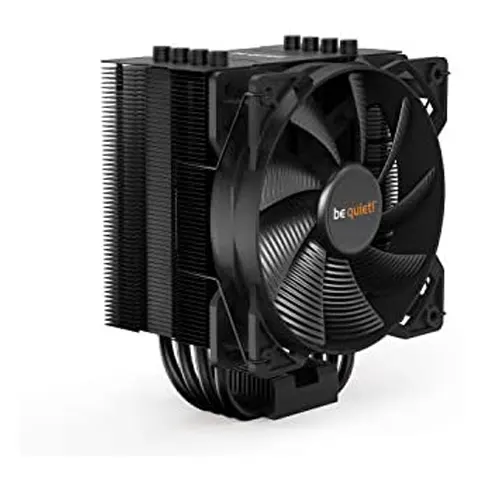 Best Low Profile CPU for Ryzen 5 2600
View on Amazon Read Customer Reviews
You don't ever have to worry about your CPU temperatures anymore with the Pure Rock 2 from Be Quiet. Be quiet is not popular to a large extent but their products are good enough to be recommended and judged, by the rating of this Pure Rock 2 I decided to add this cooler as well in this list for the Best CPU coolers for Ryzen 5 2600. The Pure Rock 2 is not much different from other coolers it has a simple layout but it includes some vinyl-like design on its front fan and chassis.
Moving on to its hardware side the cooler includes a high-quality fan that has a cooling efficiency of 150W TDP. To ease things more there are 4 heat pipes on each side of 4mm that are connected to the bottom copper base and then they go through the anodized aluminum heat sink which has a brushed finish to it. The cooler comes with a 3-year warranty and is easily installable with its asymmetric design.
Conclusion
We are able to figure out some of the Best Cpu Coolers for Ryzen 5 2600 and 2600X, I hope that you would be able now to make an informed decision regarding which Cooler to choose for your precious Ryzen processor. Make sure to check the compatibility of every cooler with your processor so at the end you have to face no such circumstances.
Still, if you are unable to make a decision for which cooler to proceed with and seek our advice, we would be referring you to continue with the Cooler Master Hyper 212 Evo if you got some hard cash or else Be Quiet! Pure Rock 2 will be the final stop.