For the past four to five years, AMD has dominated the gaming and PC industry with their latest and greatest Zen 2 based architecture processors, which are so-called the Ryzen series from AMD, and these processors are undoubtedly the most powerful processors available in the wild for gaming, editing, and multitasking. This CPU packs a whopping 6 cores and 12 threads and performs above expectations from most of its consumers, and this is the reason why it's getting short in the market. Above all the other factors, the big difference you get is in the price and value, since Ryzen 5 3600 offers you the most value for your money, which is also the reason for its scarcity.
Well, speaking of money, a motherboard that is capable of handling this beast is also essential. Here in this Best Overall Motherboards for Ryzen 5 3600 section, you have to be a little cautious in picking one of these. The most common mistake people make in picking the parts for their build is that they go with a monstrous processor and GPU without paying attention to the PC's other peripherals, which later costs them. Pairing a Beastly GPU and a chipset with a bulky motherboard limits the performance factor of both of these components resulting in low FPS and slowed performance. So to solve this complication for you, we have picked up some best motherboards for Ryzen 5 3600 that you may want to look into before making any decision.
Best Motherboard for Ryzen 5 3600 Reviews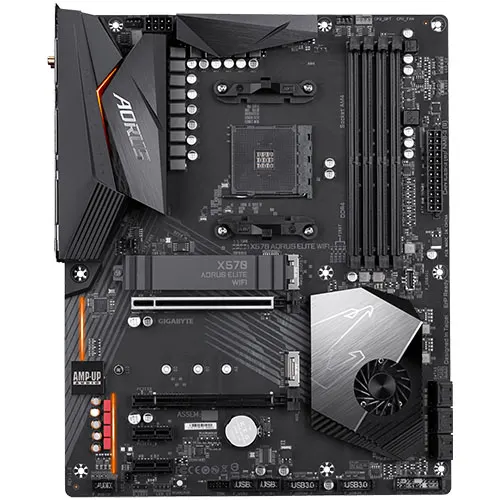 Best ATX motherboard for Ryzen 5 3600
View on Amazon Read Customer Reviews
Topping our list is the Gigabyte X570 AORUS ELITE. This motherboard comes in a budget-friendly price range, just like its brains, the Ryzen 5 3600. Priced under 200$, this motherboard still has some premium aspects of other high-priced motherboards that do not make it look like a cheap product to be purchased. The X570 is painted with a mixture of black and red, and its panels provide a gorgeous look.
Moving on to the hardware side of the motherboard, the X570 does support Ryzen processors from 2000 series up to Ryzen 5000 series. This also allows for the Ryzen 7 and Ryzen 3 series processors. The motherboard has 4 DDR4 DIMM slots of Non-ECC unbuffered memory sticks. Now Ryzen processors tend to heat a lot if not paired with a good cooler, but they are also big, and not every motherboard supports them, but with the X750 newly designed heatsink infrastructure, you can easily plug in large size coolers with no hiccups at all. This best ATX motherboard for Ryzen 5 3600 comes with its new dual ultra-fast PCIe 4.0/3.0 x4 slots for the easy GPU plug-in procedure and to outperform them.
Moving on to the other features, the motherboard has excellent sound quality capacitors, Temperature sensors, USB 3.1 along with USB Type C and HDMI 2.0, RGB support with RGB Fusion 2.0, and Intel's LAN ports with cFos internet accelerator. To further add, the X750 does come with its integrated I/O shielded armor, and it has all the software support from AMD and Gigabyte to help it run more efficiently built right into the UEFI Bios Like SLI and AMD crossfire. Overall this is best x570 motherboard for Ryzen 5 3600 build.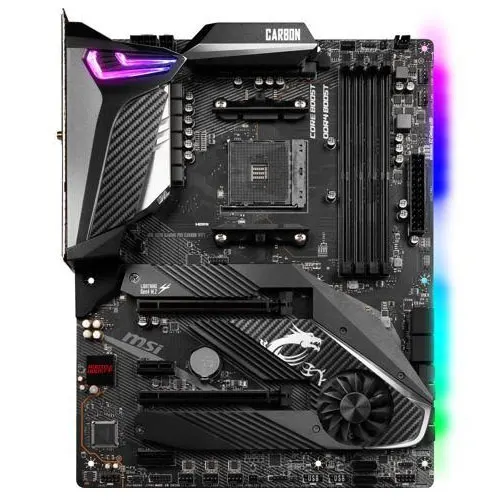 Best X570 motherboard for Ryzen 5 3600
View on Amazon Read Customer Reviews
MSI has been a dominant leading brand in the gaming industry because of the excellent product quality and features that they offer. This best budget X570 motherboard for Ryzen 5 3600 completely proves that with its exceptional build quality and features. For a quick design overview for you, the MSI X570 also comes with the black color since it has recently become a tradition among the gaming community along with some other factors. Along with the black color, you get little touches of frost white along the edges on some components to make it look more appealing.
Moving onto the features, the MSI X570 supports Ryzen 5000/ 2nd and 3rd and 4th gen with Radeon VEGA graphics and also 2nd Gen Ryzen with graphics desktop processors that support AM4 sockets. The DDR4 memory also has quite an upgrade now, supporting 4400+MHz of RAM with Dual channel technology; however, you only get the standard 4 DIMM slots, but you can put 128GB of RAM in it. There are 2 PCI-E X16 slots and 2 PCI-E X1 slots, and both NVidia SLI and AMD Crossfire are supported. For SATA ports, you get 6 SATA3 ports and RAID support with 1 TPM Header.
On the back and front of the motherboard, you are greeted with the traditional USB ports, which on the front are 4 USB 3.2 Type-A connectors, and on the back, there are 2 USB 2.0 Ports, 1 Type-C, 3 Gen 1 Type-A, and 2 Gen 2 Type-A ports. Some of the previous motherboard features are also available in this best cheap motherboard for ryzen 5 3600, Like the extensive heatsink design, Full RGB fusion support, and high-quality audio-providing capacitors. One thing that is completely new with this product is the newly designed software, Dragon Centre, where you can easily tweak and customize things like Game Mode, Ambient Lighting, Voice Boost, and Live Updates.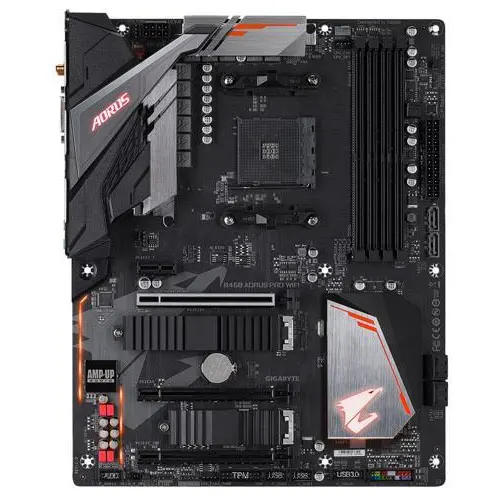 Best WiFi Motherboard for Ryzen 5 3600
View on Amazon Read Customer Reviews
The Gigabyte B450 is special to some extent because the B450 is one of its kind in the feature department over the price in which it comes in. Specifically, it's hard to find a good motherboard at a lower price on which you don't have to make such big compromises. The Design of this best WiFi Motherboard for Ryzen 5 3600 is similar to the previous products, except for this time around, you get Dark orange touches instead of red or white.
The B450 is equipped with an AM4 socket and a B450 chipset that allows you to plug in AMD Ryzen 1st and 2nd Generation processors with a Radeon VEGA graphics processor. There is a little bit of drop-down for memory support because the B450 can only support memory modules of at max 3600 MHz, which is not that bad compared to its price. B450 does have 4 DDR4 memory slots of both ECC and Non-ECC un-buffered DIMM with XMP Intel built-in profile. You can easily plug in a massive 128 GB of RAM in it, and it will work like a charm.
For your graphic card support, there are a total of 4 PCI-E slots, each with different characteristics. So 1 is a PCI-E Express X16 slot, the 2nd one is also X16, but it's running at X4, and the third is only X1. The last 1 PCI-E slot is the PCI X1 slot which is for standard low-level GPU. Now it does maximize the power of all 4 combined plugged-in GPUs by using AMD Quad- GPU crossfire and two-way crossfire. With The RGB Fusion support LED headers and Smart fan 5 functions, the B450 automatically manages all the customization done to the fan and tells you real-time temperatures of the components due to the built-in sensors and the RGB controls for you.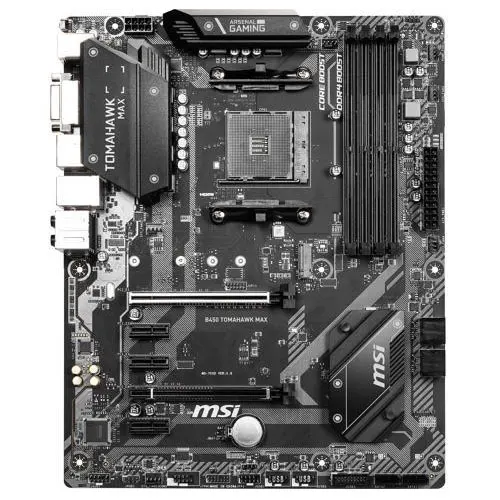 Best B450 Motherboard for Ryzen 5 3600
View on Amazon Read Customer Reviews
As you have probably understood by the name which includes Max, this motherboard is built for performance enthusiasts. The MSI B450 Tomahawk Max also has a good reputation in the market due to its performance, Compatibility, Features, and premium aspects in the build quality with an award-winning hardware infrastructure. This Best B450 Motherboard for Ryzen 5 3600 comes in an overall black look to look and feel more premium.
MSI B450 supports Ryzen processors from 1st to 3rd gen and Athlon series with Radeon VEGA graphics processor due to the AM4 socket. Although the chipset for MSI B450 and Gigabyte B450 is the same, the Gigabyte motherboard doesn't have the support of AMD Athlon processors. Also, you do get more memory MHZ support with this time of 4133 MHz with DDR4 memory kits. The MHz can also be overclocked if the RAM is overclockable. The extended heat sink design is back with this version of B450, but it was also available in the gigabyte version but not to a big extent. There are 2 PCI-E X16 slots, 1 PCI-E E Gen and 3 PCI- EX 1 slots so that you can easily plug in all the components that utilize these slots. SATA 3 is also supported for fast data transferring with 6 ports, all located in a convenient location so they can be reached easily.
Lastly, let's talk about the features. Since this motherboard includes a ton of them, the back panel, which includes the most convenient feature of this motherboard, is that you can easily flash the bios by using any USB stick and a dedicated BIOS flash button on the back panel, PS.2 Combo Port, USB 3.2 Gen 2 ports with both Type A and C and a total of 6 HD audio connectors. Moving onto the exception features, it includes Heavy plated Gaming heatsinks, Memory optimizations by boosting and overclocking the RAM, PCI-E pates that protects the GPU from bending, AMD Turbo M.2 that provides high data delivering speed of 32GB/s among the GPU by using the GEN 3 and 4 slots, Extra audio boost thanks to the high-quality audio capacitors and extra customizations.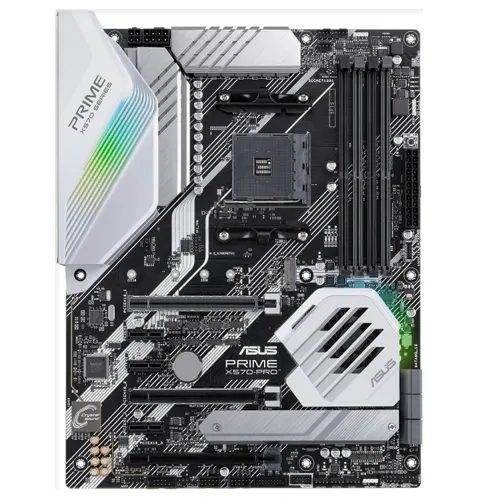 Best Premium Motherboard for Ryzen 5 3600
View on Amazon Read Customer Reviews
ASUS has also been a TUF leading brand in the gaming community, and it still is, so we have to include one of their premium selection quality products in this list. The Asus X570 is a top-tier motherboard for all your needs. Let's take a quick look at the design first since it is a high-level product. This Best Premium Motherboard for Ryzen 5 3600 comes in a black color and frost white-colored components like heatsinks, backplates, etc. The frost white color does make it look more appealing.
The X570 has an AM4 socket that supports Ryzen 2nd, 3rd, 4th, and 5th Gen processors, including the Ryzen G series. With 4 memory modules, you can plug in 128 GB of ram inside your PC at 3866 MHz but don't worry yet because it can go beyond 5000 MHz when overclocked, so there's no complaint here. The RAM is dual-channel and supports ECC. The X570 does have multi GPU support with 2x PCI-E 4.0x16 slots, 2x PCI-E 3.0 x16 slot, and 1x PCI-E3.0 x16 with x8 mode. For the storage connectors, you have 6sata connectors that provide transferring speed of up to 7GB/s and are supported by RAID 0,1,10.
As we know, a premium product must have some features which make it stand out, and we have found plenty of them in it. The X570 has 5-way optimization by the dual intelligent processor, EPU Guidance, TPU Insight, Fan Xpert4, A dedicated tuning and turbo app that provides all kinds of tuning from network to performance Asus 5X protection, ASUS, RGB Fusion support with 2 dedicated ports and many more. All these features provide extra security and performance enhancements to help all the components run more efficiently. Overall this is Best X570 motherboard for AMD Ryzen 5 3600.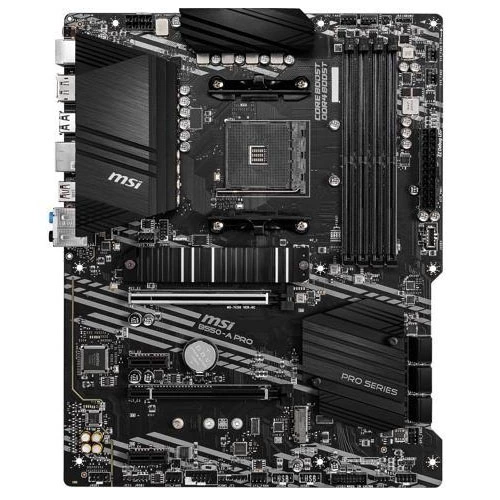 Best B550 Motherboard for Ryzen 5 3600
View on Amazon Read Customer Reviews
The MSI B550-A pro comes with many improvements over the standard version of this same Model B550, which is why we have decided to put the PRO model on this list. The biggest two differences over the standard version in this best B550 motherboard for Ryzen 5 3600 are in the processor and memory support because it can now support Ryzen 3rd Gen Processors. Another big difference is in the memory support now supporting 3200 MHz in the JEDEC mode, which is the standard and power-efficient mode, and in OC mode, it can now support 4400 MHz+ speeds. Dual-channel and Non-ECC and ECC memory is now supported and also Un-buffered memory. Multi GPU support is also here now 1x PCI-E 4.0, 1x PCI-E 3.0 x16, and 2x PCI-E 3.0x1slot the motherboard also supports 2 way AMD Crossfire.
With the major differences now covered up, we can move on to the additional things, which are 6 SATA Ports capable of 6GB/s transferring speed with RAID support and 2x M.2 Slots. You get USB 3.2 Ports on the front with 1 (gen 1, Type C), 2 (gen 1, Type A). On the rear, you have 3.2 Ports with (1 gen2, Type C), (1 gen2, type A), (2 gen, Type A). On the other hand, you got rear audio ports with Realtek ALC892/ALC897 Codec with DirectX 12 enhancements. For quick BIOS flashing, there is a dedicated button on the back. You have the option to connect 2 monitors simultaneously by using 1 HDMI port and the other Display Port on the back. They both provide high resolutions for a crispy display.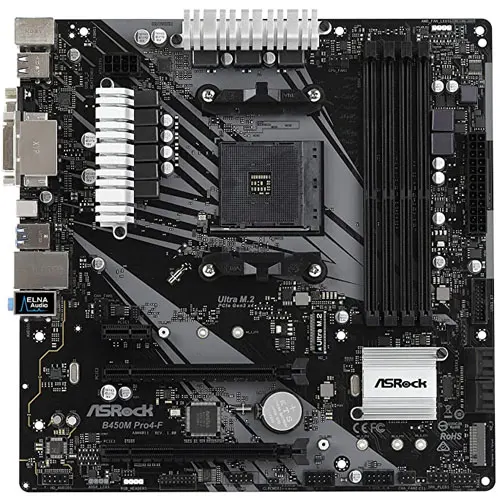 Best Budget Motherboard for Ryzen 5 3600
View on Amazon Read Customer Reviews
If you are looking for something not so comprehensive and don't want to pay more for a decent motherboard, the ASRock B450M is the right choice for you in this list. The ASRock B450M does not affect its quality over the necessary components like compatibility and other stuff, but instead, it reduces the number of ports in it for better value. By removing just a few ports, you still get quality components and don't have to spend much on them.
This best ASRock Motherboard for Ryzen 5 3600 has longer support of Ryzen Processors. It can support Ryzen 2000,3000,4000,5000, and G series processor with the same AM4 socket but with a different chipset. Dual-channel memory support with 3200+ MHz and 4 DIMM slots ensures that your PC always works faster and can deliver power whenever required. 3 PCI-E slots are available on these motherboards and have multi GPU support with AMD Quad CrossFireX. The slots are 1 PCI-E 3.0 x16, 1 PCI-E 2.0 x16 and 1 PCI-E 2.0 x1.
Now with the powerful integrated Radeon VEGA graphics, you also have the option to connect 3 monitors simultaneously by using VGA, DVI-D, and HDMI on the back of the motherboard. You also have 2 USB 3.1 including a type A and C on the back with simple USB 3.1 gen1 4 ports. Although some things are significantly downgraded, there is an improvement in the sound department by high-quality 7.1 CH HD audio providing Realtek capacitors.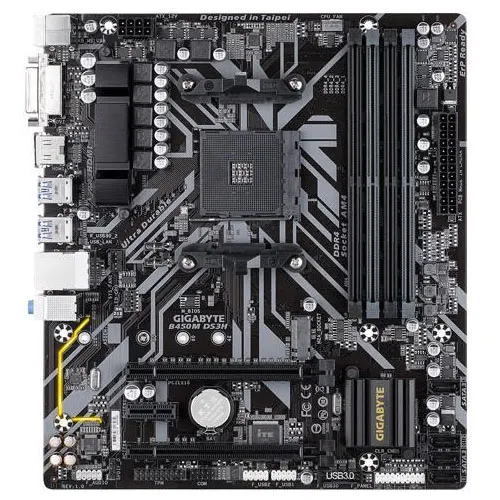 Best Micro ATX motherboard for Ryzen 5 3600
View on Amazon Read Customer Reviews
Although Gigabyte and ASRock model numbers and the chipset are the same, there are many differences between these two hardware. It's hard to tell which one is which just from the look of it, so you have to look for the branding on the components on one of each because none of them comes with any stylish backplates.
Moving on from the design, the ports are back in this version of the B450M, giving you the advantage of plugging on more components. The same chipset is used in this best Micro ATX motherboard for Ryzen 5 3600, just like we have seen in the ASRocks version, so there are no new changes to the CPU compatibility.
However, there is a small difference in memory management by Gigabyte using Non-ECC Unbuffered dual-channel DDR4 memory kits with a speed of 3600 MHz and supporting XMP profiles. There is also quad and 2 way AMD Crossfire support with this motherboard instead of only 2 way in the AS Rock. The PCI-E slots are the same; however, the technology is new in gigabytes with Ultrafast PCI-E Gen 3 x4 M.2 with NVMe and SATA support, providing excellent data transferring speeds. For display ports, you have only two in this motherboard which are DVI and HDMI. Talk about other features you have: RGB Fusion Smart, Smart Fan 5 features, 5 Temperature sensors, Bios Flash Button, App Centre with the easy tune, VR Ready, AMD Store MI, and high-quality audio capacitors.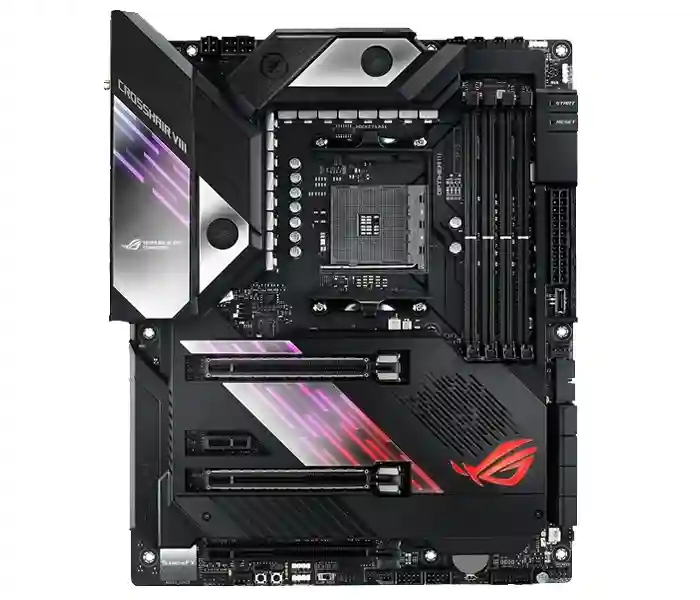 Best Premium Motherboard for Ryzen 5 3600
View on Amazon Read Customer Reviews
The ASUS ROG Crosshair VIII is another top-notch quality premium product from ASUS in this list and the highest priced best premium motherboard for Ryzen 5 3600. This motherboard is a bit different in looks compared to the others in this list. This ROG Crosshair VIII has a very aggressive yet stylish-looking design that makes it premium to hold and look at. The build quality is also the greatest in this motherboard, with backplates protecting it from damage.
The ROG Crosshair VIII can support the Ryzen 1st, 2nd, and 3rd series processors with the help of the X570 chipset that applies from Ryzen 3 to Ryzen 9. A dual memory channel with 4 DIMM slots capable of handling 128 GB of storage can also easily support 4800 MHz of memory sticks. You can also use ECC memory types with this motherboard, but this depends on the CPU that you are using it with. Multi GPU support is now better, supporting 2 way and quad AMD crossfire and NVidia SLI. There are a total of 6 expansion slots that you can find on the motherboard.
For SATA management, you now have 8 ports on the motherboard with 7 GB/s transferring speeds both RAID and M.2 support are available. One thing that you do get as an advantage in this product is the Bluetooth 5.0 connectivity for seamless portable connections to other peripherals. Now there are a ton of software enhancements with this motherboard that comes with it, and these are. Optimized memory usage, Extreme Tweaker. Rog Extreme OC Kit, CPU-Z, RAM CACHE III, Slow Mode, LN2 Mode, ASUS RGB SYNC with RGB Fusion, and many more.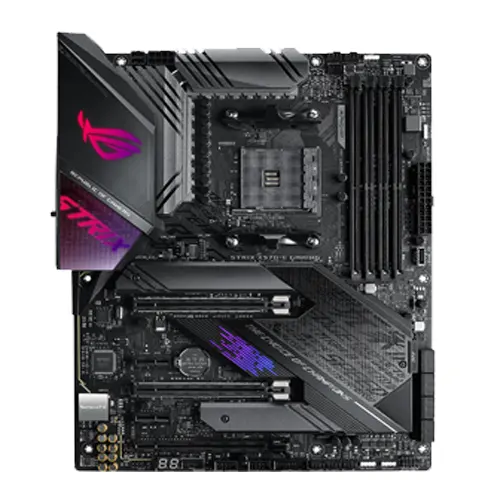 Best Gaming Motherboard for Ryzen 5 3600
View on Amazon Read Customer Reviews
ROG STRIX X570 is somewhat similar to the ASUS Crosshair VIII; it has its characteristics with minor changes. SO let's dig into these changes and see if it is worth it to purchase.
The first major difference is the processor support, with X570-E supporting 1st, 2nd, 3rd, and 4th and 5th gen series Ryzen processors. Furthermore, it can also support G series processors, which the Crosshair VIII can't. There is a slight difference in RAM management because this motherboard can only handle 4400MHz of RAM speed with both ECC and Non-ECC unbuffered memory. Apart from this minor change, everything is the same here but keep in mind that the RAM speed depends upon how much the current processor can support it.
All the other things are the same, except this motherboard is a slightly downgraded version of the Crosshair VIII for those who are unwilling to spend much on a motherboard. The same features are available with this best gaming Motherboard for Ryzen 5 3600 with only minor changes.
Quick Buying Tips : Best Motherboards For Ryzen 5 3600
Taking all of the above into consideration, purchasing the Best motherboard is not an easy task. This is for a variety of reasons because there a lot of things that are needed to be understood here before purchasing one, like its compatibility with your other PC peripherals and Longer support of Processors, which come handy when you decide to change your CPU so that you don't have to buy a separate motherboard for them unless it's from a different vendor and the USB and Slot support. It's not just these things that you must watch out for; there are plenty more. Therefore, to help you better understand, we have selected the best motherboards for Ryzen 5 3600. So let's dive into it.
Conclusion
So these are the best motherboards for AMD Ryzen 5 3600 processor that could be paired with your precious processor due to us carefully choosing these best motherboard options for the Ryzen 5 3600 and reviewing them so you can buy them without any worries. To always keep in mind before buying a motherboard is that a motherboard is also referred to as the heart of the PC, and to keep it functioning fast and correctly, you have to pick it up wisely.
Still, if you are unable to choose the perfect pair for your Ryzen 5 3600 and are willing our recommendation, we would probably go with ASROCK B450M, as it is a budget-friendly motherboard and a perfect pair for those who don't want to break the bank and want lasting features. Still, if you got a lot of money in hand to spend on a motherboard, the X570 would be the most suitable option right now for AMD platforms.
A little reminder, the RAM MHz limit on each motherboard in this list is also dependent on the type of processor you use. For example, the latest generation of Ryzen processors has different MHZ counts, and the same as others got different. Moreover, if you enjoyed reading this article, please consider leaving a review at the end, or if you find something missing, you must contact us.
Read For: Best RAM for Ryzen 5 3600
Read For: Best Motherboards For Ryzen 7 5800X
Read For: Best Motherboards For Ryzen 9 5900X
Read For: Best Motherboards For Ryzen 9 3900X
Read For: Best Motherboards For Ryzen 7 3700X
Read For: Best Motherboards For Ryzen 5 5600X
Frequently Asked Questions
Which is the best motherboard for Ryzen 5 3600?
The best motherboard for the Ryzen 5 3600 is the MSI B450 Gaming Pro Carbon Ac if the budget is not an issue. This motherboard can run this chip extremely well.
Is B450 Motherboard Future Proof?
Given the stance, B450 Chipset motherboards are future-proof because all of the chips that power up this motherboard are new and are based on a newer architecture. So as long as your house is newer and capable of performance components this motherboard is good to go for another 3-5 years.
Is it better to buy a B450 or B550 motherboard?
The B550 chipset is certainly newer and packs a lot compared to the B450. The B450 still has some bugs which can cause some performance issues but with updates, it will get better but until then the B550 is a good choice over the B450.