Ryzen 5 5600X has been a dominant processor for a while already, and there is certainly no better option at the moment for a budget mainstream PC build. It completely decimates the Intel processors that fall equal in its category with its 6 core and 8 threads. The single-core performance of the Ryzen 5 5600X makes it an excellent choice over any other processor, and the overclocking ability that this processor comes with is also exceptional while costing significantly less than the Intel K series.
However, Building a system isn't just about finding a processor that can handle your workloads, the graphic card shares an equal amount of concentration as the processor because you can't expect to play any latest titles without it or you can do video editing and run heavy software that utilizes GPU usage like rendering. So if your main objective is to play games on your PC, then a graphic card is a must-have because without it you won't be able to play games, no matter how expensive your build may be.
AMD and Nvidia both have released amazing GPUs that can fully maximize your experiences like the NVidia RTX series and AMD RX 5000 or 6000 series, but unfortunately, many can't afford those because they are extremely expensive, and that's where the mid-range GPUs excel, which can provide a decent yet playable and enjoyable experience. So In Best GPUs for Ryzen 5 5600x List, we are covering both Mid-range and high-end GPUs so that you could select a suitable pair for your precious Ryzen processor to enhance gaming opportunities, but before we move forward let's take a look at some buying tips that can help you in purchasing progress.
Quick Buying Tips!
Buying a GPU like other items isn't as easy as it sounds, so you may have some information about them or you can end up wasting your time and money, neither of which is desirable. So the First thing is the compatibility, you need to check if the GPU is currently supported by your motherboard because if it's not, it won't function properly, resulting in black screens, slowed down performance, or even not running at all. The latest GPU requires the latest PCI-E slots to function properly.
Once passed the Compatibility check you need to check if the GPU meets your system power requirements because if you don't have enough power in your PSU then you can run the GPU at all. Most mid-range GPUs could work with a 400W power supply and some even below that but the latest and high-end GPU requires power above 600W and 6 or 8 pin power connectors. So before buying make sure that you have enough power in your PC.
All the GPUs are not the same even if they have the same model because there are different variants of GPU and their specs vary depending on which variant you are getting. The biggest difference is the GPU clocks that are changed some offer higher clock rates and some lower. So you have to take a look at what other variants of the same GPU are offering before buying.
So these are the little tips that can help you get started in your buying progress and let's move towards the products.
Best Graphics Card for Ryzen 5 5600X Reviews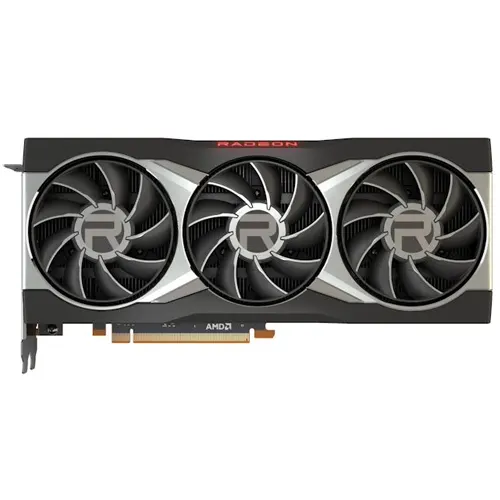 Best 4K Graphics Card for Ryzen 5 5600x
View on Amazon Read Customer Reviews
Starting with the high-end GPU from AMD which is the RX 6900XT. This GPU is the perfect choice if you don't want to have any kind of interruptions like Lag, Stuttering in any game because the RX 6900XT is the flagship model in AMD RX 6000 series. The GPU is bigger with its 3 cooling fans on top of it along with the heat sink and a backplate on its backside for any damage prevention to the board.
The RX 6900XT is packed with features that enable and helps the card run better for AA titles you have the support for DirectX12, AMD Fidelity which enables more visual effects in games, Radeon Image sharpening that enhances the level of clarity in games, and a one-click overclocking utility for all the performance boost.
Let's take a quick look at the specs of this GPU. RX 6900XT comes with a boosted frequency of up to 2250MHz and a pixel filter rate of 288GP/s. There are 320 Texture Units and 5120 stream processors on this GPU. Now the card of this size needs a hefty power supply to work which is 900W at minimum. There is 16GB of GDDR6 latest memory with a 256-bit memory interface and memory bandwidth of 512GBP/s that can also expand when overclocked.
This best GPU for AMD Ryzen 5 5600x is capable of supporting 4k resolutions and has HDMI, Display Port, and a USB Type C connector on its back. There is no bottleneck with this card when paired with the Ryzen 5 5600X as they both are from and well optimized for each other. The Rx 6900XT not only came very close to its competitors in performance but it's also way cheaper and easy to afford.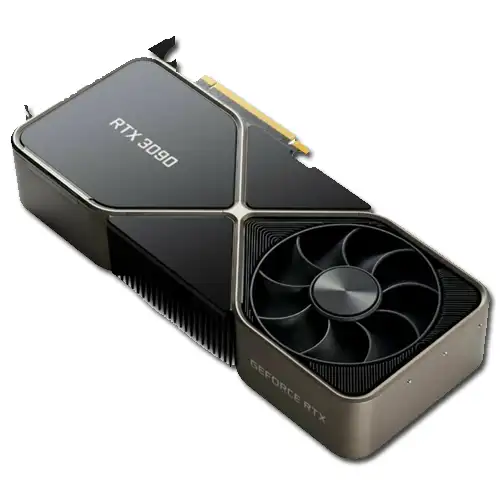 Best 1440p Graphics Card for Ryzen 5 5600x
View on Amazon Read Customer Reviews
Nvidia GeForce RTX series line-up GPUs are built for only one purpose which is to provide the ultimate gaming and rendering performance in the tasks. It was released recently so this GPU is equipped with all the powerful features that you need in modern titles.
The first thing to be noticed is the design because it's the first thing that you look at in person. The RTX 3090 features a single fan on top of it which is big so it does the job of keeping a card like this cool effectively and the heat sink features an X in its design which resemble NVidia Fidelity X its new architecture for RTX series GPU and the 300 is also based on it other than that it's a very simple but good looking design.
The RTX 3090 is based on an 8nm process size and uses the PCI-E 4.0 X16 slot. The Base Clock speed of this GPU is 1400MHz and if boosted it can go to 1700MHz and the memory clock speed is 1220MHz with a 19.5Gbp/s effective speed. The GPU features a massive 24GB of memory with the latest GDDR6X technology with a memory bus of 384-Bit and a memory bandwidth of a massive 936GB/s.
The theoretical specs of the RTX 300 are also massive with a pixel rate of 189.8GPixel/s and a texture filtering rate of 556GTexel/s. Now as it's recently launched this means that it has the support for DirectX12, OpenGL4.6, Vulkan1.2, CUDA 8.6, and Shader model 6.6 so all the latest titles and software are supported. However, you still need a bigger power supply of 750W and 1 12 pin power connector which is less than the RX 6900XT. Although the specs are pretty high you can also expect a bigger price tag with it.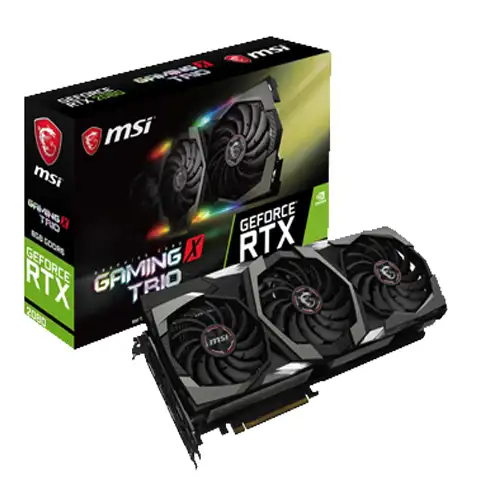 Best Compatible Graphics Card for Ryzen 5 5600x
View on Amazon Read Customer Reviews
Released on the same date the RTX 3080 features not so different specs than its predecessor RTX 3090. It was released as a more budget-friendly choice for people who can't spend so much money on one single GPU. So the RTX 3080 features compare able specs to its predecessor the RTX 3090 with slight little drawbacks because you are paying less but it's worth it. Before moving on to the specs let's take a peek at the design. The GPU looks not so different than the 3090 you still have the X logo on the front because it's also based on the NVidia Fidelity X architecture and the same one fan on it however the color of the rails is now in black to match the rest of the GPU over the chromium color and there are same 4 output ports on the back.
Specs-wise you can see some downgrades because otherwise, this GPU will not be budget-friendly to the consumers. RTX 3080 is still based on the 8nm Ampere architecture and you can use it in the PCI-E 4.0 X16 slot. The biggest downgrade is the memory because now you have 10GB but it's still GDDRX6 and it should be more than enough for the latest titles. The memory bus is 320-bit with a memory bandwidth of 760GB/s so it's still good. RTX 3080 pixel rate is 164.2 GPixel/s and texture rate at 465.1 GTexel/s and they are enough for casual daily gaming. RTX 3080 also features the latest graphical features required by the newer games like DirectX12 Ultimate, OpenGL 4.6, VULKAN 1.2, NVidia CUDA 8.6, and shader model 6.6. The one thing that has not been brought down is the graphic card power requirements so you still need a 700W power supply and a 12 pin power connector. RTX 3080 uses two slots when installed on a PC.
Best Competitive Graphics Card for Ryzen 5 5600x
View on Amazon Read Customer Reviews
RX 6800XT is another high-end graphic card launched with the 6900XT. It is built with the same 7nm process size as the 6900XT and is based on RDNA2.0 with a die size of 520mm. Now just like NVidia has made the RTX 3080 a better option for people who don't want to spend so much money AMD has also done the same thing with its price even less than the RTX 3080 while performing near as identical to it. The design is also identical to its predecessor RX 6900XT with little changes on it so you still have 3 fans on top with the heat sink and only the stripes pattern have changed.
Radeon RX 6800XT comes with a total memory of 16GB GDDR6 and a memory bus of 256-Bit along with this you also have a memory bandwidth of 512GB/s which is enough to handle the latest games and tasks. The base clock speed is 1825MHz which if overclocked can go to 2250MHz whereas the memory clock is at 2000MHz. Theoretical performance is also solid with a pixel filtering rate of 288GTexel/s and a texture rate of 648 GPixel/s.
RX 6800XT has 4608 shading units with 72 RT cores. Graphical features are the same with a little change so you still have the support of DirectX12 Ultimate which is 12.2, Open GL 4.6, VULKAN 1.2, and Shader Model 6.5. The power requirements of this GPU also go the same with a 700W PSU at a minimum and2 8 pin power connectors and because it's still bigger it will cover dual slots. The Display outputs include 1 HDMI, 2 Display Ports, and 1 USB Type C port.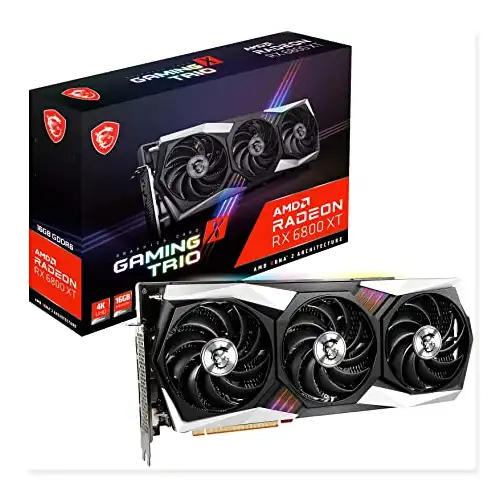 Best 1080p Graphics Card for Ryzen 5 5600x
View on Amazon Read Customer Reviews
Radeon RX 6800 is another GPU in a low-budget category. So if you can't afford the RX 6800XT you can go for the RX 6800 without giving it a second thought because it costs even less and performs relatively the same with some minor drawbacks that are not going to make a huge impact on your gaming or other stuff. It is still a decent budget option with the newest components so you can easily game at 4k resolution even at a budget-friendly price tag.
Design-wise there are no big changes but you have now arctic white borderlines and a Radeon logo on top of the card. The size is the same as the 6800XT or 6900XT with 3 big fans on its front side. Both the sides and the back is protected by metal plates.
As I previously mentioned that there are no big changes in the specs as well but there are minor so let's take a look at those. RX 6800 is also based on the same RDNA2.0 7nm architecture to keep that performance on top of everything and it's still going to use that PCI-E 4.0 X16 slot for extra efficiency. The base clock speed of RX 6800 is 1700MHz which can go to 2105MHz when you overclock it and as for the memory clock, it has 2000MHz
RX 6800 comes with 16GB of GDDR6 memory and 512GB/s of memory bandwidth with a memory bus of 256-Bit as well. If you are into editing and rendering then there is also no issue as this best budget GPU for Ryzen 5 5600x can handle that easily with 3840 shading units and 60 Compute Units whereas the theoretical performance for gaming has a slightly lower decrease in its pixel rate at 202GPixel/s and texture rate of 505.2GTexel/s. However, the good news is that now you don't need a bulky power supply because you can run this card with a 600W of PSU with 2 8 pin power connectors.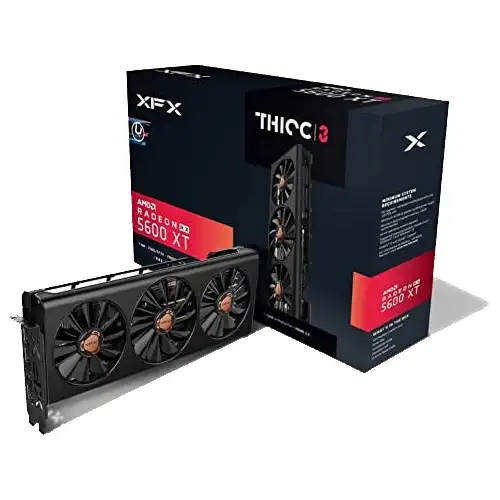 Best Entry-Level Graphics Card for Ryzen 5 5600x
View on Amazon Read Customer Reviews
The Radeon XFX RX 5600XT stands out on its own when it comes to low budget mid-range graphic cards because it is equipped with the latest components and features and is the most recent in the market which means that you can still get it fresh out of the box without any issues and in case of you do you still have the warranty whereas the past flagship cards can still be available at this price but they will be used and not reliable. RX 5600XT is a mid-size card with 2 fans on it and a very simple-looking design. So if you were having space issues then this card will be a good choice for you to consider.
RX 5600XT performs beyond expectations when it comes to its price it completely decimates its competitors' thanks to its newer components. RX 5600XT carries the RDNA1.0 architecture with a process size of 7nm and a relatively smaller die size for maximum efficiency and less heat output.
There is 6GB of GDDR6 memory with a memory bandwidth of 288GB/s and a memory bus of 192-Bit and don't worry because you can still play modern titles even with 6 GB of VRAM. The base Clock of RX 5600XT is 1130 MHz that can easily go up to 1550 MHz when boosted with overclocking.
The pixel Rate for the Rx 5600XT is at 100GTexel/s whereas the Texture rate is 224.6GTexel/s. Now due to its small size and less hefty specification, this GPU doesn't require a big power supply you can use this GPU with a 450W of power supply and one eight-pin power connector. The Display output includes 1 HDMI and 3 Display ports on the back. You can easily play games at 1440p with this card.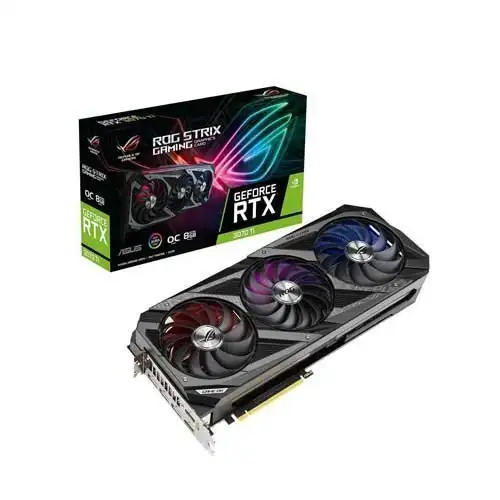 Best Mid-Range Intel Graphics Card for Ryzen 5 5600x
View on Amazon Read Customer Reviews
Nvidia RTX 3070 is also a budget-friendly product in the RTX lineup however it does significantly costs you more over RX 5600XT but for some people who want some bigger specs and are willing to pay more price then you can go with the 3070.
The card has become smaller in size with now two fans on top of it and you get the chromium rails all around the edges of the best Nvidia GPU for Ryzen 5 5600x and then there is the backplate for protection from any kind of damage. It's a very simple design so nothing impressive to see however the specs do seem to shine more than its design. So let's take a look at those.
Nvidia RTX 3070 is fresh out of the factory so there are not any modifications on it so it's based on the NVidia Ampere architecture with a process size of 8nm. It was also released alongside the rest of the RTX high-level GPU so it shares their graphical features also. There is 8GB of GDDR6 memory on the board with a memory bus of 256-Bit and bandwidth of 448GB/s.
The base clock is at 1500 MHz that can be effectively boosted to 1725MHz and as for the filtering rate that is also good with Pixel rate at 165.6GTexel/s and texture rate at 317GTexel/s. As mentioned earlier this GPU does come with all the latest features like NVidia CUDA 8.6, DirectX12 ultimate, OpenGL4.6, VULKAN 1.2, and shader model 6.6. The suggested power supply for this specific GPU is 550W while also requiring a 12 pin power connector.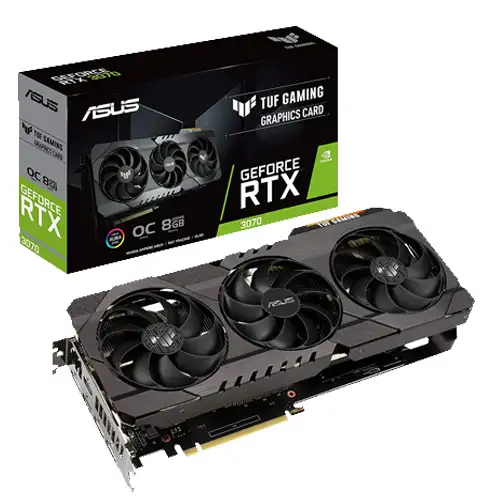 Best Budget Friendly Graphics Card for Ryzen 5 5600x
View on Amazon Read Customer Reviews
AS I mentioned earlier that different variants of the card come in different sizes and specs the same goes for the ASUS RTX 3070 Overclocked edition. So the first thing that you will be noticing is the design because it looks completely different than the factory version.
This best Mid Range GPU for Ryzen 5 5600x jumps back in the big design with 3 fans on it that does an extremely good job with its new wing design and there is also ASUS ROG STRIX heat sink instead of the stock and it also looks aggressive and stylish and on the back you ASUS backplate that comes with its logo.
Moving on to the hardware characteristics of the GPU they have also been bumped up for a more performance boost it's still based on the same Ampere architecture with 8nm process size but the clocks and filtering rates have been drastically improved with this version. RTX 30-70 comes with 8GB of GDDR6 memory type with a memory bus of 256-bit and a memory bandwidth of 448GB/s.
The base clock is at 1500 MHz which can now go up to 1905MHz whereas the Pixel filtering rate is now 182GPixel/s and Texture Rate at 350 GTexel/s. The graphical features are the same but the same cannot be said for its power requirements. ASUS RTX 3070 OC comes with 2 HDMI and 3 Display Ports on its back. The power supply requirement is the same as 550W but this time you need 2 8 pin power connectors to use it and also it covers 3 slots due to its bigger size.
Conclusion
So these are the best Ryzen 5 5600X compatible graphics cards that you can look into for buying.We have carefully chosen these GPUs and they won't cause any bottlenecks working alongside the Ryzen 5 5600X.
All of the GPUs enlisted here are recently released so you won't have any trouble with the compatibility or hardware failures. Each GPU comes with its own set of warranty periods so they are all reliable. According to your budget, you can easily pick GPU for yourself as they all support the latest titles and are good at graphics-intensive tasks.
If you are preferring our opinion, we would surely suggest you get your hands on the Geforce RTX 3080 or 3090 regardless of your budget, but if you got a low bank so you should be considering the Radeon XFX RX 5600XT or RX 6800.