The recent global shortage of Pc components has caused a massive impact on today's users. Besides the higher prices, but the availability of the products has also been affected. Talking about specific products, AMD Ryzen 5 is one of them. This chip does come at a budget-friendly price but due to its shortage and higher price, it is much difficult to get. Thankfully the Intel i5 series processors are still capable of heavy tasks and usage. These processors do come with a lower price tag if you go a generation lower and look carefully. The I5 10400 is still a very good CPU even for today's application standards and will be. The processor performs relatively close to the AMD's most popular Ryzen 5 CPUs with only a minor difference in the performance charts.
Intel's I5 10400 not only gives AMD Ryzen 5 a tough time but it also performs close to its newer 11th generation CPUs. For the context, the I5 10400 is based on Intel Cornet Lake and a 14 nm process size which still does the job efficiently. The processor comes with 6 cores and 12 threads which is enough for today's multitasking. An i5 10400 processor isn't that complicated for users, however, you will need Best Motherboards for i5 10400F to house it.
Motherboards are the most essential part of a Pc or any device because it houses all your other components and run them according to your needs. There are several i5 10400F compatible motherboards available that can run it as well. Various products are either very expensive or very cheap because of their different characteristics and this can leave the consumer in a thinking state of on which they should place their hands. Getting expensive stuff is not always the priority as it also lacks minor things. So to help you out there is a buying guide beneath as well and if you are already familiar with the working mechanism of motherboards then you can skip to the products themselves.
Quick Buying Tips!
While selecting a motherboard you always have to be careful with them and if you aren't you have to spend more time, money, and effort on them when you can already avoid this mishap with a little knowledge about them. Motherboards work very differently than the rest of the components so first of all the most important thing that you have to look for is compatibility. Even an expensive motherboard can lack this basic thing so make sure that the motherboard that you are purchasing is capable of housing in all of your other pc parts and also make sure that they can handle the next generation peripherals as well.
The second most important thing is the Slots availability. When you equip a motherboard with extra slots you can always go and buy any other components and just put them inside of your motherboard whereas the lower number of slots motherboards requires a complete roundabout that requires you to change the whole motherboard to fit that other component in it.
The third tip is how much efficient the motherboard is in its power delivery and cooling mechanism. If a motherboard is not capable of putting much power into the components then your components can not work properly causing bottleneck or failure of other parts. While the cooling mechanism is not much important but it is also a factor of avoidance. A motherboard that is from a good manufacturer does not have this problem and Several motherboards from these manufacturers also come with built-in fans and heat sinks and if you don't have that type of motherboard then it is not a big issue as you can always swap in a big chassis fan if you have a decent case.
So these are a few things that you have to avoid to get a good experience out of your PC and now we can look at the motherboards that we have carefully chosen for the i5 10400.
Best Motherboard for i5 10400F Reviews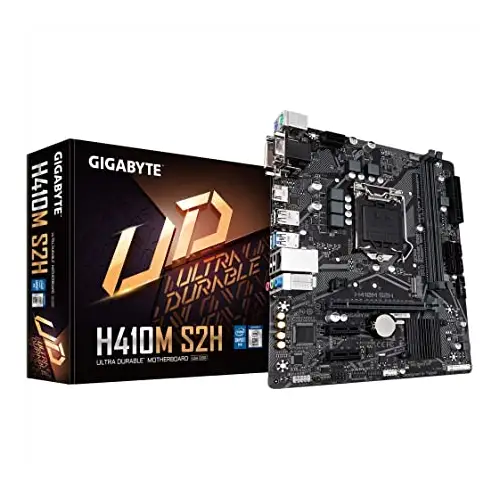 Best Premium Motherboard for i5 10400F
View on Amazon Read Customer Reviews
Starting things we have the best motherboard from gigabyte in a small form factor which is suitable for people who don't have a bigger cause. Gigabyte is a well Known brand known for the manufacturing of PC parts and they have a good reputation all over the globe. One thing that gigabyte has always nailed with their products is their design. They look completely different from the other vendors and have a more stylish design. Gigabyte H410M also has that characteristic with its black and silver combination around the whole motherboard. It does not come with any stylish metal plates because it's a budget-friendly motherboard and adding metal plates would only increase the size and weight of the motherboard which is not ideal for a small form factor motherboard.
This best motherboard for i5 10th generation can easily handle Intel 10th gen processors. It has two memory modules of DDR4 and they both support Non-ECC Unbuffered memory with the support for dual channel. You can also install any of your favorite latest GPU inside this motherboard because it comes with a PCI-E GenX3 slot for graphical needs and if you are only going to use the dedicated Intel UHD graphics on the i5 10400 then you have the option for both HDMI and DVI connectivity at the back of the motherboard.
Having more storage is always a better option so the Gigabyte H410M has 4 SATA ports that are capable of transferring data at a speed of 6GB/s and for external data transfers, you have USB Type-A 3.2 gen connectors on the back as well. Gigabyte has also made sure that you get faster cooling by using the newly designed heat sink on the Chipset whereas for the rest of the motherboard you have Smart Fan 5 to monitor all your temps with built-in features that can help in maintaining your PC temps in a low state.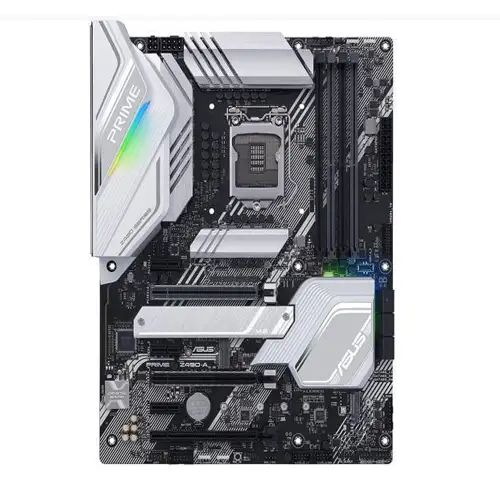 Best Enthusiast Motherboard for i5 10400F
View on Amazon Read Customer Reviews
Asus has also been a leading brand for a while now in the gaming community and their reason for the popularity is the quality, performance, and reliability of their products. Whenever you are spending a bigger amount of money the biggest concern is always how much longer that thing will last and with ASUS you can expect a good life expectancy with their products no matter which one it is. The prime Z490M- Plus is also an extremely good motherboard with additional improvements and adds to it over the regular Z490M. The design of the motherboard is pretty similar to many of the newer motherboards with its black and silver-white lining throughout the motherboard. It does include a few additional plates for covering and protecting the motherboard.
Z490M-Plus also rocks the Intel Z490 chipset which is also covered by a heat sink. There are 4 DDR4 RAM Slots on the motherboard alongside the CPU socket and they are capable of handling RAM speeds at 4400MHz+ with overclocking. There is also a PCI-E express gen 3.1 slot that has ASUS safe slot Core+ and supports 2 way AMD CrossFireX with another PCI-E slot. On the back of the motherboard, there are 2 USB 2.0 slots, 1 Display Port and 1 HDMI with the addition of 1DVI port, 2 USB Type-A 3.2 ports with USB Type C included as well and audio support.
Speaking of AUDIO ASUS has used the best Audio capacitors that are made in japan for superior audio quality. The cooling efficiency of this motherboard is also great with new heat sinks and VRM thermal Pads that help in maintaining the temperatures a lot. The ASUS Z490M-Plus is complete is an all-in-one powerhouse that requires extreme usage with a not expensive price tag.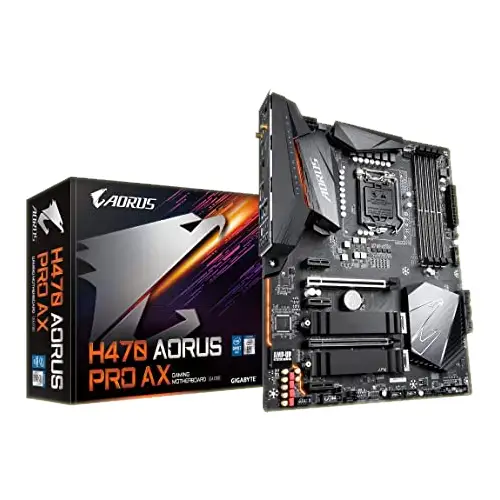 Best Overall Motherboard for i5 10400F
View on Amazon Read Customer Reviews
Taking another look at the Gigabyte products we have another product on our list which is the Gigabyte H470 AORUS Pro AX. As mentioned earlier that gigabyte already makes some of the best-looking components they have taken it a step further with their AORUS series products. AORUS products are a lineup of gigabyte products that specializes in both design and performance. The H470 is also packed with premium features while also having a great premium design. Most of the motherboard looks in black with the metal plates covering the top. The protective plates come with a slightly different tone of color and it also has RGB on the backplate on the edge which adds more style to it.
The hardware feature is just as impressive as the design of this motherboard. 3 DDR4 memory modules are available with ultra-durable protective armor for any kind of damage prevention. You can use both ECC and Non-ECC memory modules with this motherboard and the Intel XMP profile is also available. As for the graphic card installation, you can also install any latest or previous-gen graphic card in it.
In terms of features of the motherboard, you have quite a few, it supports RGB Fusion 2.0, Solid Pin Power connector, advanced thermal design with enlarged heat sinks and newer cool pads, Q Flash Bios Update, Ultra Durable PCI-E armor, Amp UP Audio functionality wit high-end capacitors and audio noise guard, Smart Fan 5 and Direct 11+1 phases Digital VRM solution for efficient power delivery.
This motherboard hits all the checkmarks of a premium high-end motherboard however it does cost more amount but it does include all the necessary features and has excellent compatibility for the newer generation as well.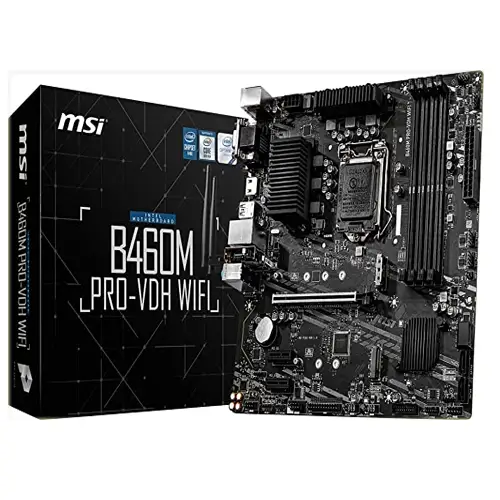 Best Budget Motherboard for i5 10400F
View on Amazon Read Customer Reviews
MSI is also another leading brand in the gaming community all across the world. They are a big manufacturer of high-end PC parts. Just like other motherboards in this list the MSI B460M also has its own set of specialties which makes it a decent option for the i5 10400. Starting with the design it's not of premium quality but it's still decent in looks. It does not include any protective plates or fans on it and instead, you have large heat sinks for the cooling of components like the chipset. It still looks modern with its black color.
As it is a performance product this is where you can expect things from it. Unlike most of the motherboards this motherboard has its own fully isolated RAM DDR circuit this helps in better Data signals that are interrupted and have more stability. It has 4 DDR4 modules on it that can handle 128 GB of RAM at 2933 MHz with Dual channel support. MSI B460M outperforms the Intel I5 10400 with its Core boost technology that can enhance the speed of the processor whenever it's under load. It comes with 4 SATA ports and 1 PCI-E x16 Gen 3 slot for graphical capabilities. The most interesting thing about this motherboard is the built-in Wi-Fi and Bluetooth from Intel. This network adapter can deliver speeds up to 433Mbps with also lower CPU loading and better long-term usage.
This Best MSI Motherboard includes all of the latest features like USB 3.1 ports, High-quality audio performance, NVMe slots for SSD installation, and a user-friendly design meaning its components are easily accessible and offer tons of customization and tuning. In conclusion, this best budget motherboard for I5 10th generation is great for everyday usage no matter if you use it for extreme or just normal use.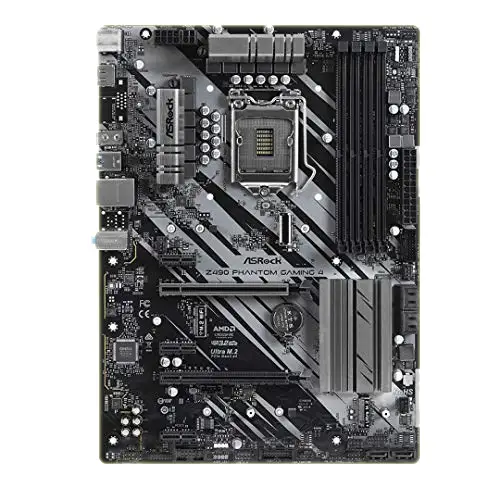 Best Flagship Motherboard for i5 10400F
View on Amazon Read Customer Reviews
ASRock B460 Phantom Gaming 4 was specifically designed for gamers. This motherboard completes all of the essential points of being a high-end motherboard. The phantom series of the ASRock includes the best that they have to offer so this phantom gaming 4 comes with all of the optimizations and features needed for a powerful experience. The Phantom Gaming 4 comes with black and Arctic white color on top of it which looks gorgeous. It includes two heat sinks on top of it one for the chipset and the other for the DRMOS power.
The phantom gaming 4 has an Intel LGA 1200 socket which houses the 10th gen Intel Core I series processors in it and with this motherboard no matter if you don't use an Intel K series processor because this motherboard can easily overclock any I series processor above its limit with the Base frequency Boost. The 9 Power phase design delivers an excellent flow of current throughout the whole motherboard. 4 DDR4 memory modules are given that are dual-channel enabled and can handle 128 GB as well at a max speed of 2933MHz. Graphic cards are a big use especially when you do a lot of gaming so there are two PCI-E 3.0 x16 slots, 2 PCI-E 3.0 x1 slots as well and along with that you also have another 1 M.2 slot for WIFI. The Motherboard also does support AMD Crossfire. Now as for the storage connectivity you have 6 SATA 3.1 slots and 1 Ultra M.2 slot which houses NVMe SSDs. There is also USB 3.2 Gen 1 ports both on the front and the back for faster data transfers between external devices.
The Phantom gaming 4 is among the best products in its price range as it offers many features that even the expensive one lacks which ultimately makes it the best mid-range motherboard in its price tag.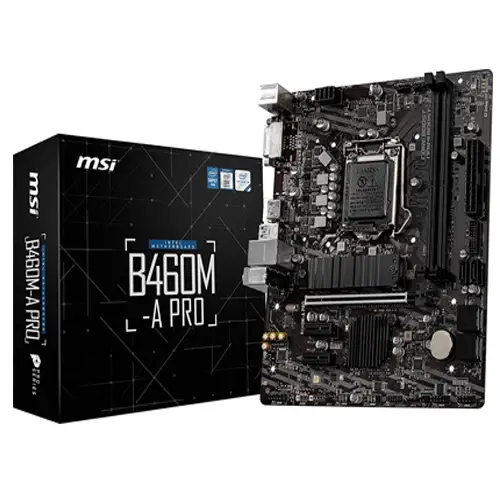 Best DDR4 Motherboard for i5 10400F
View on Amazon Read Customer Reviews
The MSI B460M-A Pro Series motherboard equips with many improvements over the previous motherboard of the same model. It has kept some of the aspects of the previous motherboard that were good enough to be used again so it kept the user-friendly design of the MSI B460M Pro-VDH WIFI with some more little improvements. It still has an overall black look over it with white context. The Big heat sinks are been replaced by the smaller ones that are more efficient at keeping the heat away and now it does not look as much bulky.
The motherboard now supports a wide variety of Intel Processors including the Celeron and Pentium processors. The 4 DDr4 memory modules work the same with dual-channel support and are capable of handling 128gigs of RAM at a max speed of 2933 MHz The memory modules are separately designed just like in the previous motherboard. One big change is the addition of M.2 shield FROZR this prevents the SSDs from overheating which can lead to throttling and increases maximum performance and speed of the drive. You have now 6 SATA ports all capable of providing transferring speeds up to 6GBP/s.
The Superior Audio quality and the PCI-E Gen slots with Turbo support are also kept in this version of the motherboard. In conclusion of this motherboard, it is a much more refined version of the MSI B460M PRO VDH-WIFI and if you are willing to pay a little more you can get it with all of the newer features.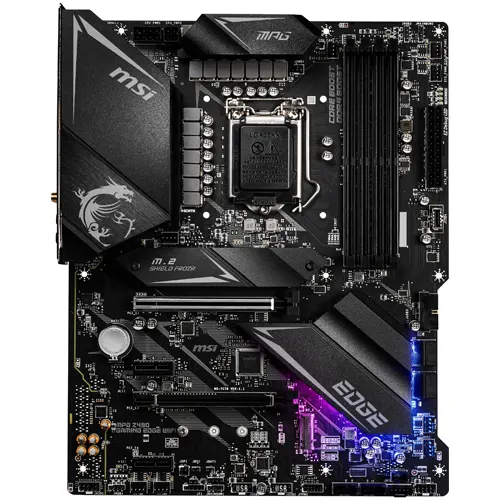 Best Enthusiast Motherboard for i5 10400F
View on Amazon Read Customer Reviews
The first thing that you will immediately notice about this motherboard is the premium design and build quality. The all-black look certainly gives it a more stylish look but the addition of protective metal plates with MSI badges on them and RGB certainly adds a more pleasing look to the motherboard. The heat sinks on the motherboard are also designed with an aggressive look to match the overall theme of the motherboard. If you are wanting a good design as well as performance in the motherboard then this is the perfect choice for you to consider.
Moving on to the hardware it's just as impressive as the design of the motherboard. The MSI Gaming Edge WIFI is just packed with extreme performance features. It has the same Intel LGA 1200 Socket which houses your processor in but with an upgraded chipset you now have a variety to choose from. The number of memory modules is the same however they are much different. The 4 DDR4 slots can handle 129GB of RAM at a max speed of 5000MHz the memory slots are also dual-channel supported. PCI-E x16 Slots are available on the motherboard along with 2 PCI-E X1 slots. You can find 6 SATA Ports on the motherboard all providing a good 6 GBP/s of transferring speed. There are also 2 M.2 Slots on it. Whereas for the external devices you have all sorts of ports including USB 3.2 Type A, USB Type C, and USB Type-A 2.0.
MSI MPG Z490 Gaming Edge Wi-Fi is a perfectly good option for you to consider if you are a heavy power user.
Conclusion
So now you would be familiar with the best motherboards for the I5 10400. Depending on your budget, you can choose from any of the motherboards on this list. There are both expensive and budget-friendly motherboards to consider.
In case you are unsure which one to choose, we would recommend the MSI Z490 Gaming Edge WIFI as this motherboard is just packed with advanced and useful features you are not going to experience any sort of trouble with it in your system. As for the budget-friendly motherboard then my choice would be the Gigabyte H470 AORUS Pro as this motherboard is also giving you all the necessary features and hardware capabilities along with some extra features that may come in handy.