Core i7 9700f came under the most sold processors back in 2019 and was officially released in 2018 by Intel. This processor's base is similar to a Coffy lake microarchitecture and is manufactured on Intel 14nm++ process.
For anyone thinking of replacing their old processor, and looking for the highest possible frame rate, get the i7 9700f. It runs at 3 GHz while consuming only 65w TDP. It has eight cores, eight threads and is capable of 4.7 GHz.
Overall it is a pretty good buy for running the latest titles on it; obviously, you will need the Best Motherboard for i7 9700F. In this Buying Guide, we will be studying some of the best motherboards on the market that deliver decent performance.
Our Top 3 Recommendations
Best Pick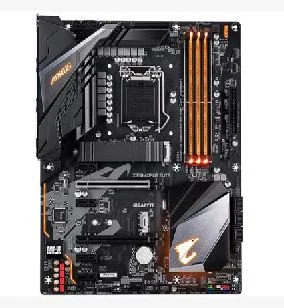 GIGABYTE Z390 Aorus Elite
Most Popular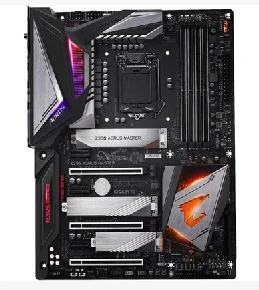 GIGABYTE Z390 AORUS MASTER
Budget Pick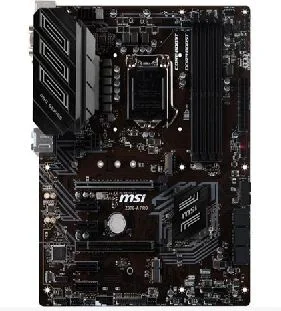 MSI Z390-A PRO
Best Motherboard for i7 9700F Summary
| Award | Image | Model | Price |
| --- | --- | --- | --- |
| Best RGB Gaming Motherboard for i7 9700F | | GIGABYTE Z390 Aorus Elite | See On Amazon |
| Best GIGABYTE Motherboard For i7 | | GIGABYTE Z390 AORUS MASTER | See On Amazon |
| Best Overclocking Motherboard For i7 9700F | | MSI Z390-A PRO | See On Amazon |
| Best Budget motherboard for i7 9700F | | MSI MEG Z390 ACE | See On Amazon |
Best Motherboard for i7 9700F At a Glance:
Best Motherboard for i7 9700F Reviews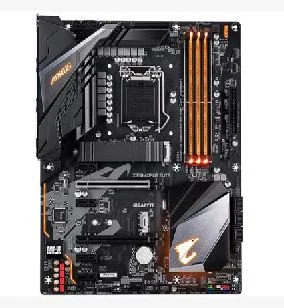 Best RGB Gaming Motherboard for i7 9700F
Aorus Elite Z390 is one of the top-notch motherboards in the z390 series and is manufactured by Gigabyte. Its features make it stand out among the rest, so you don't have to worry. Speaking about its appearance, it is very great with excellent aesthetics, containing its own RGB LED lighting, in a Beautiful Black color with some grey accents.
Taking the z370 Aorus Gaming 3's place in the Z390 segment, the Aorus Elite z390 replaces it. It features four built-in RAM slots and supports up to 64 GB (DDR4-4133) memory (impressive). Some z390 do not support the latest Intel 9th/10th gen processor. Aorus Elite performs better by having the access of being paired with the latest ones in the market.
The rear panel holds two USB 3.1 Gen2 Type-A ports, four USB 2.0 and four USB 3.0 Type A, plus an HDMI video slot and a single LAN (adjustable via a GiGabyte networking chip), offering the user multiple USB ports. Good audio has its value in the users' eyes. Z390 has six audio jacks of 3.5mm and one PDIF output, delivered by the Realtek ALC 1220-VB HD, giving a total of five audio channels.
Aorus elite Z390 allows a 13 phase power configuration, similar as compared to other Z390 Gigabyte boards. Concerning the PCIe slots, there are three full-length PCIe slots and one x1 PCIe 3.0 slot. It contains two M.2 slots with storage options and has one of them under a heat shield.
As for the SATA ports, there are six, and they are all common across the same-generation boards. Overall this motherboard has an outstanding performance and is designed perfectly, considering the most asked question, what is the price? Is it made for budget users? So Yes, it comes under budget one's, which is pretty good news for those users who are willing to get Best Motherboard for i7 9700F, and noticing its price, it is around 200$ which would be an issue for some of those who got a tight budget. Still, if you are looking for a completely perfect pair, I would personally be suggesting this to you.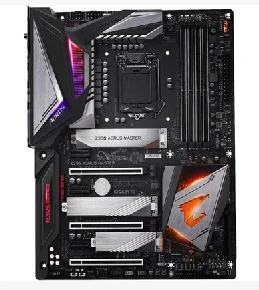 Best GIGABYTE Motherboard For i7
The second product on our list is also from GiGaByte and is a well-known motherboard that most users are currently using on their system. If we talk about performance, the z390 Aorus Master is no farther if comparing it from Aorus elite both come with almost the same specs, just a bit different in performance and aesthetics. Its blackish color can't deny its beautiful appearance while having a purple RGB strip on the Aorus logo and grey accents on some ends.
As the z390 Aorus elite, it also supports Intel's latest 8th and 9th gen processors, making it more reliable. But considering other specifications of both the motherboards, Aorus Master makes its place on top, having a mighty change in price. It consists of 4 unbuffered DDR4 DIMM slots, which can access 64GB altogether.
Having 12 Phases IR Digital VRM Solution makes it a bit down from Aorus Elite, but the Advanced thermal design Heat Sink pipes are new that we could see in the Z390 series. In connectivity options, it provides (CNVi 802.11ac) 2 by2 Wave 2 Wi-Fi which helps the gamers get the best and stable network while enjoying their titles.
It provides top-class Audio options, including 125dB Audio with ALC1220 & High-End ESS SABRE 9118 DAC. It also gives access to a USB Turbocharger specifically made for Mobile devices, and it helps the user by charging their smart devices faster than its charger. Controlling the temps is one of the major problems that users need to face. Still, Aorus Master comes up with Smart Fan 5, including Multiple Temperature Sensors and a Hybrid Fan Header with a built-in Fan stop.
Storage options carries 1 x M.2 connector and 6 x SATA 6GB/s slot which is supported for Raid 0,1,5 and 10, whereas there are four USB ports 2 x USB 3.1 Gen2 Type-C, 3 x USB 3.1 Gen 2 Type-A port and 4 x USB 3.1 Gen 1 port. Expansion slot Includes 1 x PCIe Express x16 slot running at PCIEX16, 1x PCI Express x16 slot which runs at PCIEX8, 1 x PCIe Express x 16 slots which are running at PCIEX4, and 3 x PCIe Express 1 slots.
Indeed, if giving a closer look at all the features and functions, Z390 Aorus Master would be a perfect choice to be paired with i7 9700f. If the budget is not an issue, Aorus Master is an expensive board. In my opinion, its prices should be lower down because it doesn't provide performance worth price. I would personally not recommend you this motherboard if you are a budget builder and don't get enough money in your pocket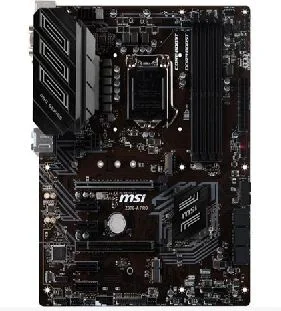 Best Overclocking Motherboard For i7 9700F
If searching for theBest Motherboard for i7 9700F in the Z390 series product stack, we can not skip Z390-A PRO. Z390 A PRO is manufactured by MSI. MSI has built its name in the top-notch brands if considering PC components. If you are a gamer and have a tight budget in your pocket but want the best, MSI z390-A PRO is the way to go.
You should probably not regret buying this, whereas if we consider the specifications, z390 A-PRO doesn't allow many features compared to the above motherboards but suits its price tag.
Z390 A-PRO allows the user to get high-speed peripheral slot options and high-speed connectivities as well. The manufacturer made this best motherboard a decent one by not applying any RGB type stuff to its appearance, as well it doesn't matter in its performance. Still, those users looking for something with colorful and beautiful aesthetics then instead should search for something else.
Some of the users might get disappointed because it doesn't support onboard Wi-Fi, whereas almost every other board in the z390 series gives access to it. The upside of the board is that you get plenty of USB slots and M.2 support.
Considering the features and functions, it allows DDR4 memory to run up to 4400 MHz (however, when overclocked). Giving 4 x DDR4 slots could be considered an upside while looking at the price tag, but mainly it shocks the user by having 128 GB of maximum storage. storage option includes 6 slots of SATA 6 GB/s whereas expansion slot carries 2 x PCIe 3.0 x16 slots (supports both x16/x4 mode), 4 x PCIe 3.0 x 1 slot and 1 x M.2 slot.
This motherboard supports several USB ports likely 2 x USB 3.1 Gen2, 6 x USB 3.1 Gen1 and 6 x USB 2.0. however, in audio connections, it provides 7.1-Channel High Definition Audio which helps the user get clear and reachable sound while gaming or rendering. All the features are pretty impressive if considering the price tag, but I don't think I would recommend this motherboard unless you have a tight budget. If you do have more money in your pocket, you may keep looking for another board on our list.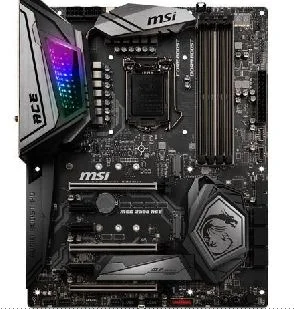 Best Budget motherboard for i7 9700F
Trying to find something more efficient than the above three will hopefully be the one you were looking for. The next and final motherboard on our list is the MEG Z390 ACE which MSI also manufactures. Regarding its aesthetics, MEG Z390 ACE is combined with some Black and neutral colors, with silver and grey accents on it. However, the user notices its dragon logo designed on the grey inset, which makes it look massive and impressive.
MSI MEG Z390 Ace was designed to be a high performer at several ends, such as gaming, which most users use to do, but they can't find a good board that provides every facility to them. MEG z390 is an ATX board that allows the consumer a bit more performance from the other z390 series stack. However, MEG z390 isn't made for those who want an inexpensive but best-performing board, although if you can wait and save some money, this board may be worth it.
There are some downsides to this Gaming motherboard, such as without having a GPU, it doesn't display video-outs for integrated graphics, which could be a problem for some users; it only contains one heatsink on one M.2 slot, whereas there is a total of three M.2 slots making it the Best Motherboard for i7 9700F.
In terms of features and functions, the MSI MEG z390 disappoints users at some ends while having a high price tag. While also supporting the latest 8th and 9th gen processors, it has a total of four DDR4 memory slots and DIMM slots that give access to up to 128GB and could exceed 4500 MT/s when overclocked, which is good news for Dual Memory Channel. MEG z390 Ace gives access to 16.8 million colors and 29 effects simultaneously, which a single click could control by providing Mystic Light Extension support.
Providing several USB ports in just one board doesn't that enough. MEG z390 provides 2 Gen2 FRONT ports of USB 3.1, 1 Gen2, Type C REAR port of USB 3.1, and a total of 8 FRONT and REAR ports of USB 2.0. Besides, it consists of 6 SATA III slots and several PCIe slots. Audio port Includes Realtek ALC1220 Codec, which is commonly on many other boards. We should rather be considering buying MSI MEG z390 ACE compared to GiGaByte Aorus Master, which comes with similarly same components while having a price difference of 80 to 100$.