Intel has dominated the CPU market for much longer than AMD, but AMD has finally given Intel the toughest time. When AMD First unveiled its New Ryzen series Processors to the general public, they already did an excellent job in overall performance while surpassing Intel even the Ryzen 3 CPUs give Intel I5 CPUs a tough time. Now AMD has improved their CPUs to an even further level that Intel CPUs are struggling just to keep up with them. Ryzen 7 3800XT is based on AMD's new Zen+ architecture and is the most dominant mid-range chip for consumers to buy for one of many reasons.
AMD has just unveiled the Ryzen 5000 series CPUs and they are without a doubt the more powerful ones because they have a newer architecture and improved hardware but they can be expensive to buy and you also need a powerful motherboard to run them perfectly so going with a previous generation is not a bad deal at all considering they cost less and are still powerful to do everyday tasks and gaming without a hitch.
Ryzen 7 3800Xt is a powerful version of the Ryzen 7 CPU with it having more clock speeds and improvements over the standard models another good part about it is that this processor doesn't require a high-end motherboard to perform at its full potential hence saving more money. So here we have rounded up some of the Best Motherboards For Ryzen 7 3800XT that you can pair with this processor. Let's take a look at them but before proceeding here is also a quick buying guide for finding Ryzen 7 3800xt compatible motherboards that will help you in making your decision more carefully.
Quick Buying Tips!
Ryzen 7 3800XT is a better choice overall to consider for everyday day use and high-end gaming. This chip comes with 8 cores and 16 threads and has a 7nm process size. This is more than enough for gaming purposes because most games don't utilize more than 6 cores even at the highest settings whereas for the daily typical usage or running high-end software's this chip does an extremely good job in it too but if you pair this CPU with a motherboard that is not capable or compatible to run this processor at its full potential than you are in trouble because it can lead to intense performance drops or even failing other hardware like GPUs or RAM. So, to avoid all of these major problems this guide can be extremely helpful to you.
Form Factor:
Many people who don't know about the motherboard form factors end up picking a different or small size motherboard that later causes problems for them. Small motherboards don't have the normal number of slots and the standard motherboard doesn't have a better cooling design and these are only a few problems to point out. So, it is important to know about the motherboard form factor buying it. PC motherboards come in 4 sizes that are Mini ATX, Micro ATX, ATX, and Large ATX, the most common motherboard is the ATX which has the best value and features. Large ATX sized motherboards come with many additional slots but they are expensive and you also need a much bigger case for them. So always go for the Standard ATX size motherboard unless you want more portability.
Compatibility:
The second and the most important thing that you need to worry about is how much longer is your motherboard going to last in terms of hardware connectivity. Mostly, motherboards with higher price tags have the best hardware compatibility meaning that you can easily upgrade your other hardware in it however mid-range motherboards also provide this facility but not to a much bigger extent than the high-end ones so you have to look carefully into the specs of the motherboard whereas for the budget-friendly motherboards options are very limited and there are hardly any budget-friendly motherboards that have these features.
Build Quality:
There is no point in paying a higher price if your motherboard won't last much longer which brings us to the next point of design and build quality which is something that most users tend to ignore at the time of their purchase and realize later when the motherboards start to make problems. ASUS is the best company known for its product build quality. Their products are equipped with high-end capacitors and power solutions which helps them last longer. Other companies like Gigabyte and MSI etc. products build quality is also extremely good.
Design:
Processors like Ryzen 7 3700XT are designed to handle much heavier loads which also makes them generate more heat when working at their peak performance like when playing games or running Intensive software which is why the motherboards are designed for these types of CPUs usually have a bigger space around their CPU sockets.
This bigger space helps in installing liquid CPU coolers or large-size air coolers. While most motherboards usually have this big space for CPU coolers but make sure that whichever motherboard you are picking also has a good cooling mechanism for the chipset and other hardware components.
These are one of the few key steps to help you in your buying process but if you want to learn more about it you can read our other articles on it now let's get to the motherboards for the Ryzen 7 3800XT.
Best Motherboard for Ryzen 7 3800XT Reviews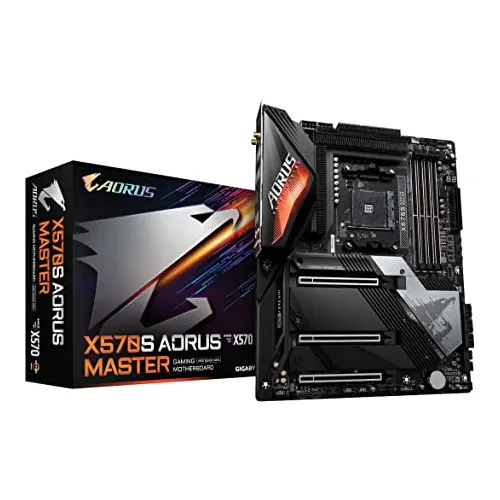 Best Overall Motherboard for Ryzen 7 3700XT
View on Amazon Read Customer Reviews
Gigabyte is a premium gaming brand and is many people's choice for their gaming PC hardware. The X570 Aorus Master is the best overall motherboard for the Ryzen 7 3800XT for one of many reasons which are why it's at the top of our list. Starting with its build quality the motherboard is made with no compromises at all it gives all the features and exceptional build quality that a power user would demand in his PC. While Gigabyte is not much famous for its build quality as ASUS but still it is right below ASUS because its products are also extremely well built.
Design is a big part that most people tend to ignore however this Ryzen 7 3800xt motherboard looks very pleasing to the eyes with its all-black aesthetics which give it a sleeker-looking profile and there are also built-in RGB lights on it. You would also not experience any kind of problems in installing big Coolers on it or hardware as it has plenty of space for it.
Gigabyte X570 comes with an X570 chipset which is the top chipset for any Ryzen CPU and with that, it has an AM4 socket that supports Ryzen CPUs from 2ndgen to 5th gen while also including the APUs or so-called the G-Series meaning that you won't have to worry about upgrading your CPU anymore. Furthermore, it comes with 4 DDR4 memory slots that can support a max of 128GB of ram with a max speed of 4400MHz.
IT also comes with many more additional features that are set to improve the user experience. Like it uses USB 3.2 gen 3 USB Type C adapters on both front and back, Intel's newest Wi-Fi 6 support and most important of all 3 NVMe PCI-E 4.0 x 16 slot with a thermal guard which means that you can add any latest or OLD GPU in this AMD Ryzen 7 3800xt motherboard without any issues.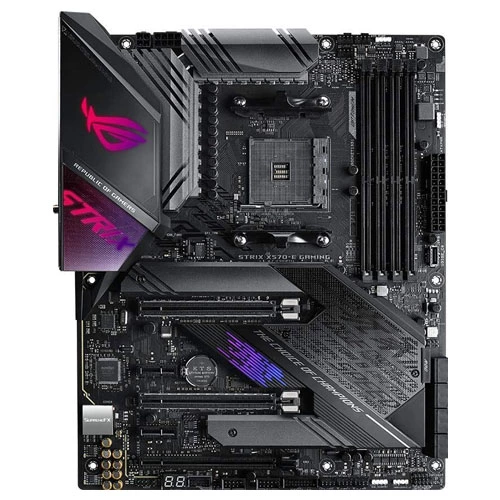 Best Budget Motherboard for Ryzen 7 3800XT
View on Amazon Read Customer Reviews
ASUS is one of the biggest companies in the gaming community and yet they are also famous for many reasons with the number one being the price to performance ratio. While it's true that there are also expensive products from ASUS that just don't add up compared to what you are getting at that price but in the mid-range category, it's very hard that you would find any other better alternatives than ASUS. Another major thing about ASUS products is that they always last much longer which is why they provide better value for the money and many people prefer ASUS.
If you are planning on doing gaming on your PC or even looking for an upgrade this motherboard for Ryzen 7 3800xt is the best choice for you. The number 1 major advantage that you get with this motherboard is that it's inexpensive hence saving money and secondly it comes with all the necessary hardware features that you would expect from a high-end motherboard with the number one being the X570 chipset. This AMD Ryzen 7 3800xt compatible motherboard can support Ryzen CPUs from 2nd to 3rd gen that can likely go up with a bios update in the future.
Moreover, it has 4 DDR4 RAM slots isolated from the rest of the motherboard so that signals can transfer rapidly. It supports 128GB of NON-ECC Un-Buffered memory. There is support for a dual-channel as well as an Intel XMP profile. Installing any two top-level graphic cards is also not a problem because it has 2 PCI-E 4.0 x 16 slots so you can also use AMD CrossFireX or Nvidia SLI with them. Overall, this is the best gaming motherboard for the Ryzen 9 3800XT CPU at a reasonable price.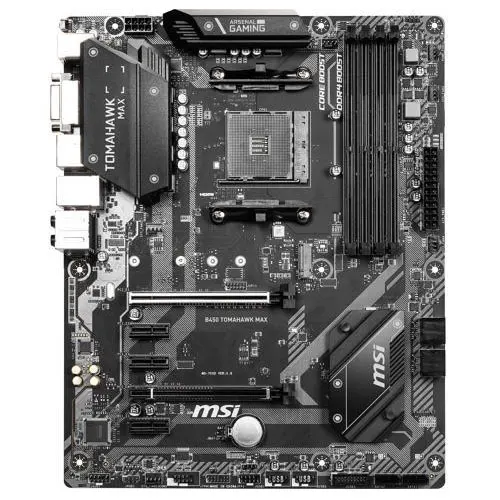 Best B450 Motherboard for Ryzen 7 3800XT
View on Amazon Read Customer Reviews
Budget-friendly motherboards are not the motherboards that are considered by most people when they want to use a CPU like Ryzen 7 3800XT because they think it can't run the processor to its full potential or give them other hardware issues. Luckily MSI B450 Tomahawk Max is not one of the motherboards because it is the best budget-friendly motherboard for Ryzen 7 3800XT on this list. MSI also makes some very good-looking and durable motherboards on the market and this one is no different with the best capacitors and power management on board.
The B450 Tomahawk Max lacks some features on its hardware side but it also has some good features. For instance, this motherboard comes with an AM4 socket and a B450 chipset that can support 1st 2nd, and 3rd gen CPUs which is not the best but it is good enough that it can provide good performance because it has Core Boost technology that can push the processor to its peak level. The 128GB of DDR4 memory support is good enough for future upgrades and it can support 4133MHz at max with dual-channel memory support and Intel XMP profile.
There is also a downside to it because this 3800xt motherboard only comes with PCI-E 3.0 x 16 which makes installing the high-end GPUs quite difficult because they all require a 4.0 slot but as long as you are okay with something high-end from 2017 you are good to go with it. Moreover, the B450 Tomahawk Max comes with 2x SATA 8GBP/s slots and 4 SATA 6.0GBP/s slots. Sound quality is extremely good from a motherboard of this price tag because it uses the best Realtek audio capacitors and sound management.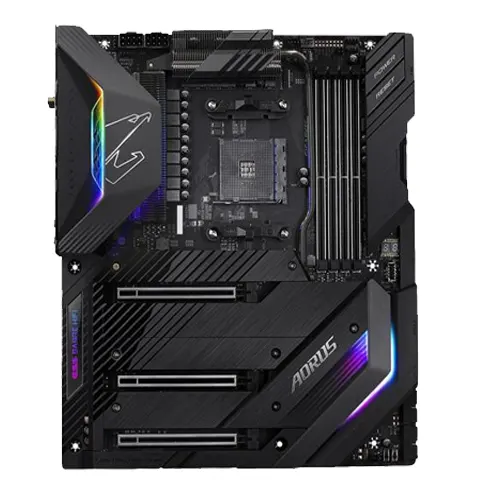 Best X570 Motherboard for Ryzen 7 3800XT
View on Amazon Read Customer Reviews
With several awards at hand, this Gigabyte Aorus X570 Xtreme is the best top-level motherboard that you can find on this list. Aorus is a brand powered by Gigabyte whose main focus is to make the best-looking motherboards on the market while also giving best-in-class performance and they have been successfully doing it. X570 Xtreme is one of the best-looking motherboards out right now for which it has won several awards. Moreover, it is constructed in a way that it can provide the best cooling for the hardware.
One of the biggest advantages of this motherboard is that it has a 16-phase power design which means that even if you put a Ryzen 9 5950x inside this best motherboard for AMD Ryzen 7 3800xt it can easily provide that power without any issues which means that for a processor like the Ryzen 7 3800XT it is overkilled and since it has this power design it also unlocks more room for CPU to be overclocked without any major damages. It ships with standard 4 DDR4 Ram slots that can support 128GB at a max speed of 4500MHz and with an isolated circuit and support for Intel XMP profile you can easily overclock your RAMs to their full potential.
As for the GPUs, there are 2 PCI-E 4.0 slots and 3 PCI-E 3.0 slots which also enable AMD CrossFireX and Nvidia SLI. Two M.2 NVMe Slots give you access to even faster SSDs. And as for the external connectivity, it comes with Wi-Fi 6.1 and Bluetooth 5.0 which gives you a seamless internet connection. You can also find a USB turbocharger on the front side of the motherboard and with the addition of smart fan 5, you don't ever have to worry about fan noises or maintaining the temperatures of your PC. In the end, it is the best high-end motherboard for the Ryzen 7 3800XT.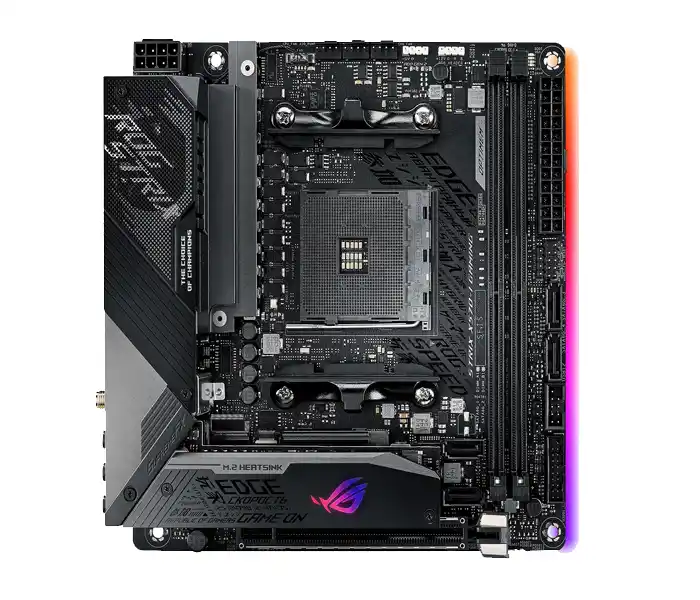 Best Mini-ITX Motherboard for Ryzen 7 3800XT
View on Amazon Read Customer Reviews
As you may have already guessed this motherboard from ASUS comes in a smaller size which means that it is not meant for everybody to buy for several reasons. As I mentioned earlier the motherboard plays a big part in your PC you should know what you are getting. This ROG Strix X570-I is a mini version of the standard ATX motherboard with a few downgrades which makes it easier to afford so unless you are preferring portability or don't want a big case for your PC or even installing more parts then you should buy this motherboard.
Being a budget-friendly motherboard some compromises had to be made. The X570-I comes with an am4 socket and an X570 chipset which is great but it can only support 2nd and 3rd gen Ryzen CPUs as well as G-Series. Moreover, there are also only two Ram slots on this motherboard for AMD Ryzen 7 3800xt due to its smaller size which limits its capacity of holding memory to 64GB which for some people might work because most of them don't use above 32GB but the good part is that this Ryzen 7 3800xt motherboard support max speed up to 4800MHz.
It also comes with an 8+2 power phase design which makes the Ryzen 7 3800XT a perfect choice to be paired with this best motherboard for Ryzen 3800xt. There is also a PCI-E 4.0 x 16 slot with an additional PCI-E 3.0 x16 slot so you can pair two GPUs side by side and utilize AMD CrossFireX or Nvidia SLI. The network connectivity is also exceptional with a 24Gigabit ethernet controller and Wi-Fi 6 wireless connectivity with Bluetooth 5.0. Sadly, there is no dedicated NVMe slot but there are 4 SATA ports that can provide transferring speeds of up to 6GB/s with the support of RAID.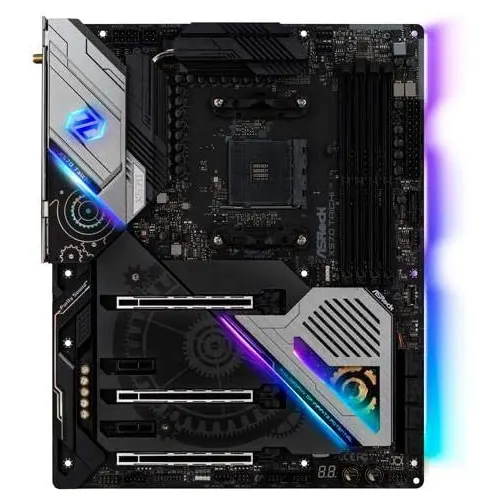 Best Premium Motherboard for Ryzen 7 3800XT
View on Amazon Read Customer Reviews
ASRock might be young in the industry but they do know how to make quality and good parts just like ASUS as both of these companies were once working together. In 2004 ASRock decided to leave ASUS as an independent company. At this time many people have become familiar with ASRock because of how good their products have become recently and the X570 Taichi is the best example of it considering it is only a mid-range motherboard with several awards on its list.
The motherboard supports Ryzen CPUs and APUs from 2nd to 5th generation so you can easily upgrade to any processor that you want it has an X570 chipset so no matter which processor you put inside this motherboard it is going to perform at its peak level. There are 4 DDDR 4 memory slots that give you a total room of 128GB of memory at a max speed of 4633MHz+ Storage is also not a problem .in this best motherboard for 3800xt as you have 8 SATA 6.0 slots with RAID support and there are also two Hyper M.2 Slots for faster SSDs.
Moreover, you can also put in any graphic card like the RTX 3090 inside this motherboard and can use the CrossFireX or Nvidia SLI technology to get an incredible performance boost. There are a total of 3 PCI-E 4.0 x16 slots and two PCI-E 4.0 x1 slots available on this Ryzen 7 3800xt best motherboard. Wi-Fi 6 and Bluetooth 5.0 are also available on this motherboard and speaking of connection it comes with an Intel 24 Gigabit ethernet.
Audio quality is certainly the most impressive one on this Ryzen 3800xt motherboard with Realtek 7.1 channel quad-channel audio. This makes playing competitive a lot easier. If you are looking for a mid-range option then it is the best motherboard for you to buy.
Conclusion
It is very difficult to choose a motherboard as there are so many options, and if you select the wrong one, it will not work. So here we have carefully chosen all of the motherboards that work perfectly with the Ryzen 7 3800XT. We have selected All of these motherboards by looking at their price to performance ratio to see which one gives you the most value for your money.
If you are not sure what to buy, then let me suggest to you the better options on this list. If you want a motherboard that is extremely good at every task and handling hardware for the future as well then my suggestion for you is the Aorus X570 Xtreme as this motherboard is specially designed for power-hungry users.
In the mid-range category, there are several options to choose from which makes the buyer confused so my suggestion is that you buy ASRock X570 Taichi because this motherboard is equipped with all of the features and hardware specs that many high-end motherboards come with and lastly for the budget-friendly section you should go with the ROG X570-I Gaming but if you want a standard sized motherboard the B450 Tomahawk Max is the best overall option as it has good hardware support and a great design.
Frequently Asked Questions
What Motherboard is compatible with Ryzen 7 3800XT?
Although it is recommended that you use a motherboard with a higher chipset like the X570 with a Ryzen 7 3800XT as it has the most features, you can still use this processor with a motherboard with a B450 and B550 and B550M chipset.
Is Ryzen 7 3800XT Compatible with B550?
The Ryzen 7 3800Xt fully supports the Motherboard with a B550 chipset on it; you can also use it with a B450 chipset, which is a slight downgrade to the B550 chipset making it more cost-friendly.
Which Motherboard is best for Ryzen 7 3800XT?
The best Motherboard for the Ryzen 7 3800XT is the ASUS ROG Crosshair VIII Hero. This Motherboard is a complete all-in-one package with high durability and better parts, improving its life span in long-term usage.