It is getting harder and harder to find low Profile GPUs that meet your needs and cater to your preferences as you progress through your day-to-day tasks. Here we have carefully selected the top of these low profile graphics cards that can truly cater to your requirements and interests. Since there is a global shortage of high-level GPUs, Low Profile GPU demands have been extremely high. As a result, people are purchasing these GPUs to fulfill their needs. If this is your first time purchasing a best low profile graphic card, you will need to learn a few things before getting it, and that will come in handy whenever you purchase a GPU.
The best way to get the Best Low Profile Graphics Card is to research them and make sure they are compatible with your motherboard or processor. Furthermore, it's not easy to choose the right low profile graphic card based on the compatibility of the processor or motherboard because different manufacturers provide different variants of the low profile graphics card, which differ in both the performance and design sections. So to make it easy, keep reading this review to get the Best Low Profile GPU for yourself.
Best Low Profile Graphics card Reviews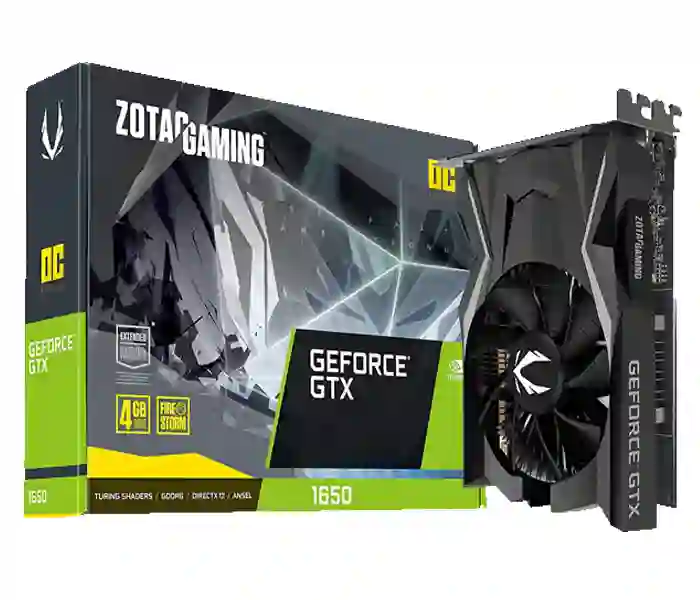 Best Low Profile GPU for Gaming
View on Amazon Read Customer Reviews
ZOTAC is a well-known reliable brand in the gaming industry. Since gaining the trust of users, the company has gained popularity. ZOTAC provides both performance and compact sizes in their graphics cards, and when combined with the GTX 1650, you won't be disappointed. However, their designs aren't always that great; sometimes, they are even better than they were. The ZOTAC GTX 1650 has beautiful aluminum black heatsink with stripes on it that are covering the front of the card and doing a good job in keeping the card cool to help the heatsink, as well as two fans on the card that mirror the design and quality of the card while also cooling it down. The GTX 1650 also packs some performance parts in its hood with a solid appearance for better power delivery.
The GTX 1650 comes with 4GB of GDDR5 memory and a 128-Bit of memory bus. The GPU clock already comes overclocked to 1665MHz and has 896 CUDA cores for better performance. Advanced graphical features used to run AAA titles are also supported by this GPU like DirectX12, OpenGL4.5, and VULKAN. For the display port, the GTX 1650 comes with three display ports capable of providing 4k resolution, and that are 1 DVI-D, 1HDMI, and 1 Display Port .Since it's a low profile GPU, you also would not be going to have any trouble installing this in your system. It's very small, but it takes two card slots and doesn't require a heavy PSU. You only need a 300W power supply to run this GPU low Profile without any performance issues.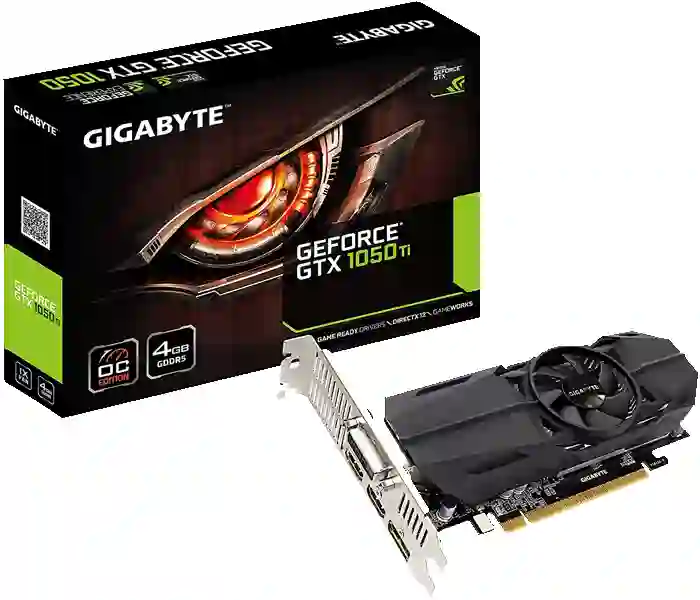 Best Nvidia Low Profile Graphics Card
View on Amazon Read Customer Reviews
The gigabyte brand is also known for its modifications to graphics cards, similar to the ZOTAC brand. Gigabyte cards can be overclocked to some extent, and by default, most of the time, they are already overclocked to safe limits so that your card functions correctly anywhere while using it. Overclocking any card in your PC is not an easy task if you don't know what you are doing, so it is a good approach by gigabyte that their cards are already factory overclocked. Apart from overclocking stuff, a gigabyte is also popular for their heat dissipation system in their products using their WINDFORCE powered utilities. These WINDFORCE products are made to withstand extremely high temperatures and do a good job in cooling.
Now, as we have a little throwback to the gigabyte specialty compartment, we can move to the product itself, which is the Gigabyte GeForce GTX 1050 TI. The 1050 TI is a little less powerful than 1650. TI stands for Titan in NVidia Corporation, which means that this Best Nvidia Low Profile Graphics Card is the most powerful in the whole lineup series of that product. GTX 1050 TI is based upon a 14nm manufacturing process with Pascal architecture and was released in 2017. Although the card has the same memory of 1650, which is 4GB of GDDR5, there is a massive gap between the memory bandwidth because 1050 TI comes with 112 GB/s bandwidth with a texture rate of 68.02 GTexels/s. The base clock is 1303 MHz which, if overclocked, can go to 1417 MHz Graphical features also have better support with DirectX12.1, OpenGL4.6, CUDA 6.1, and VULKAN 1.2. The full version of the Low Profile GPU consumes much more energy, whereas this one only consumes 75W, so a 250W of power supply will be enough to run this beast of a card.
Best Budget low profile graphics card
View on Amazon Read Customer Reviews
If for some reason, you didn't have the chance to get your hands on a 1050TI OC, but you wanted this card, it is supported by your system, and it adequately meets your demands for gaming, etc. Therefore, you can go for the regular 1050 while saving some money. This Gigabyte 1050 OC is a Best Budget low profile graphics card and can handle most of the games. The design factor of both of these low profile gpus also does not differ from each other. 1050 has the same black aluminum heatsink covering the card top side. The board is also covered in black to match the card's color perspective. With the heatsink, you have a Gigabyte special WINDFORCE 2x fan. It's not a huge fan, but it's quite effective.
The GeForce 1050 has the same 14nm manufacturing size with a die size of 132mm based on NVidia Pascal architecture. The same PCI-E express 3.0 x16 slot is required even for this low profile video card. Since it is not a TI version of the card, you have to make some compromises here and there, but one thing you do get as a bonus in this video card low profile is that its base clock is 1366MHz, which, if overclocked, can go to 1468MHz. So the biggest compromise that you have to make is on the VRAM because it comes with 2GB of GDDR5 VRAM other things like memory bus, which is 128-bit, and memory bandwidth which is 112 GB/stays the same. You also lose some of the filtering rates in the card. For example, the texture rate has been 58.72 GTexels/s, and the pixel rate is 49.68 GPixels/s. Other than these changes, you do not have to deal with anymore, all the latest graphical features are still supported, and the same amount of power is required to run this Best Cheap Low Profile Graphics card.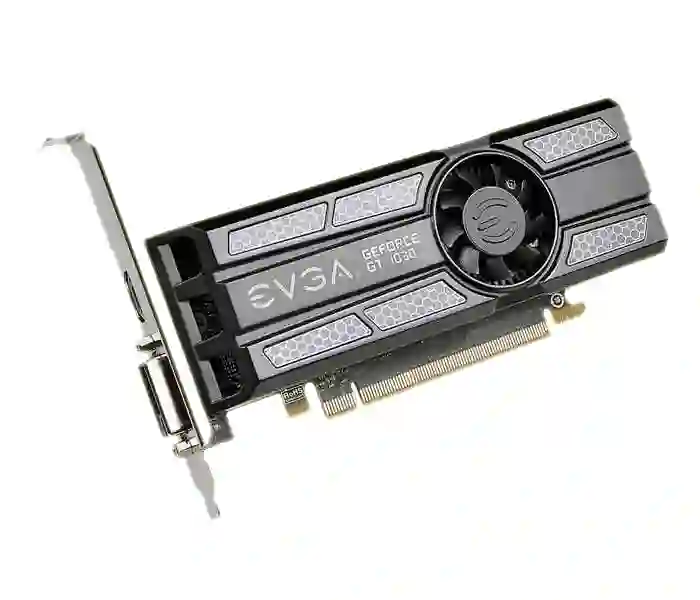 Best 2GB Low profile Graphics Card
View on Amazon Read Customer Reviews
NVidia GeForce 10 series lineup offers the most value without a doubt. These GPUs are more than they seem because they provide exceptional performance due to their new and improved Pascal architecture. The GT 1030 is a cost-effective upgrade from your previous old graphics card, and it is the best gaming graphics card for competitive games on a low budget like Call of duty, CS-GO, and more. EVGA has also made some changes to the inner section of the GT 1030 to make it perform the best out of all the other brands, and the dedicated SC resembles these changes in its name, which stands for Super Clocked. Chances are you may get disappointed by the design of this card because some may like it and some don't, but for me, I am not a fan of it. Apart from design, the Specs of this card are beyond any normal card in this range.
So the GT 1030 is also based on the same architecture that we have previously seen in the NVidia GTX 1050 and GTX 1650. It was released in the same year, 2017 but was later revealed to the public, so there is a gap in months between the three of them. The base clock speed of this GPU is 1290MHz, which can go to 1544 MHz when overclocked. SO when you pick up this, you have to make even more significant compromises than 1050 because now the GT 1030 has a memory bus of 64-Bit and bandwidth of 48.06 GB/s, but you have the same 2GB of GDDR5 memory type, so that's good news. Of course, these are not the only bumps you will feel because the Texture rate is now 37.06 GTexels/s, and the pixel rate is 24.70 GPixels/s. Now the good news is that it still supports the latest graphical features like DirectX 12.1, OpenGL 4.6, and others; along with these, the GT 1030 only consumes 30W of energy, meaning that you can run this Best 2GB Low profile Graphics Card even with less than 200W power supply, but the recommended is still 200W. So be careful.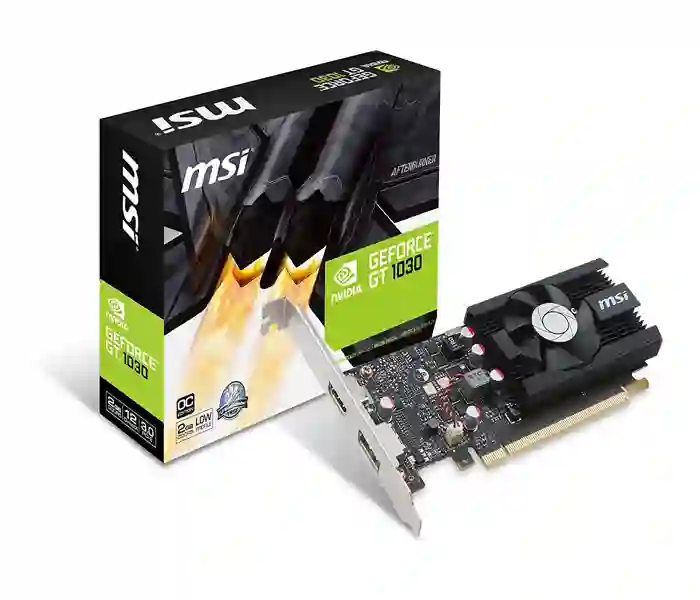 Best Mid Range Low Profile GPU
View on Amazon Read Customer Reviews
Just like the 1050 TI has a lower version in the performance segment, the GT 1030 is no stranger to this situation, except the MSI GT 1030 has a different way of portraying it. It's not like there are massive differences between them. Aside from design, there are only a couple of downgrades in this MSI version of the graphic card. This GT 1030 is a product for those people who don't want to spend much on this low profile low power graphics card, so they can quickly go with this variant of it. As I mentioned about the difference in the design, there is a huge difference in them because this variant of the GPU doesn't even come with a fan on it. There is only an aluminum heatsink that is used for heat dissipation. And as we all know that only heat sinks are not the best choice for a beautiful design, you will get the same with this. MSI has probably done it to save on the cost of the half-height brackets.
Once you accept the design difference, you have to bear a big change in performance. MSI GT 1030 comes with a base clock of 1265 MHz which can be overclocked to 1518 MHz which is a higher capacity than the EVGA GT 1030. All of the previously supported graphical features are still supported. Also, there is no difference in both of their memory. Both have 2GB of GDDR5 memory with 64-Bit bus width. In MSI GT 1030, you get two display outputs which are 1 HDMI and 1 DisplayPort 1.4, both capable of providing 4k high res. IN case if you are confused about which one you get so the to this is if you want to save money, then pick the MSI GT 1030, and if you don't, then go with EVGA GT 1030.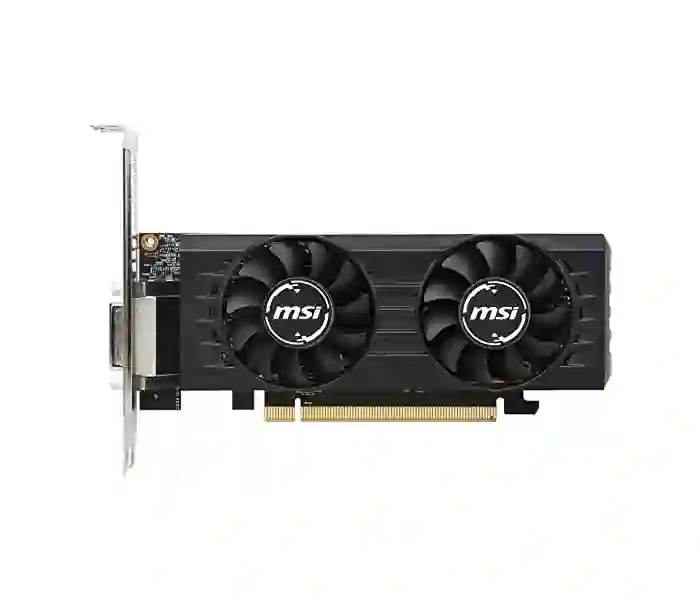 Best Single Slot Low Profile Graphics Card
View on Amazon Read Customer Reviews
This list of high-powered, low-profile GPUs cannot be completed without AMD's latest and greatest RX series. These GPUs are the best value GPU for money because they provide performance beyond your expectations at a low price. There are different types of lineups in the AMD RX series that suit your gaming style according to your preference. These cards are loaded with exceptional features that are used for the best yet fastest gaming experience. RX 560 delivers the same thing to you by providing you with more performance than you need. The full version of the half-height graphics card comes with even greater options to be explored, but since we are talking about the low-profile graphic cards, we have to take on the LP version of the RX 560.
The MSI RX 560 comes with a GPU Boost clock of 1196 MHz and a memory frequency of 7000MHz, which is impressive to see in a low profile GPU. With 4GB of GDDR5, you can play most of the AAA titles without any VRAM problems in your way. TO keep the GPU cool in long gaming sessions or even normal sessions, there are two fans in the RX 560 heatsink that is once again not so big but do them without complaints. When you pay for a product, you expect it to last longer than it could before it completely gives up on you and your PC, and that is why this Best Single Slot Low Profile Graphics Card is equipped with the most advanced transistors that provide a life expectancy of 10 or even more years when used lightly. These transistors give GPU a high hope of life, but they also help it perform with higher efficiency and lower temperatures; RX 560 was also released in 2017, but unlike NVidia, their support is currently being used updated so that you can get the latest driver optimizations.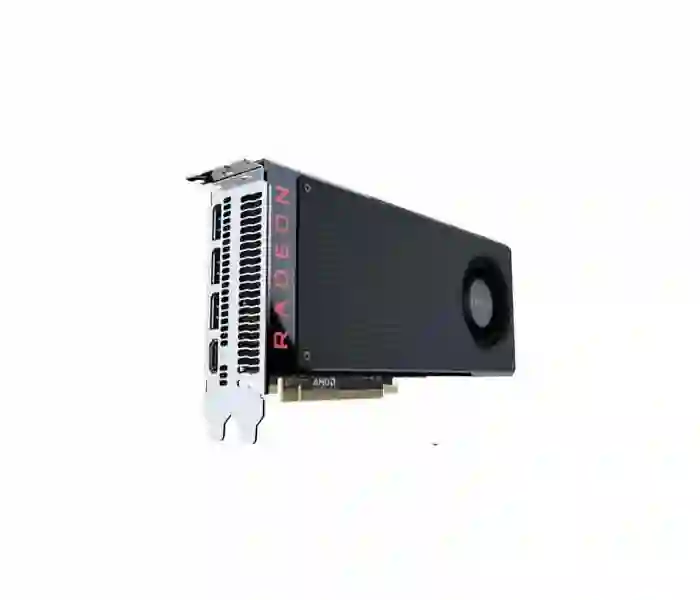 Best 4GB low profile graphics card
View on Amazon Read Customer Reviews
If you want to have the full version of the RX 560, you can get your hands on the RX 570. It's a little further in the performance section than the full-sized RX 560 with only a few bucks difference, so this should be the best choice for you. Radeon RX 570 delivers you the original specs and capabilities of the card because it's not any variant from any other company. It's an official AMD product, so you have the company's official support and many other software features. Performance is a part in which no compromises can be made, but design-wise there can be. In simple words, you also do get a simple-looking design with two big Radeon Fans in the aluminum heatsink.
RX 570 is based on the 14 nm fabrication chip with GCN 4.0 architecture released in 2017. The base clock speed stands at 1168 MHz and boosts to 1244 MHz. RX 570 comes with 4GB of GDDR5 memory with a memory bus of 256-Bit and bandwidth 224.0 GB/s. These are some pretty strong numbers for a mid-range Best 4GB low profile graphics card. Texture rate has also made a jump in the upgrade process, which goes to 159.2 GTexels/s. Since it is a full-size version of the card, it is also big, so get a big case for your pc in case you don't have one if you want to run this car. Alongside the case, you also need a 450W power supply because this thing is power-hungry and requires a six-pin power connector. The card has five display outputs, of which 3 of them are Displayport, 1 HDMI, and 1 DVI-D.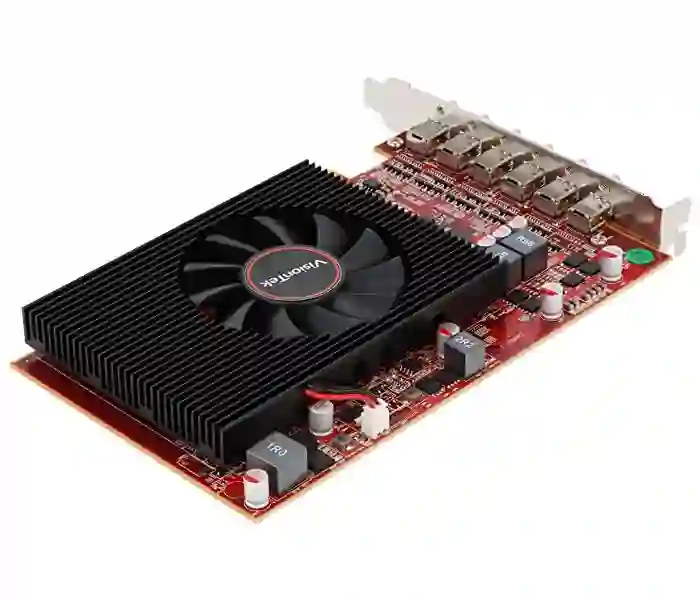 View on Amazon Read Customer Reviews
If you only want a good AMD card for your system other than a recently released mid-range graphic card, you can consider looking into this low power AMD GPU from AMD released in 2012, the Radeon HD 7750. A flagship model GPU comes with all the latest and greatest equipment like transistors manufacturing process etc. Still, the great part about this best, true low profile AMD GPU is they can support AAA titles even when they are released after 3 to 5 years and perform very well in other tasks because of the hardware that they come with. This is the same case with the Radeon HD 7750. This GPU was released with top-tier specs to compete with the NVidia GTX 550 TI, their flagship GPU. So let's take a look at the HD 7750 specs and see if it's capable of handling today's innovation.
VisionTek has made some changes in the card's design, making it more compact so that it can be used with every system. Radeon HD 7750 comes with a manufacturing process of 28nm based on the AMD GCN 1.0 architecture. The GPU clock has 800 MHz of speed with a memory bus of 128-Bit. Although the Graphic card has only 2GBof GDDR5 VRAM, it can still play AAA titles of 2015 at decent frames thanks to the memory bandwidth of 72GB/s and texture rate of 26GB/s. The HD 7750 has 512 shading units for rendering and video editing stuff, and all the day's latest graphical features are still supported in this Best AMD Low Profile GPU. DirectX 12, OpenGL 4.6, Vulkan 1.2, Shader Model 5.1 are still supported. You need to run this slim graphics card with a 250W power supply in your system with no power connectors because this AMD Low Power GPU only utilizes 55W of maximum TDP under full load.
Conclusion
All the cheapest and top-notch best low profile Graphics cards are mentioned above in the list. You can choose which one suits your style. These best budget low profile graphics cards from Nvidia and AMD are made for people who don't want a much bulky or large PC in their workspace, so instead, they want all the performance in a small-looking package that completes with a low profile powerful GPU. For NVidia, the Best GPU in this list we recommend for you would be the GTX 1650. This 1650 low profile graphics card can handle today's technology without any issues, as well as the ability to run a competitive game at 1080p at 60 frames or higher. There is no better choice for AMD lovers than the RX 570; it's best in every way, including performance value to money and other stuff. But in the end, it is your choice to pick one, so choose wisely.
Frequently Asked Questions
Is a low Profile GPU Better?
Compared to older GPUs Low profile GPUs are much better because they pack newer technologies that help them to perform better. These GPUs also allow you to save space because of their much smaller size.
Are there any RTX low Profile Graphic Cards?
Unfortunately, there are not many options available in the low profile category of the RTX series graphic cards but if you want to get only an RTX GPU, you should consider the RTX 2060Mini.
What Is Low Profile Graphic card?
A low-profile GPU is a smaller version of an ordinary GPU to save space and money for the customers. These GPU features specs that are comparable to the original sized GPU but they are a little low compared to them.