You are right if you are looking for the best motherboard for Ryzen 5 5600X. We have compiled a list of the top motherboards based on users' feedback. AMD recently gained good popularity in the mainstream PC business and gaming community due to its new Ryzen processor's outstanding performance on papers and testing.
AMD had a poor performance history for a long time, but it has changed for the better with the Zen architecture. AMD has been competing head-to-head with its long-term competitor, Intel, with its mid-range and high-end processors and powerful GPU integration for a few years now. Their latest high-range CPU consists of AMD Thread ripper and Ryzen 5, 7, and 9 series.
Recently after the launch of the Ryzen 5 5600x from AMD over the Intel branch, which offers more cores and threads due to its superior performance, it is no wonder why so many users prefer it over the Intel Core i5 10600k after all. The Ryzen 5 5600x is based on a 7nm process. This very new tech cannot be handled with outdated motherboards, thus making it perform less impressively to its consumers, negatively impacting their minds.
However, no need to worry here as we will be reviewing some of the Best Motherboards For Ryzen 5 5600X, which might help you pick the best suitable one for your precious processor.
Quick Buying Tips!
Today, there are several globally available motherboards for the Ryzen series processors. Still, the problem is that anybody who is not much familiar with the PC components might experience quite problematic issues while pairing their system with those motherboards. It is all because, for several reasons, that can interfere.
To put it simply, motherboards are the powerhouse of a system. It is the most critical component in a hardware system, and if it gets damaged, there is a high chance that your other components might get affected too, which is something that not everybody wants.
So to walk past all these problematic sectors, we have found the best suitable motherboards for your Ryzen 5 5600X that will not cause you any compatibility, power, or other kinds of trouble. So let us get straight into the list.
Best Motherboard for Ryzen 5 5600X Reviews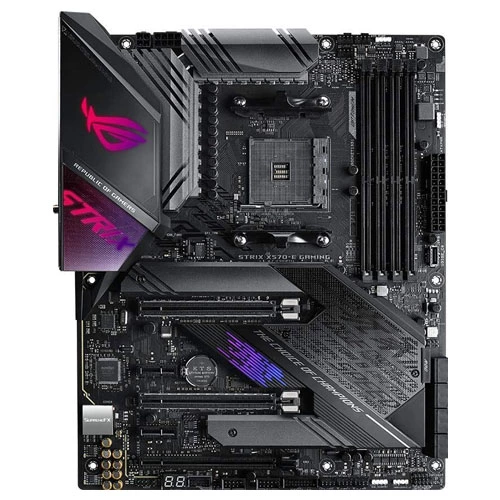 Best ATX Motherboard for Ryzen 5 5600X
View on Amazon Read Customer Reviews
In the same way, that AMD has been a well-known brand in the gaming industry, ASUS has also succeeded in it; however, their popularity lies in their products' structure, Features, and support. The ROG STRIX X570-E displays an all-black look with RGB lighting on its protective plates, highlighting black. Even more, it stands out because it is a premium product. There are numerous features to be discovered here.
The ROG STRIX equips an X570-E chipset already implied in its name, and the Ryzen supports AM4 Socket. In addition to bringing a beast processor with better cooling to keep it away from bottlenecking, the X570-E also has a solution, giving you even more space for installing a big hefty cooler for your CPU. This Best ATX Motherboard for Ryzen 5 5600X is a little aggressive incompatibility as this premium product supports the Ryzen 5000, 4000/G, 3000/G, and 2000/G series, which means you can upgrade your processor whenever you want.
It has four memory DIMM slots available on the motherboard with DDR4 type, but this does not limit installing a large amount of RAM. This motherboard for Ryzen 5 5600x can handle 128 gigs of DDR4 dual-channel memory unbuffered memory with a max speed of 4400 MHz.
For such a high-performance processor like Ryzen 5 5600x, you will need a heavy graphic card to enjoy your system's performance and games. The X570-E gives you access to 6 different PCI-E slots for maximum usability of other components, and do not worry; this thing can handle even an RTX 3080TI.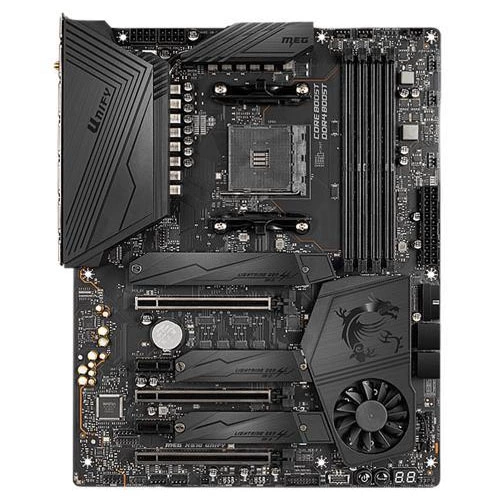 Best X570 Motherboard for Ryzen 5 5600x
View on Amazon Read Customer Reviews
Firstly you should be concerned before deciding on purchasing between the ASUS X570-E and MSI UNIFY X570 is what you will lose in the slightly less amount. The answer to this is not much because the MSI X570 gives you access to all necessary things and a few extra key features in a premium range motherboard. At the same time, the MSI X570 has some changes in its aesthetics, including a dedicated motherboard fan. Black colour is applied to the motherboard with RGB lighting to light it up in the dark, but sadly there is no dedicated RGB on the metal plates like the ASUS.
MSI X570 comes with the same chipset as X570 and the AM4 dedicated socket for the Ryzen series; however, this time, you will only be able to use the Ryzen second and third-gen series processor with this Best x570 Motherboard for Ryzen 5 5600x since it fails to support any higher than that. A high-level fan is undoubtedly required to run the processor cool. Thankfully, this Ryzen five 5600x motherboard lets you install a large fan that helps your processor run cool even when under heavy loads.
When going for an expensive motherboard, you expect some extra features to keep the value of the money you have spent. So the MSI X570 gives you access to four faster DIMM memory slots capable of handling 128/Gb of RAM at 4600 MHz which is a little faster than its high-priced competitor.
The motherboard is pre-installed with the latest WIFI and Bluetooth 6 connectivity modules. If you don't want to spend all your money on a single motherboard, then the MSI UNIFY X570 is the hardware you need to get your hands on.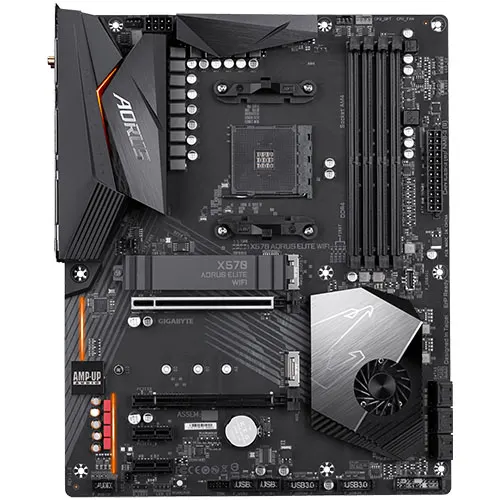 Best Budget Motherboard for Ryzen 5 5600X
View on Amazon Read Customer Reviews
As you continue the search of finding the best, most affordable motherboard at a lower price tag for the Ryzen 5 5600X, you will find the gigabyte X570 in your search just like you have found it here. The Gigabyte X570 AORUS Elite is the Best Budget Motherboard for Ryzen 5 5600X with a high-priced motherboard's premium aspects. The eye-catching design of this 5600x motherboard certainly pleases your desire of having a decent quality motherboard from a reliable manufacturer at an affordable price.
As you have probably guessed from its name, it has the same chipset as the previous two products: the X570 and the standard AM4 socket. However, this time you can easily swap out the processor for a new one up to the Ryzen 5000 series. It is impressive that Gigabyte has still been able to install a large-size heat sink for better cooling. One of the impressive reasons is that a large-size cooler requires more space to be fitted, making other nearby parts shrink to a small size, but that is not the case with these motherboards.
In memory options, it provides Four DIMM memory slots of Un-Buffered dual-channel NON-ECC RAM; another impressive aspect of seeing here is that you can now overclock RAM up to 4733 MHz if they are overclockable and if they are not, then the standard memory speed is the 2933 MHz which is still durable for gaming and other tasks.
The motherboard's other key features include RGB Fusion 2.0, Smart fan 5 for perfect fan monitoring, Fast NVME PCI-E slots for better data transfers, Easy flash bios, and high-quality audio capacitors for impressive sound quality. With this best motherboard for 5600x on an affordable budget, you cannot go wrong.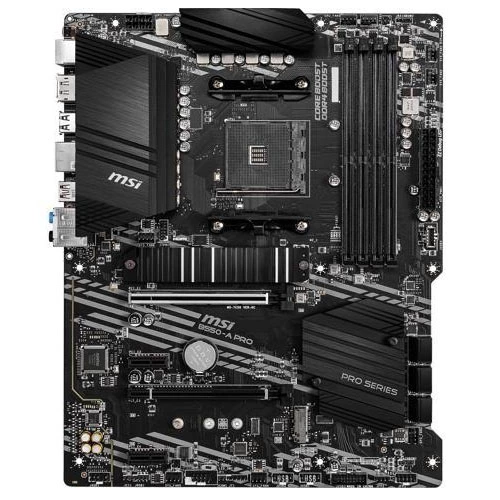 Best B550 motherboard for Ryzen 5 5600x
View on Amazon Read Customer Reviews
When you see the name Pro in any product, you can immediately expect a higher price tag and premium features, making it so high value. That is certainly the case with the MSI B550-A Pro, except you do not have to pay much. You can find this and ryzen five 5600x motherboard at a reasonable price. There are some changes in the design of it. This time, you have a mix of black and arctic white colour on top of the motherboard, which looks gorgeous and does not dull out in the dark. It stands out in dark environments with the help of RGB Lighting it. This Best B550 motherboard for Ryzen 5 5600x is equipped with a different chipset from the past products, the B550; most of the flagship Ryzen motherboards are based on this chipset. Although it has the same AM4 socket for the CPU with this new chipset, you can even plug in the Ryzen 9 CPU in your PC without any issues; remember to pair it with a suitable power supply. There is also a slightly larger area for a more oversized heat sink to be mounted. As for the RAM management, you have 4 DIMM dual-channel memory slots capable of handling speeds up to 4400 MHz+ and 128 GB. As for graphic cards, you have 2 PCI-E x16 slots for big graphic cards; these slots provide high-performance speed and keep the graphic card away from bottlenecks. Another most important factor is the storage option with MSI B550-A-Pro, and it includes 6 SATA ports that provide 8 GB/s of transferring speed with RAID support.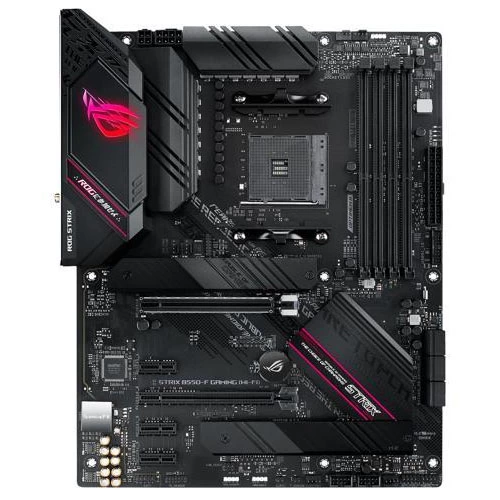 Best Enthusiast Motherboard for Ryzen 5 5600X
View on Amazon Read Customer Reviews
The design aspect of this motherboard for 5600x is usual, with an all-black look with little touches of white on smaller components. Although the ASUS ROG STRIX series tends to cost less than their premium range, it still has some of the key features that you only find in high-priced premium motherboards in the market. You may have to compromise on some factors, but these things do not affect the performance of your other PC parts. One of the key features of this Best Enthusiast Motherboard for Ryzen 5 5600X and something that you only find in some of the higher-end motherboards is the PCI-E 4.0 x16 slot. The PCI-E 4.0 x16 slot is not something you can find on any motherboard; it only comes with premium level motherboards because it can drastically improve the graphic card's performance. The motherboard has the same B550 chipset with AM4 socket, but it only supports Ryzen processors of up to third-gen. As for the memory, you have the same 4 DIMM dual channel supported UN-buffered memory types. You can easily plugin 128 GB of RAM of 4400 MHz. Something new in this best motherboard for AMD ryzen 5 5600x that cannot be seen on any other motherboard on this list is the Procol power connector on the lower side of the excellent motherboard for ryzen five 5600x. This connector enables a fast connection with the PSU, enabling lower power impedance and lower heat output. The fans do their job more efficiently and effectively, and you also access the four-way AMD crossfire.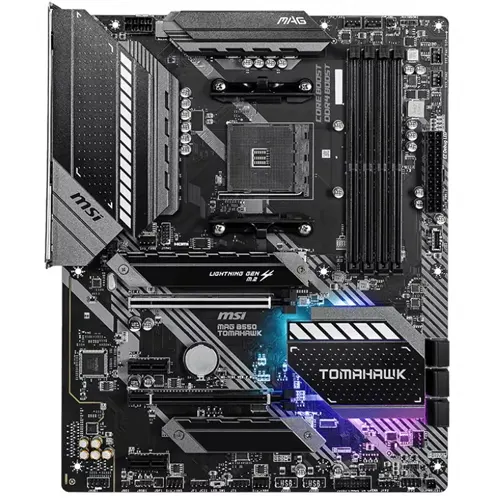 Best Gaming Motherboard For Ryzen 5 5600X
View on Amazon Read Customer Reviews
MSI MAG series is the safest yet fastest and performance-optimized motherboard in MSI's current lineups of motherboards. The Mag series motherboards are tested and designed for immersive gaming experiences so that you can enjoy having the best experience out of your PC. As black colour has become a tradition among newer generation motherboards, you can expect to see it on every motherboard. The MAG B550 also comes in black with tomahawk and MSI branding plates. Based on the B550 chipset and the AM4 socket, the motherboard allows you to easily plug the Ryzen processors from Ryzen 3 to Ryzen 9 of 5th Generations. While generally, these processors come with their stock cooler, MSI MAG still has the option of plugging in larger coolers for a maximum cooling effect on the processor. As this best 5600x motherboard is built for gamers, there are huge differences in this Best Gaming Motherboard's memory modules for Ryzen 5 5600X compared to others. You will still have four DIMM dual channels slots, but you can now use the RAM running at 5400MHz+ with DDR4 and still overclock it. Furthermore, two PCI-E x16 4.0 slots for two-way, four-way AMD crossfire support using other dedicated PCI-E slots. Faster transferring speeds are no longer a problem with USB Type C ports and 6 SATA III ports that provide 8 Gbps/s of speeds and RAID support. RGB 2.0 Fusion is also supported, but one drawback in this motherboard for AMD ryzen 5 5600x is that it only has 1 HDMI output for dedicated internal graphics, but this port makes 4k resolution at 60Hz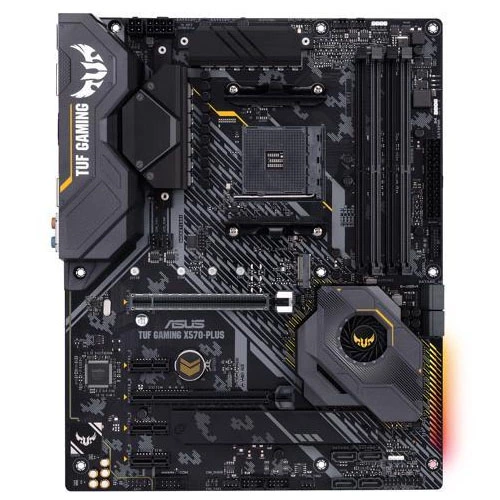 Best Durable Motherboard For Ryzen 5 5600X
View on Amazon Read Customer Reviews
ASUS TUF gaming X570 is another mid-range motherboard in this compatible motherboard with a Ryzen five 5600x list at an affordable price. If you are not looking for something expensive and want to use your PC for some basic stuff and light gaming, this best motherboard for AMD Ryzen 5 5600x might be the best choice for you in this AMD Ryzen five 5600x compatible motherboards list, but the choice is completely yours to make in this matter.
The motherboard does not feature any high-level features like the other motherboards in this list because it is a basic motherboard for day-to-day tasks and light gaming. Still, it does have some tricks up its sleeves as we are already familiar with the X570 chipset and AM4 socket, so you can expect the same with this motherboard that supports Ryzen five 5600x and the same compatibility. This Best Motherboard For Ryzen 5 5600X can take Ryzen second and third-gen chips anything above, and you run into problems. So it is better to play safe here.
Now, however, the memory modules do not seem to disappoint much. You have the same 4 DIMM memory slots capable of 128 gigs of dual-channel memory, but this time you have to go with ECC memory chips, which are also more secure. Now do keep one thing in mind here: the memory speeds depend upon the processor on how much it generally supports newer gen CPUs. The max speed it can handle is 4400 MHz with third-gen Ryzen.
An attractive feature about this Best Durable Motherboard For Ryzen 5 5600X packaging is that it comes with all the peripherals required to connect other devices like Cables and guides and add further stickers for branding. The connectivity options include 1x PCI-E slot 4.0 x16 and 1x PCI-E 3.0 x16 slots on this ryzen five 5600x best motherboard, which makes it convenient to have in this category. A total of eight SATA III ports are available with 6 GB/s of transferring speed with RAID support.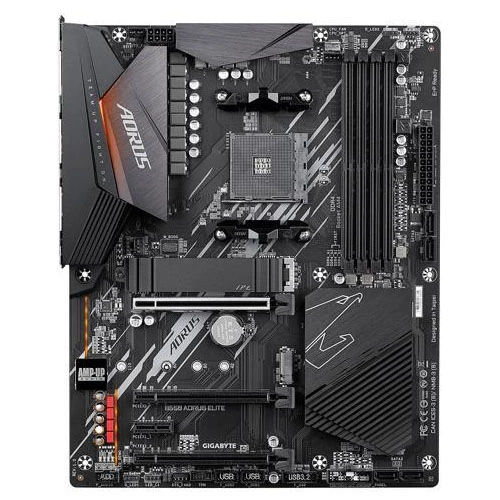 Best Mid-Range Motherboard for Ryzen 5 5600X
View on Amazon Read Customer Reviews
Gigabyte B550 Aorus Elite is not the first entry in this list's premium yet expensive motherboards, so it includes some of the key features of its previous high-end motherboards. One great thing about its aesthetic is that it brings back the RGB on metal plating from the first ASUS motherboard; these lights add a more aggressive and premium look to the motherboard.
As the B550 chipset is premium-based, we can already guess the features of this Best Mid-Range Motherboard for Ryzen 5 5600X. The same AM4 socket allows you to use Ryzen 5000/G 4000/G and 3000/G, and 2000/G series chips with this best ryzen 5 5600x motherboard, and the rest goes the same.
As for the memory, there are a couple of changes. The first thing that can make a huge difference in performance is enabling the XMP profile and using ECC and NON-ECC Un-Buffered memory types. The rest is the same, with 4 DIMM slots of dual-channel memory that can handle 128 GB of storage. PCI-E x16 4.0 slot is still available with two way and four-way AMD crossfire support. One thing worth mentioning here is the NVME support which can make a huge difference in transferring speed.
Apart from these minor changes, there is not much difference between other products except the price because all companies tag their product prices differently. If you want to go for a deeper dive into the details of the product, you can visit the official MSI site and search for the product name, and all its detailed specifications can be available to you.
Conclusion
To wrap up all the talk, these are the best motherboards for the AMD Ryzen 5 5600X. The motherboards that are enlisted here are the best that you can find. But before you decide to buy one, here are a few additional things to keep in mind before assembling one of the motherboards. Remember to use the correct power supply with your PC because a faulty power supply can make you suffer great consequences. A faulty power supply can not only damage itself while working, but it can also affect other parts. So always use the recommended Volts of the power supply that the manufacturer recommends. Before assembling the PC, always read the manual if you are not a professional because if you plug a single wire in the wrong, it can cause severe damage to the motherboard, causing you to spend much more. Furthermore, suppose you still fail to find the best suitable motherboard for your processor and need our recommendation. In that case, we suggest you move on with the Gigabyte x570 AORUS Elite, one of the best Overall Motherboards for Ryzen 5 5600X and the most recommended motherboard to provide more connectivity options with some high-class features. On the other hand, MSI B550-A Pro is also an option for the best Budget Motherboard for Ryzen 5 5600X. If you feel satisfied with the products, please leave a review at the end, as this can help other users make purchasing decisions.
Frequently Asked Questions
What is the best budget motherboard for Ryzen 5 5600X?
As a budget-friendly processor, the Ryzen 5 5600x does not require you to have a hefty motherboard to house it in, so the ASUS Prime B550 Plus is the perfect deal for this chip. This motherboard has all the perks of a significant budget motherboard.
Does the Ryzen 5 5600x work well for gaming?
Many people thought of this question since the CPU is priced so low, but the answer is that the Ryzen 5 5600x is perfect for gaming; it has all the essential cores and threads required in any modern AAA title. So it is still a good choice for gaming.
Does Ryzen 5 5600X work without GPU?
The Ryzen 5 5600X does not include an integrated graphics card, so the answer is NO; you cannot run the Ryzen 5 5600x without a GPU. You have to use a dedicated GPU to run it.