The recent price hike of the PC products especially gaming ones has not only disrupted the customers but has also impacted the shop owner's price is not the only problem because if you are willing to pay higher than the actual price of the product it's very hard to lay your hands on one because they are incredibly short on the market. So, most of the users who were willing to buy a gaming PC with newer hardware were left with the only option of going with slightly older hardware which comes with several benefits, or waiting when they become available.
Taking a look at older hardware we can see that AMD has been dominating the CPU market with their Ryzen CPUs and APUs as they not only come cheaper than Intel CPUs but they perform better than Intel 10th or 11th gen CPUs. Ryzen 9 3950X is a clear winner for ultimate performance as this CPU is packed with high-end hardware like a 7nm manufacturing process, 16 cores and 32 threads, and Zen 3 architecture. To get the most out of this high-end CPU we also need a Ryzen 9 3900x Compatible motherboard that can not only support it but also overclock it to its full potential without damaging it.
So here we have enlisted some of the best motherboards for the Ryzen 9 3950X that have high-end specs sheets and have full support for not only the processor but also for other hardware before moving further here is a little buying guide to help you in the process of buying the motherboard compatible with Ryzen 9 3950x but if you already know what you are looking for you may as well skip it.
Quick Buying Tips!
Motherboards come in all shapes and sizes so you can find many motherboards online or out in the local shops that are claiming to run the Ryzen 9 3950X processor and they will but the problem lies in the price and what you are getting in it. Many of these motherboards will cost you more but will not be able to run the processor to its full potential or support other newer hardware hence wasting your money and time. So, with this best motherboard for 3950x buying guide, you will know exactly what you want the next time you buy a motherboard from anywhere.
Form Factor:
One of the most important factors in buying a motherboard is its size. The size of the motherboard can instantly give you an estimate of how much can the motherboard support hardware. Typically, the motherboard comes in 4 sizes but the most common form that is used in almost every pc is the ATX. These motherboards have not only support more hardware to be installed on them but they also have better cooling mechanisms with dedicated heatsinks on them. So always look for the motherboard that has an ATX form factor so that whenever you want to plug in new hardware you don't have to buy an external device for it.
Compatibility:
Many motherboards have a higher number of slots and a good design which most users look for in a motherboard but they don't have the support for newer hardware hence wasting your money. This means that every time a new CPU or GPU or any other hardware comes out and your motherboard doesn't support it you have to change your entire motherboard just so that you can install that hardware on it. The best way to avoid this is to first look for the motherboard specs on its manufacturer's website and by this, you can easily decide if you want to buy it or not.
Budget:
The price of the motherboard depends upon what you are getting in the motherboard. If the motherboard is equipped with better hardware and specs sheet then it will cost you more and if it only has normal support even for the newer products then it will cost you less. Size is yet another factor that makes a huge impact on the motherboard price so if you go for a micro ATX form factor with the same high-end specs that are available on the ATX form factor it will cost you significantly less.
Any processor like the Ryzen 9 3950X is going to need a motherboard of high specs to perform well because normal motherboards with lower chipsets cannot handle this processor very well resulting in bottleneck and performance issues. However, any motherboard ranging from 400$ or above can run this processor very well.
Overclocking:
Overclocking is yet another important factor in buying a motherboard only if you are a performance user because if you are not then you can easily avoid it. Much newer generation CPUs and GPUs have the support for extended overclocking including the Ryzen 9 3950X have some amazing overclocking capabilities. If you don't know what overclocking is then let me explain it. Overclocking your PC hardware like CPU or GPU can push it outside its standard limits to perform better. Overclocking is a great way of increasing performance but you also need a good cooling system and hardware for it otherwise it can damage the CPU or GPU.
So, these are some of the things you should be looking for when you are buying a motherboard for the Ryzen 9 3950X, and if you want to learn more about purchasing a motherboard then you can look into our other guides on it. Now Let's take a look at the motherboards.
Best Motherboards for Ryzen 9 3950X Reviews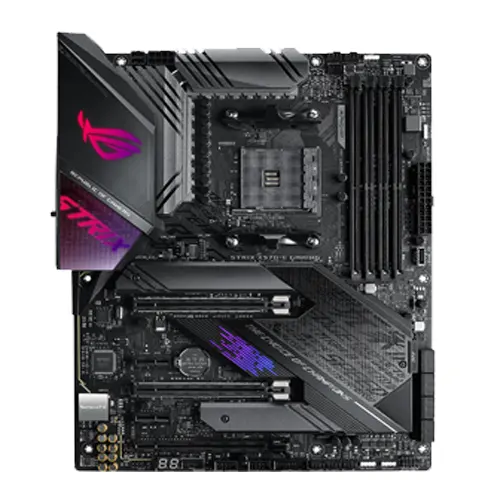 Best Overall Motherboard for Ryzen 9 3950X
View on Amazon Read Customer Reviews
ASUS is one of the top brands in the gaming industry for many reasons. The major cause is the quality of the products as ASUS makes some of the most durable and long-lasting products for PCs. The ROG STRIX X570-E Gaming is the best deal that you can get in under 400$ because this best motherboard for AMD 3950x has better value for money overall. Starting with its design the motherboard looks very good at the first glance. It has traditional black color with dark silver accents. There is also support for RGB lighting on the backplate and it has a heatsink for the X570 chipset with built-in RGBs.
The motherboard has the standard ATX form factor which means that it has wider support for managing additional hardware. The X570 chipset is the top chipset for an AMD Ryzen processor and it works exceptionally well alongside any Ryzen 2nd or 3rd gen Ryzen CPU on this best x570 motherboard for 3950x. Furthermore, it has 4 DDR4 RAM slots that support NON-ECC Un-Buffered memory type. The maximum amount of RAM that you can put inside of the motherboard is 128GB with a total speed of 4400MHz.
This best motherboard for Ryzen 3950x also comes with PCI-E 4.0 x16 slot so you can use any latest high-end GPU with it with the support of AMD CrossFireX and Nvidia SLI. YOU can also use the fast SSDs with the M.2 and NVMe slot on it whereas for the hard drives there is a total of 8 SATA ports all capable of 6GB/s transferring speed. The audio quality is very good because it is equipped with high-end audio capacitors from Realtek.
In overall terms, this best 3950x motherboard is the best motherboard for Ryzen 9 3950x workstation because it has a good design, Specs, and build quality is always of the top quality no matter which product you buy from ASUS.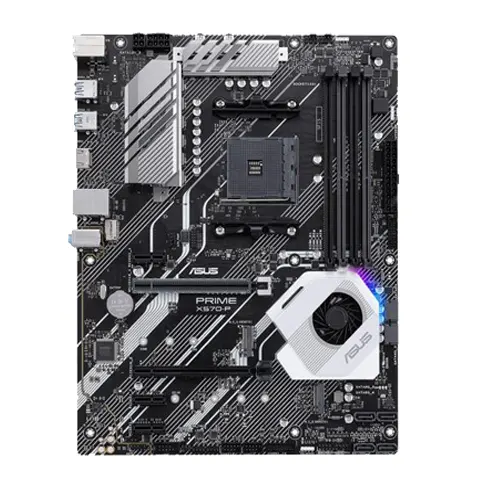 Best Budget Motherboard for Ryzen 9 3950X
View on Amazon Read Customer Reviews
ASUS Prime is another great midrange motherboard from ASUS with a few changes in design and big specs compared to the X570-E Gaming to make it perform even better. The ROG series products of ASUS are more focused on good-looking aesthetics and few specs upgrades and since it's not a ROG Product it doesn't include a great design but still has great specs. So, beginning with its design the motherboard comes in black with frost white accents all over it which looks very good. The only downside is that it doesn't include any RGB built-in lights or backplates but instead has separate RGB ports on it.
ASUS Prime X570-P is built for extreme performance which is why it has high-end specs. With this Ryzen 9 3950x best motherboard, you can easily upgrade to newer Ryzen CPUs up to 5000 series and you can put in G-Series processors as well. RAM management is also improved as now you can easily use RAMs with a speed of 5100mHz when overclocked. It uses an ECC memory type with the support of dual-channel architecture as there are 4 DIMM DDR4 slots available on it. The PCI-E 4.0 x 16 slot can easily handle any latest high-end GPU like Nvidia RTX 3080TI or if you use an AMD graphic card then you can also use CrossFireX.
Storage is equally as important as the rest of the parts and that is why it is equipped with 2 M.2 slots and 6 SATA ports all capable of 6GB/s of transferring data. The Audio quality is also improved with this time having a completely separate PCB layer and premium Japanese audio capacitors. If you only want to have the best performance out of your CPU at a reasonable price then this best gaming motherboard for ryzen 9 3950x is the best choice for you to consider.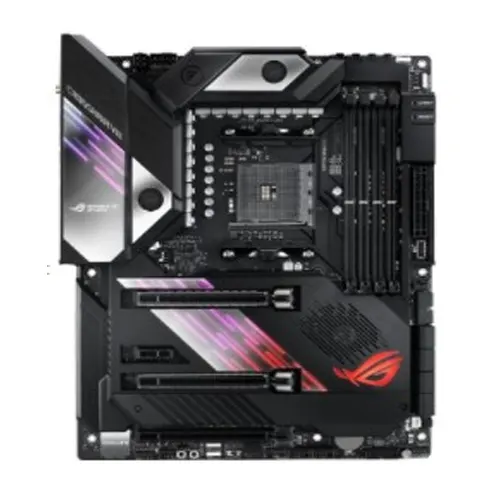 Best X570 Motherboard for Ryzen 9 3950X
View on Amazon Read Customer Reviews
As I previously mentioned that ASUS ROG Series products are more focused on having great aesthetics on the product with a few performance improvements this best motherboard for AMD Ryzen 9 3950x perfectly defines that. The ROG Crosshair VIII Extreme is a solid improvement over the previous models because it has some major changes in it. So, let's take a look at them. The design of the motherboard is very good looking It has ASUS and ROG logos on top of it with built-in RGB Lights. Metal protective plating and fan-powered heatsinks for cooling. The black color with light gold accents looks very good in the daylight where you can easily see them.
This best AMD ryzen 9 3950x motherboard is built for extreme performance and to get the most out of your PC hardware. Everything used in this AMD ryzen 9 3950x best motherboard is built with great build quality and top-tier specs. This ryzen 3950x best motherboard also comes with an AM4 socket just like the rest of the motherboards but it can support all Ryzen CPUs starting from 2000 to 5000 series while also including the G- Series as well.
It provides much better power delivery to the components as it is using an 18+2 Power phase design. The memory management is improved with this time being completely separate from the rest of the motherboard so that the memory signals can transfer without any interference. You can use 128GB of DDR4 RAM with it at a max speed of 5000MHz.
The Crosshair VIII Extreme has one of the fastest data transferring speeds due to its high-performance connectivity ports. So, there are 5 M.2 Slots and 6 SATA ports. There is also support for built-in Wi-Fi 6 and Bluetooth 5.2. Overall, this best motherboard AMD ryzen 9 3950x is an extremely good motherboard and it has only one downside and that is it is expensive.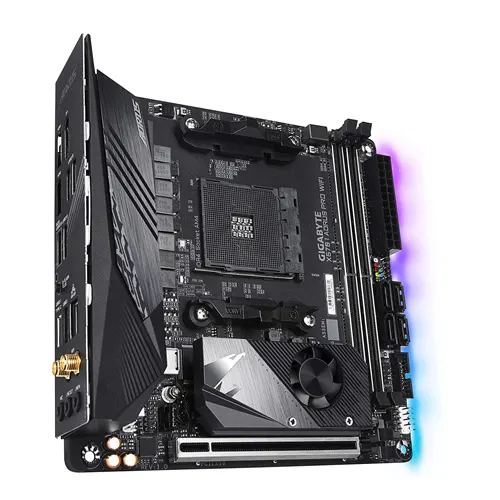 Best ITX Motherboard for Ryzen 9 3950X
View on Amazon Read Customer Reviews
Just like ASUS Gigabyte also makes some of the best motherboards on the market and people know it well enough as they also make some of the best-looking motherboards out there and this Gigabyte X570 ITX Aorus Pro WIFI is no exception to that. The name of the motherboard already tells that it is a small size motherboard but despite having a small size this best motherboard for AMD 3950x packs all the features and good design from a high-end standard sized motherboard and if you are looking for the best small-sized motherboard then it is the best motherboard for the ryzen 9 3950x that will be best suitable for you.
The design of this best ITX motherboard for ryzen 9 3900x is very good-looking as it doesn't miss out on any things that you would find on a standard size motherboard. It even includes a standard-sized fan heatsink on the chipset and has front LED RGB lights whereas on the back you have the full covering heatsink. Moving on to the hardware side this ting can support Ryzen CPUs from 2000 to 5000 series with the support for APUs. Due to the smaller size, there are 2 DDR4 DIMM slots which let you put in a max of 64GB of RAM at a max speed of 5200MHz.
The biggest concern with these types of motherboards is how they will handle high-end GPUs but that is not the case with this one. This best ryzen 3950x motherboard comes with a PCI-E 4.0 x 16 slot with Ultra Durable PCI-E armor and if you want to add more than you can add them through the Dual PCI-4.0 C4 M.2 Connectors. It also has built-in Wi-Fi 6 connectivity and high-end Fine Gold Audio Capacitors. The Motherboard is both durable and has good specs so it will be a better choice to consider if you want something powerful and good-looking at less price.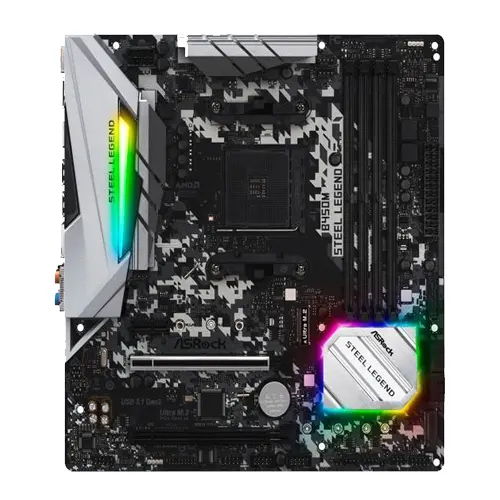 Best Micro ATX Motherboard for Ryzen 9 3950X
View on Amazon Read Customer Reviews
Many people still confuse ASUS with ASRock by thinking they both are the same companies and have the same products but that is not true. ASRock is an independent company after ASUS and ASRock both separated their ways in 2002. ASRock makes budget-friendly products that are easily available to customers who have a low budget. The ASRock B450M Steel Legend is an extremely budget-friendly motherboard for people who have a lower budget.
This Ryzen 9 3900x b450 motherboard comes with all the necessary features plus a few additional features that further improve its performance. As it is a budget-friendly motherboard it doesn't have a great design but ASRock has tried to make it look better by adding RGB lights on the back I/O plate and heatsink. This best motherboard for AMD 3950x also has a black color with frost-white accents.
ASRock B450M Steel Legend has an AM4 Socket that can support Ryzen CPUs from 2000 series to up to 5000 Series including the APUs which is a very good thing from a motherboard in the budget-friendly category. Moreover, it also includes a 6-phase power design for robust delivery so that the proper amount of current can flow through this best AMD 3950x motherboard to the components. There are 4 DDR4 memory slots available on it which means that you can use 128GB of RAM with it at a max speed of 3200MHz. While the memory speed might seem lower but due to the support for Intel XMP profile and dual-channel memory architecture you can't notice any performance drops.
One of the biggest downsides of this dual 3950x motherboard is that you can use a high-end graphics card with it because it does not include a PCI-E 4.0 x 16 slot but instead is equipped with a PCI-E 3.0 x 16 slot. Finally, this 3950x best motherboard will be a good choice for those people who won't use a high GPU or hardware with it.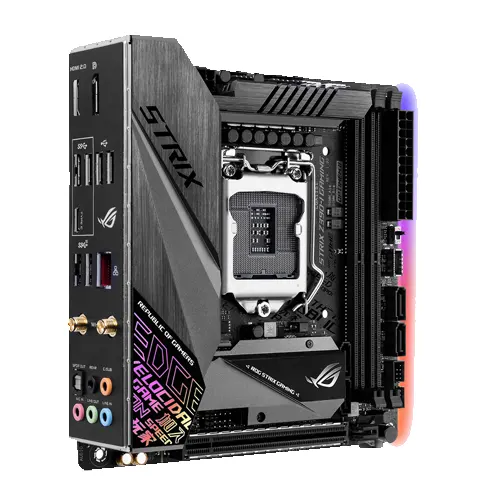 Best Mini ITX Motherboard for Ryzen 9 3950X
View on Amazon Read Customer Reviews
At the last stop here is another great product from ASUS once again this time with a small mini ATX form factor. While it's true this best motherboard AMD ryzen 9 3950x costs significantly less than other ASUS motherboards but it also lacks some other good features despite having a high-end chipset. At a first look, this AMD Ryzen 9 3900x mini ITX motherboard looks like a complete ready-to-game motherboard with all the protective metal plates and heatsink embedded RGB lights. ASUS has once again used the black color with dark silver accents on it with front RGB LED lights.
Moreover, this best motherboard Ryzen 9 3950x can only support Ryzen 2nd and 3rd gen CPUs including the APUs which is a little odd considering it can easily support newer processors maybe it will support those CPUs with a BIOs update. The 2 memory slots can support a max of 64GB of DDR4 NON-ECC Un-Buffered memory type at a max speed of 4800MHz.
In total, there are three expansion slots one is the PCI-E 4.0 x16 slot which is very good and the two others are the PCI-E 3.0 x16 slots. You can use AMD CrossFireX or Nvidia SLI. For External and wireless connectivity this best ryzen 9 3950x motherboard comes equipped with Wi-Fi 6 and Bluetooth 5.0 and on the back of it, you can also find USB 3.2 Ports both Type A and C.
The Audio quality of this best Asus motherboard for ryzen 9 3950x is also extremely good just like other ASUS motherboards. Some special features that are built into the BIOS for improved performance include Auto Tuning Turbo, GPU Boost, ASUS Crash Free Bios, 5 Way optimization, and Aura Lighting control. Overall, this best mini ITX motherboard for ryzen 9 3900x is best compared to the Gigabyte Mini ITX as they both share similar hardware features however the Gigabyte motherboard does have some slight higher benefits performance-wise. Otherwise, there is not much difference other than the price.
Conclusion
Finding a motherboard can be a hard task especially if you don't know much about them which is why I have enlisted every major detail about these motherboards that support Ryzen 9 3950x and that are best suited for the Ryzen 9 3950X as well as some small features that can bring enhancements in not only performance of the motherboard but also your external hardware. Now all you have to do is to look for the motherboard that fit your description of what you need in a motherboard and depending upon your budget make your choice.
Finally, a motherboard with a higher price usually has the best-in-class hardware but that does not always mean that you should buy it because there is no point in buying it if you don't need that much power or features out it. So make your choice carefully.