In the real world, dual-core motherboards are not common, because they are rarely seen in places such as offices, homes, or departments. This is because these motherboards require a lot of horsepower and they are very complicated to maintain.
You will only see them on Workstation or other big PC. But some gamers use them for gaming or other high-quality stuff like rendering or running high CPU requiring software because of the performance they provide.
So in this Best Dual CPU Motherboard guide, we will be discussing some of the best dual CPU-supported motherboardfrom expensive to low or mid-range that provide that performance but first let's take a quick peek at how they work.
So how do two CPUs work together on a computer? Well, the answer is quite simple whenever your one processor has a lot of load on it or doing so many multiple tasks that it slows down the speed of your computer it shares the load with the second processor and all your tasks can be done very rapidly.
Both Intel and AMD are working in their ways for this technology to make it more supportive on PC like AMD has released the Ryzen Thread ripper which is two processors combined in one single form and it's much better in any way you compare it and we will also be discussing the thread ripper with its supported motherboard later in this guide.
So now let's check out some of the Best Dual CPU Motherboards that support two CPUs and will do the right job for you.
Our Top 3 Recommendations
Best Pick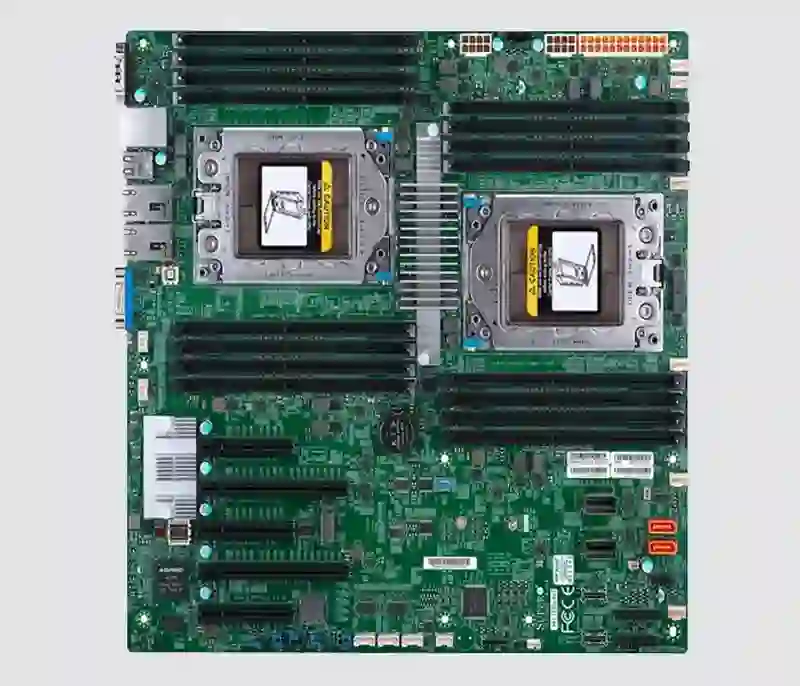 Super Micro H11DSI-NT
Most Popular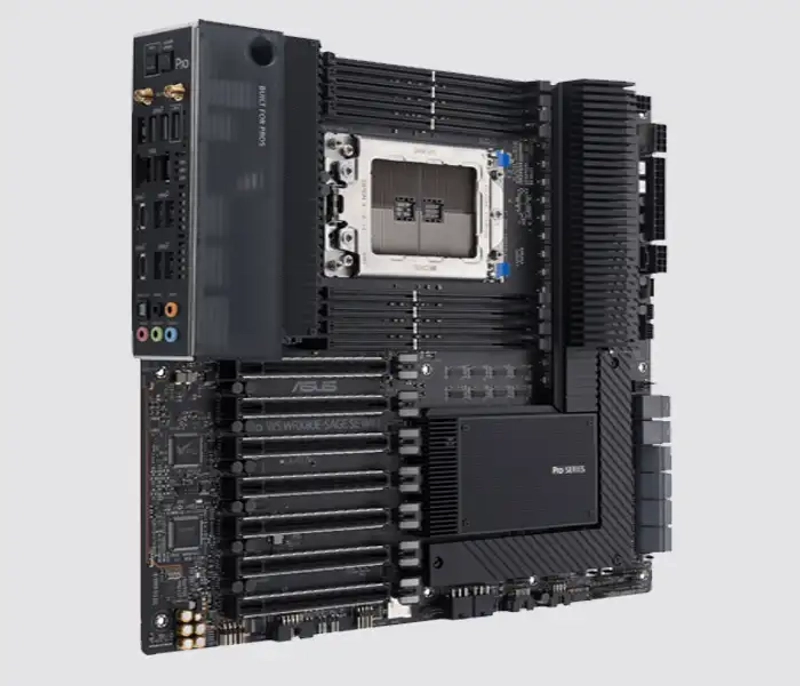 Asus Pro WS WRX80E
Budget Pick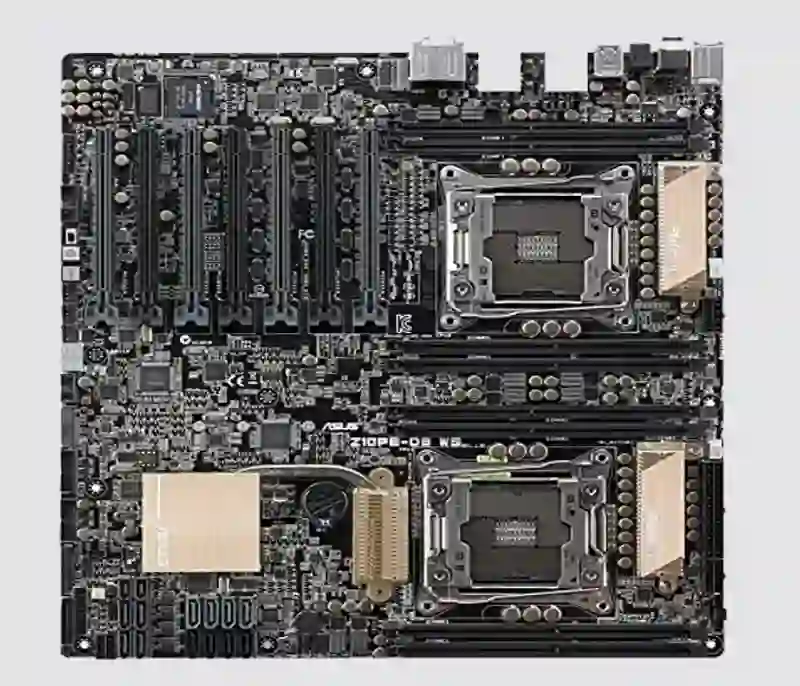 Asus EEB Power
Best Dual CPU Motherboard Summary
| Award | Image | Model | Price |
| --- | --- | --- | --- |
| Best Multi CPU Motherboard | | Super Micro H11DSI-NT | See On Amazon |
| Best Dual Processor Motherboard | | Asus Pro WS WRX80E | See On Amazon |
| Best Dual CPU Motherboard for Gaming | | Asus EEB Power | See On Amazon |
| Best Dual Intel CPU Motherboard | | Asus WSC621E Sage | See On Amazon |
| Best Ryzen Multi CPU motherboard | | ASRock Rack EP2C602 | See On Amazon |
Best Dual CPU Motherboard At a Glance:
Best Dual CPU Motherboard Reviews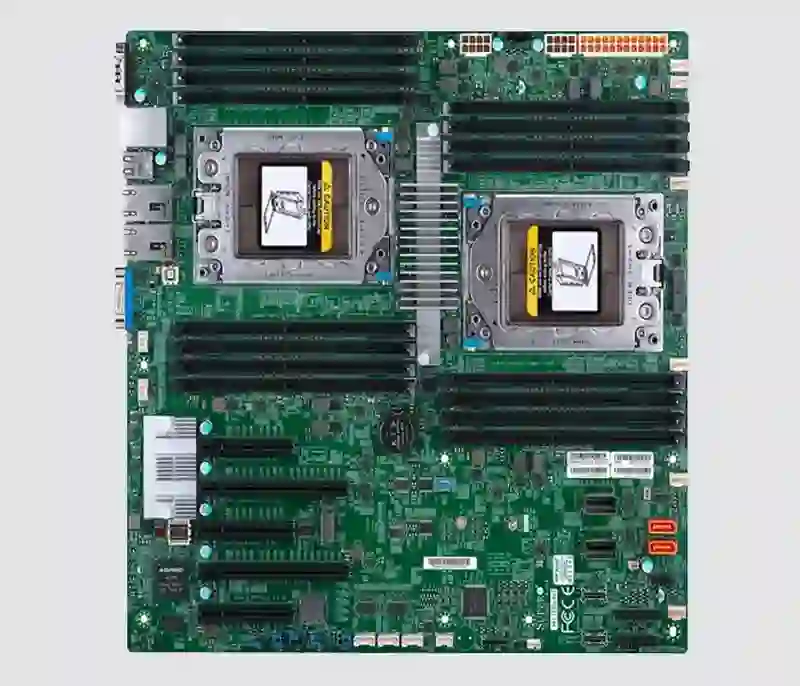 Best Multi CPU Motherboard
They are starting things with the Super Micro. Their H11DSi-NT is one hell of a good motherboard in its price tag and for two CPUs to work together while providing some other good features that we will now cover.
The H11DSI-Nt has an SP3 socket and Supports Dual AMD EPYC 7001/7002 series processors, consisting of 64 cores, and for memory, the motherboard has 16 DIMM DDR4 slots and has 8 channel memory bus, which supports 2666 to 3200 MHZ of RAM speeds.
You can install a DDR4 ram of up to 2TB, which is insanely high and will do a perfect job for handling both of your processors' memory voltage requirements are the same as a standard motherboard requiring 1.2V. So this is about the RAM support; now, let's talk about other noteworthy things.
The motherboard also has SATA3 Ports, which provide a transferring of up to 6GBPS, and for networking, it has an intel X550 10G Base Ethernet controller. Moving on to the USB support, it has 6 USB ports, including 2 USB 3.0ports on the rear of the motherboard, and it also has a TPM 2.0 Header, something which is very demanding nowadays for security and windows 11.
This Best Overall Motherboard for Servers only has 1 VGA Output. The checking mechanism of the motherboard provides all the necessary info about the components of the PC.
You can check the status of 8 fans which are connected to the components through 4 pin connectors, and control their speed and other things for temperatures; it gives you the info of both the CPU and the chassis, and if your temperatures are too high, the system overheats LED lights up which is mounted on the motherboard.
Other motherboard features include UID, Chassis Intrusion detection, and Chassis Intrusion Header. The H11DSI-Nt is a perfect board for your PC; if you are going for an AMD processor, it is also the best value for the money.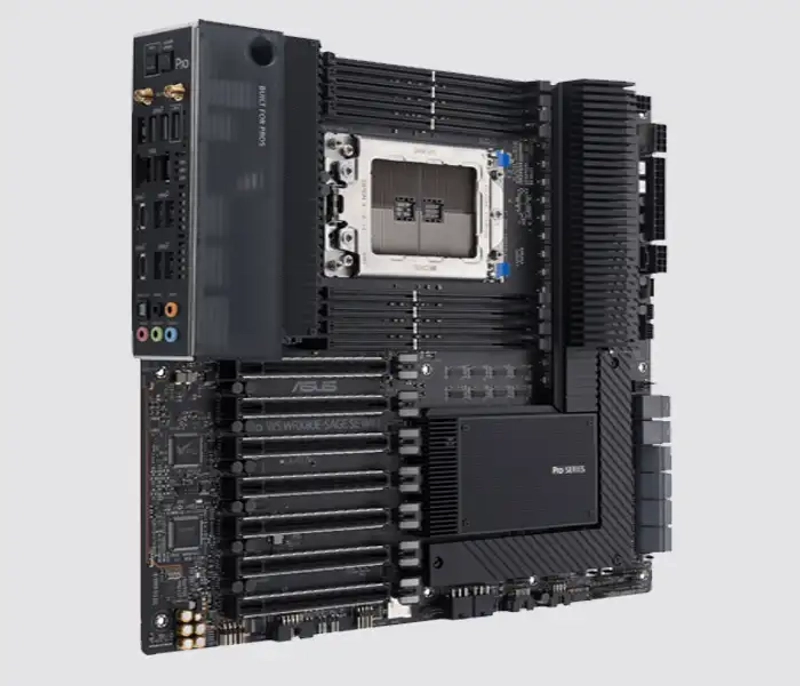 Best Dual Processor Motherboard
Now let's talk about the company that we all are familiar with. The Asus Pro WS is a beast of a motherboard; it has a sleek-looking design covered in black which adds a more premium feeling.
The dual threadripper Motherboard is protected with metal plates on the back also covered in black with a logo that says Pro Series. It's a nice little touch to remind you that it is not any ordinary motherboard. As I mentioned earlier, we will be discussing the threadripper well; this is it.
The Motherboard supports AMD Ryzen Threadripper Pro series processors with a chipset of AMD WRX80. Sadly the only downside of this best dual processor motherboard is that it only has 8 memory slots of DDR4 memory with the same 8-channel memory that supports memory sticks to 2TB.
The maximum memory-supported speed is 3200MHZ. Although it has fewer memory slots than the previous product, it still does the job quickly, so there is no problem using it.
The Asus pro also has massive 7 PCI-E expansion slots, and of course, it supports NVidia SLI and AMD CrossFire technology; otherwise, there will be no point in using 7 slots simultaneously.
The other good features of this Best Runner up Dual CPU Motherboard include high-speed USB adapters of 3.2 and USB type c, which is a good thing, and along with Wi-Fi, the Asus pro also has Bluetooth support. The massive relief in this dual-socket Motherboard is that it has a clear CMOS button on the Motherboard's backplate.
Unlike other motherboards, Asus has used high-quality audio jacks and capacitors, which provide more features and quality than other standards motherboards.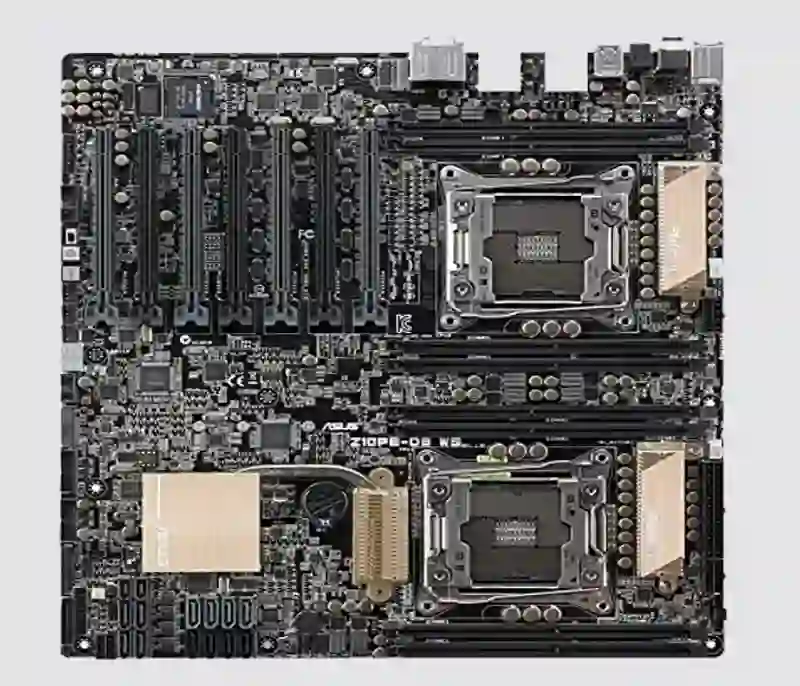 Best Dual CPU Motherboard for Gaming
Now let's talk about some intel-supported motherboards. So, this Best Dual Threadripper Motherboard is not anything like the previous Asus pro motherboard because that was a high-end motherboard, and this is not, which means that you have to lose some of the features and quality over the previous one. However, it still provides all the necessary things, and it is cheaper. So let's discuss those features.
So first of all, let's talk about the slots because they are necessary. Now the Asus EEB power has the same 8 slots of the ram of DDR4 memory with 8 channel memory that can support the memory of up to 512GB, and for SATA connectors, it has 14 SATA connectors, all equipped with high-speed transfers of 10/GBPS. It also has the same amount of 7 PCI-E slots that support both NVidia SLI and AMD Crossfire.
The dual CPU motherboard Xeon is also built with high quality, but it does not have any fancy things like metal plates or shiny stickers, but still, it looks promising due to its black cover.
The Asus EEB powerhouses an Intel 2011-3 socket, which runs Intel Xeon E5-2600 V3/V4 processors. These processors are widely known for their more cores and threads than any other intel family CPU, and the good news is that you can overclock both of these processors with the help of Xeon Turbo Charger and AI overclock Tuner in the motherboard bios; it can increase the speed of your processor by 10% to get you the best CPU performance possible.
It also has that is worth mentioning here because it has a USB charger+ dedicated port that can charge your mobile or device 3x times more rapidly than any other ordinary charger.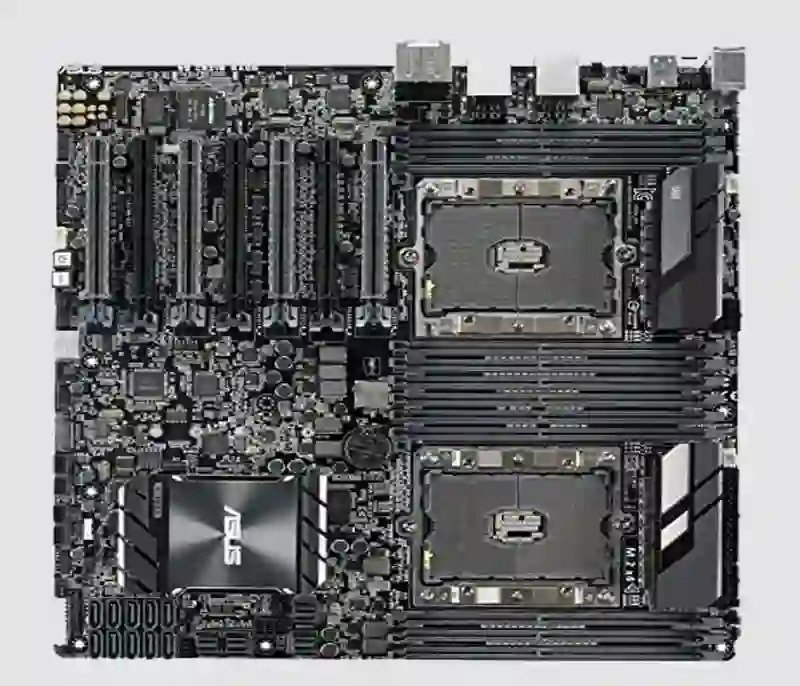 Best Dual Intel CPU Motherboard
This Asus motherboard also supports Intel-based processors because it has a socket of LGA3647 which also supports intel Xeon processors.
You can also overclock them with the help of two-way overclocking built In the bios, just like the previous Asus EEB power. Still, there is more to it than this cheap dual CPU motherboard. So let's check these features out.
First of all, the Best Dual Intel CPU Motherboard has more memory slots than the previous motherboard; it has 12 memory slots of DDR4 memory with quad-channel support and 8 channel memory bandwidth that allows you to put RAM inside your system up to 2TB. It also uses the ECC memory type faster than the standard memory kit.
This best dual CPU motherboard for gaming also features U.2 and M.2, which provide you extra fast transferring speed with the help of USB 3.2 and USB type C connectors located on the back.
Like the previous ASUS motherboard, it has 7 PCI-E slots supporting both AMD crossfire and NVidia SLI-E technology; another significant improvement is that you now have 10 SATA ports, all providing 10/GBs of transferring speed. Still, now you have 4x U.2 Ports with the transferring rate of 32/GBs.This dual motherboard processor also has many built-in features, making it win the #1 spot in benchmark testing.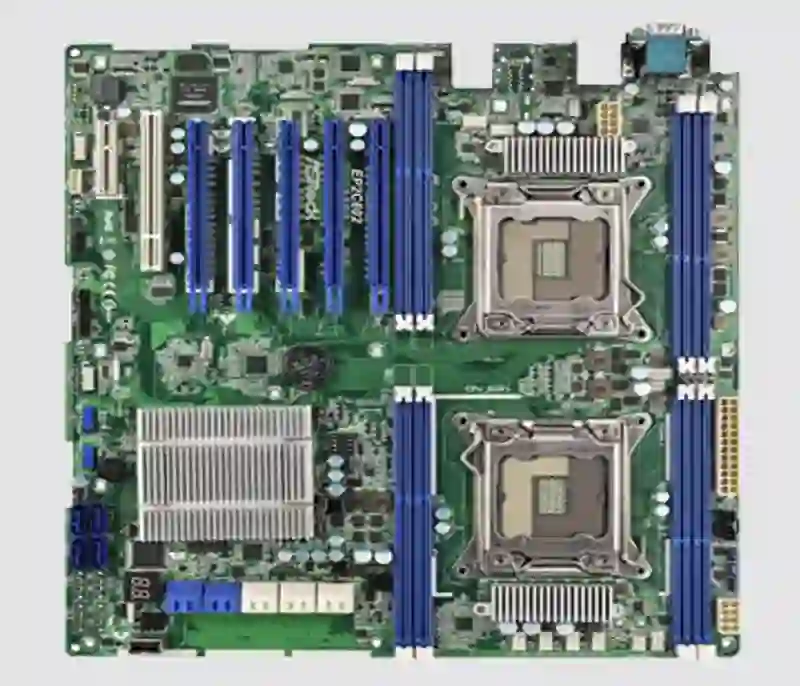 Best Ryzen Multi CPU motherboard
The ASRock Rack is an old type of motherboard that also supports Intel Xeon Processors with a socket of LGA2011, and it also helps hyper-threading.
This dual-processor motherboard has 8 memory DIMM slots that support quad-channel DDR3 Memory from 1066 MHZ to 1866 MHZ that can support up to 256 GB of ECC and UDIMM memory requiring 1.5 to 1.35V of power.
This Best Dual CPU Motherboard For Workstations has 4 PCI-E x16 slots, and the other one is PCI-E x4, and for SATA controllers, it has only 2 slots that provide 6/GBS of transferring, and the other 8 slots give 3gb/s on speed.
The LAN compartment of the dual CPU motherboard am4 houses Gigabit LAN that provides a max speed of 1000MB/S and supports various functions like Wake-On LAN and Dual LAN with Teaming Function.
The ASRock Rack EP2C602 is not any high-end Intel multi CPU motherboard; it only provides the necessary things to run two Processors, so it will not look like a premium motherboard. Still, it is an excellent dual-processor motherboard i9 that houses DDR3 Memory.
It will be perfect for Low budget People because it has many other features like TPM support, Thermal Sensor Header, 8 Fan connectors that can all be monitored through the bios, USB type A and other great features. So if you are a little short on cash and want an excellent multi-processors motherboard in DDR3 compatible Memory, the ASRock Rack will not disappoint you.