Intel has just revealed its new 12th generation I series processor, and it's a significant upgrade over the previous gen. The 11th generation of I series CPUs from Intel was not much of an upgrade, and if you compare their benchmarks score with the AMD Ryzen CPUs, they already were putting the 11th gen processors behind and sometimes with the similar result even being older.
That's how good AMD has become in making a good processor. Now talk about the 12th gen processors. Things started to shift in Intel's favour because these processors are nearly as equal to Ryzen CPUs but sometimes surpass them with good numbers on their side. No wonder why people are starting to shift towards Intel CPUs once again.
Our Top 3 Recommendations
Best Pick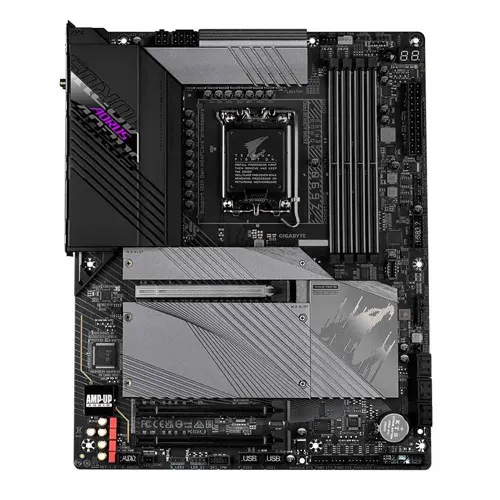 Gigabyte Z690 Aorus Pro
Most Popular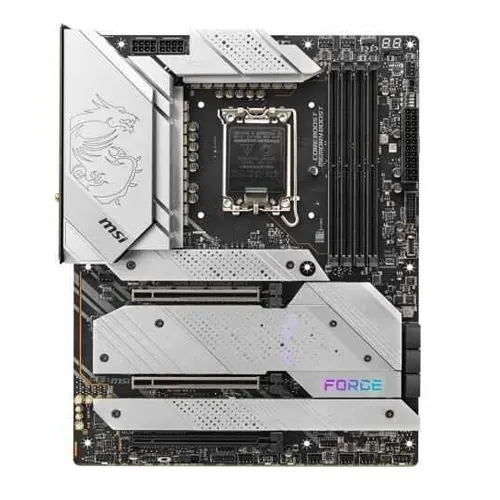 MSI MPG Z690 Force Wi-Fi
Budget Pick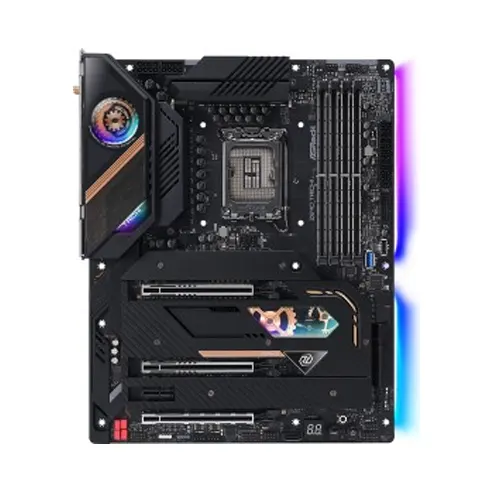 ASUS ROG STRIX Z690-E
It is a good choice if you have also shifted towards Intel's new 12th generation of Core I series CPU. The I9 12900 is a great CPU because it is very powerful and has a maximum number of cores to make the experience much better. However, not everyone is looking to buy such a beastly processor because they either don't need it or can't afford it.
This is why the Core I3 and I5 series CPUs exist. The I3 CPUs are the most budget-friendly option for you to choose and they can handle a simple amount of load quite easily, whereas the I5 Has more cores and threads with higher clock speeds, so it is built to handle a good amount of load without slowing down the PC like running heavy software and gaming.
A lot has improved the i5 12600K as it now has ten cores and 16 threads and is based on the Intel Alder Lake 10nm process. Despite having a powerful CPU, the one thing that you also need is a motherboard that can run this processor efficiently.
The motherboard is the main powerhouse of your PC as it controls all your other components. The I5 12600K needs a very powerful motherboard that can fully take advantage of these powerful CPU features so that you can have a good experience. To help you find the Best Motherboard for i5 12600K, I have picked some of the best motherboards available for this CPU.
Best Motherboard for i5 12600K Summary
| Award | Image | Model | Price |
| --- | --- | --- | --- |
| Best Premium Motherboard for I5 12600k | | Gigabyte Z690 Aorus Pro | See On Amazon |
| Best Gaming Motherboard for I5 12600k | | MSI MPG Z690 Force Wi-Fi | See On Amazon |
| Best Flagship Motherboard for I5 12600k | | ASUS ROG STRIX Z690-E | See On Amazon |
| Best Overclockable Motherboard for I5 12600k | | ASRock Z690 Taichi | See On Amazon |
| Best Budget Friendly Motherboard for I5 12600k | | MSI MEG Z690 Ace | See On Amazon |
Best Motherboard for i5 12600K At a Glance:
Best Motherboard for i5 12600K Reviews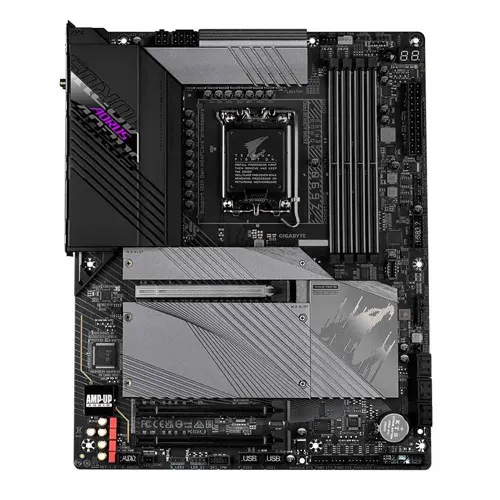 Best Premium Motherboard for I5 12600k
It starts with something that is both stylish and powerful. Most of us are familiar with the Manufacturer Gigabyte because of their excellent products. However, a gigabyte is primarily known in the gaming community for its performance products, and this is why I selected the Z690 Aorus Pro for the number 1 spot.
The motherboard is constructed stylishly, and it is also much durable with its protective metal plating on top of it. In addition, you have the AORUS logo and branding with the RGB lights mounted on the motherboard for its stylish appearance.
The motherboard easily houses the Core I5 12600K inside its dedicated socket, which can also support 11th gen processors. The motherboard also gives extended space for a decent size cooler to be paired with. 4 Dual-channel DDR5 slots with ultra-durable memory armour are given.
Next-Gen PCI-E 5.0 slots are also provided with SATA 3.0 ports that offer 6GBP/s of transferring speed. This best motherboard for 12600k is fitted with a 24-pin ATX power connector and an 8+4 pin power connector for the CPU. So you also have to be cautious while choosing a power supply for this Best Motherboard for i5 12600K.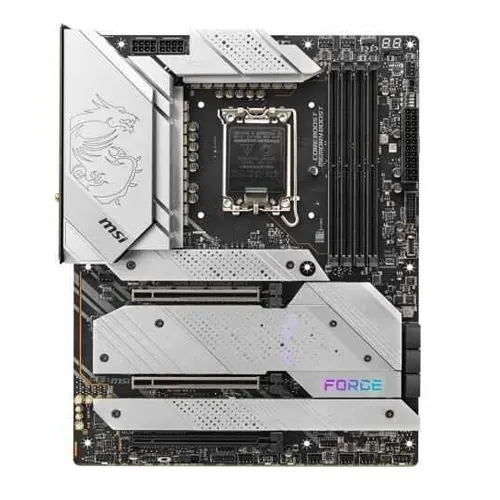 Best Gaming Motherboard for I5 12600k
MSI has always provided its products for the users because of their excellent performance and looks. They might not be the best in terms of design, but they are not bad either, and they have done a fantastic job with this best motherboard for the i5-12600k design.
The motherboard features the traditional black look, but you can find the Arctic white colour with the MSI logo and design carved into it on its heat sinks and plates. It also includes lighting inside its logos to make them more stylish and engaging.
The motherboard features a thermal power design and a direct 18+1+1 power design for extra efficiency and power. 4 DDR5 memory slots are fully isolated to avoid interference with the motherboard and RAM signal.
There is also a separated pump fan connector for the CPU cooler. The Z690 Chipset is efficiently cooled by a more oversized heat sink on top of it, and there is the latest PCI-E Gen 5 slot so that your components can also get cooled. Wi-Fi- 6 is also a feature for this motherboard for 12600k that comes with it as it is the latest and fastest chip for good Wi-Fi services.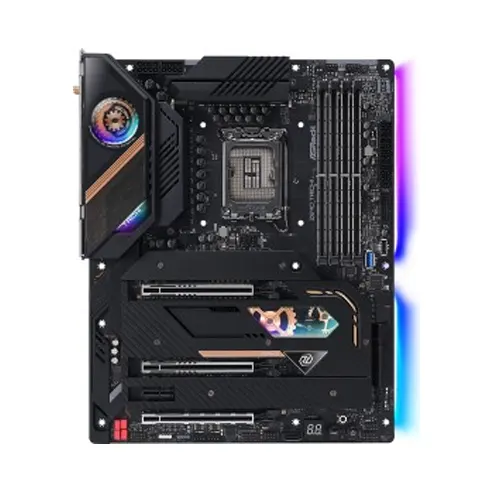 Best Flagship Motherboard for I5 12600k
ASUS is mostly known for building the best quality products with the build quality and design aesthetics. So If you are ever looking for the best-designed PC product, look into ASUS first as they are the best with it.
One other thing that ASUS is best at is the build quality, so you never have to worry about the product quality and life expectancy. Starting with the ROG STRIX Z690-E design, this 12600k motherboard has a quiet profile with its stylish heat sinks.
ASUS has kept the traditional black colour on the motherboard overall for a sleek profile; however, you get RGB lighting and modern heat sinks.
This motherboard is gaming ready with the 12th gen processor, moving to the motherboard specification. It features the same 18+1 power design that we have seen previously in the MSI, but with this best motherboard for the i5 12th gen, you also get high-quality capacitors and circuits for maximum durability.
As this is the Best Motherboard for i5 12600K overclocking beast, this best motherboard, i5 12600k, can easily overclock it with AI overclocking, Ai Cooling, and Ai networking for other components. The design is DIY friendly, with buttons for separated actions like flashing and CMOS resetting on its backside.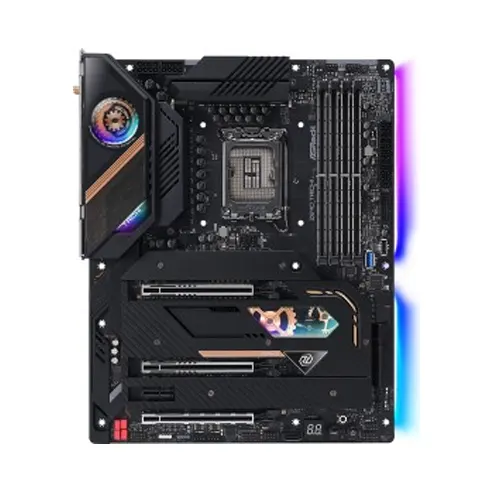 Best Overclockable Motherboard for I5 12600k
After parting their ways with ASUS, ASRock started building their PC products, and they offer the same type of quality as the ASUS but have minor differences in it.
ASRock Z690 Taichi is a very good motherboard for its price and my recommendation for people with a decent lower budget. ASRock has combined the traditional black colour with the gold on this i5-12600k best motherboard, and it looks great on it.
The motherboard has also won several awards for its excellent quality, including the editor's choice award.
So this i5 12600k motherboard houses the LGA 1700 socket, which houses the 12th gen Intel processors inside it. You have a 20 Phase Dr.MOS power design and combine that with the 4 DDR5 memory modules that can handle a max speed of insanely high 6400MHz when OC, you can experience the smoothest interface ever.
There are 2 PCI-E 5.0 X16 slots if you want to use a high-end graphics card with it, and in case you want to use the onboard Intel HD graphics, then you also have the HDMI and DisplayPort options on the back of it. Whereas, For much faster data transfers, you have 2 Hyper M.2 slots and fast 8 SATA 3.0 ports on it. It also has the USB 3.2 USB Type-A and C and a Thunderbolt port.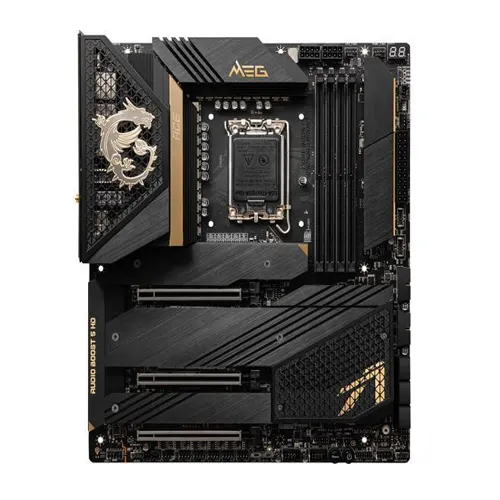 Best Budget Friendly Motherboard for I5 12600k
Let's look at the motherboard, which holds the title of Best Motherboard for i5 12600K for all purposes and a record breaker MEG motherboard from MSI. This mainboard for i5 12600k is the fastest yet most challenging and the best motherboard for the Intel 12th generation series processors.
The company has made no compromises on this one and ensures that you get to experience the best and most potent experience out of your PC.
Of course, this best motherboard 12600k is a high-priced product, but those willing to spend that much only have one question is it worth it? The answer to that is yes is certainly worth that much of the price.
So as you would expect from a motherboard this high priced, you get all of the latest features available in this budget motherboard for i5 12600k. This best mobo for i5-12600k has all the latest and fastest USB ports with quicker and newer Display ports on the back.
It uses high-quality components like capacitors, an Advanced SM1 process, and many more. 4 DDR5 memory slots with no signal interference and 4 PCI-E slots with 2 PCI-E 5.0, and for SSDs, there are Hyper M.2 slots.
This best motherboard for i5 12600 is a high-profile package as it has all the elements of a high-end product like a premium design and builds quality with premium components embedded in it. This best budget motherboard for 12600k is wrapped in 24K of Gold which somewhat explains the ratio of its high price.
Frequently Asked Questions
Is I5 12600K good for Gaming?
The I5 12600K is a fantastic choice for gaming purposes as the processor has both hybrid and performance cores combined. SO even for running high-end games, this CPU can perform exceptionally well for its price over performance value.
Is 12600k Compatible with DDR4 RAM?
Although Intel strongly suggests that you use the DDR5 RAM module with this processor for optimal performance. You can still pair this CPU with a motherboard with DDR4 memory modules as the processor supports backward compatibility For RAM.
Is I5 12600K better than 5800X?
The AMD Ryzen lineup has fallen behind a little bit in terms of performance with the Intel new 12th gen I series CPU. The I5 12600K beats the Ryzen 5800X in performance tests but not a lot. The I5 12600K has a 7% more performance boost than the 5800X.