SSDs are a great way of increasing your system's overall speed in an instant they are more effective when it comes to loading times or opening things than RAMs. There has been a continued debate over the internet for hard drives and SSDs.
Despite being an old-age product hard drives are still being used in computer laptops or even the gaming PCS even though they are bulky and don't offer higher data reading or writing speeds if you compare that to SSDs they are much smaller with a much faster data transferring rate and completely silent as well. Now the one main thing that SSDs lack is a higher storage capacity and they are much more expensive which is why hard drives are still being used even today.
Now if you have already made your mind of choosing the SSD as your primary storage device in your PC despite having less storage is still a great choice. SSDs not only play a great part in your system speedup performance but they also affect your gaming because when you are playing games on your pc the game data is being continuously read by your PC to load the game.
So if you decide to install your new game on an SSD drive instead of a hard drive you can get extremely fast loading times and might even get no lag with decent specs. Getting a good SSD is not an easy task because different companies offer different specs of it so to get the Best NVMe SSD for Gaming, on your PC, I have created this guide that will help you easily find the SSD that will best suit your needs.
Our Top 3 Recommendations
Best Pick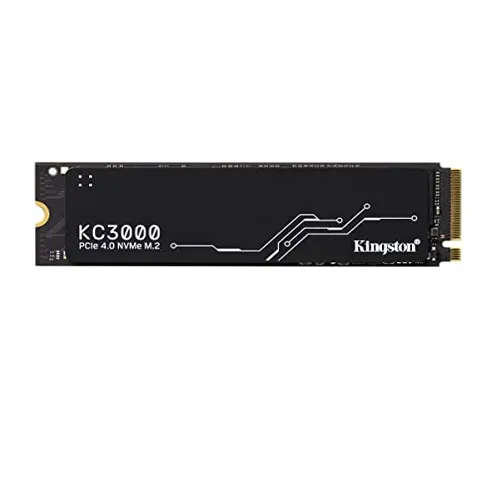 Kingston KC 3000
Most Popular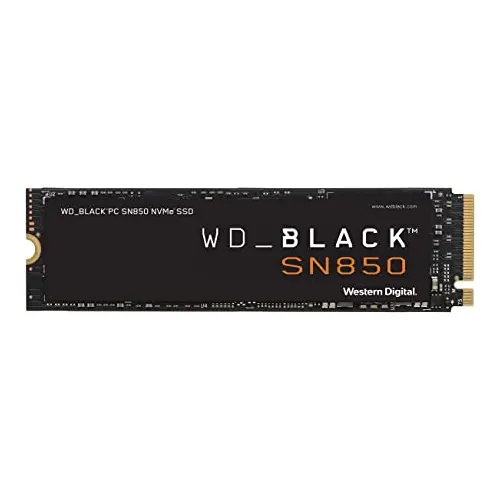 Western Digital SN 850
Budget Pick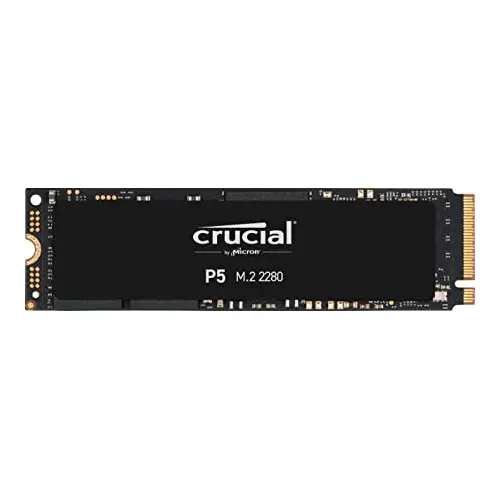 Crucial P5 plus
Best NVMe SSD for Gaming Summary
| Award | Image | Model | Price |
| --- | --- | --- | --- |
| fastest PCIe 4.0 NVMe SSD today | | Kingston KC 3000 | See On Amazon |
| great NVMe SSD at an attractive price | | Western Digital SN 850 | See On Amazon |
| A speedy PCIe 4.0 SSD that will last and last | | Crucial P5 plus | See On Amazon |
| best NVMe SSD for PCIe 3.0 speed | | Sabrent Rocket 4 Plus | See On Amazon |
| best value second-gen PCIe 4.0 SSD | | SK Hynix Gold P31 | See On Amazon |
Best NVMe SSD for Gaming At a Glance:
Best NVMe SSD for Gaming Reviews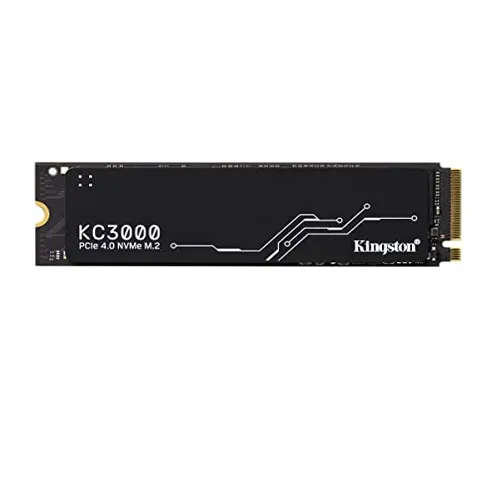 fastest PCIe 4.0 NVMe SSD today
Kingston is one of the oldest brands in the PC industry which makes storage devices for PC and laptops as well as external storage and you might be familiar with the company because you should have seen any of their storage devices at some point in your life if you are old enough. However, Kingston makes some of the best storage devices which is why they are one of the most popular manufacturers of it. So following this I have decided to give the number 1 spot to the Kingston KC 3000.
Theis best m 2 nvme ssd for gaming is a very well optimized SSD meaning it has a total reading speed of 7000MB/s and can write data at a speed of 4000MB/s. The speed differs depending upon the SSD capacity so if you are getting a higher capacity version it will have a speed greater than it. Speaking of capacity this SSD is available from 512GB and goes to 4TB which is more than enough for gaming.
Overall This is the Best NVMe SSD for Gaming that can operate at temperatures between 0-70C the heat sink located on top of it helps keep its temperature cool enough depending upon usage so it doesn't get damaged. The SSD is very lightweight and is M.2 enabled. Kingston has also given a 5-year limited warranty with free technical support with the SSD in case if you are having trust issues with it. Typically in my usage, their storage devices are some of the best that I have used as they don't get damaged easily.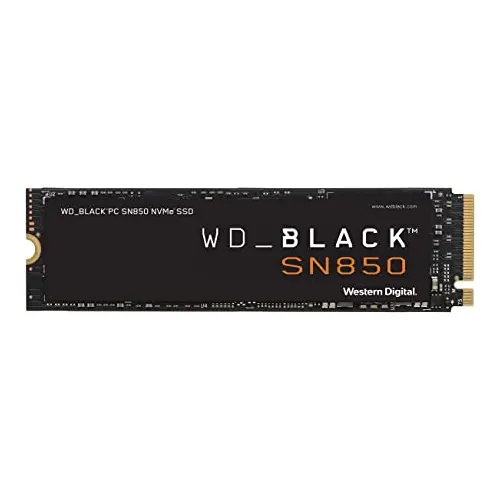 great NVMe SSD at an attractive price
Western Digital is yet another company on the list of popular manufacturers of storage devices. The company is not much old and is still making devices on a much larger scale. The WD SN 850 is a solid SSD with some exceptional features which make it more efficient in doing tasks quickly.
So let's start with its design and the first thing that you notice is that this SSD has a slightly bigger heat sink compared to the other because this SSD does tend to get a little bit hotter when use for long sessions in heavy use and not only that you also do get RGB lighting on it if you go for that option or if you don't want to have a heat sink and save some money on it then you can also do that.
Moving on to its specs side this SSD has a Reading speed of 7000MB/s same as the Kingston but the write speed of this SSD is higher with 5300MB/s which makes it exceptionally faster in performance.
The one thing that this SSD misses which is of importance is bigger capacity unlike Kingston this best budget nvme m.2 ssd for gaming does start from 500GB and only goes to 2TB and that is something to keep in mind before buying it. Apart from only a slightly lower capacity, this best budget nvme ssd for gaming is still great to be considered since it's specially made for gaming purposes with its optimization with WD Black Dashboard where you can quickly monitor our SSD health and its performance as well tweak some of the settings to run it faster.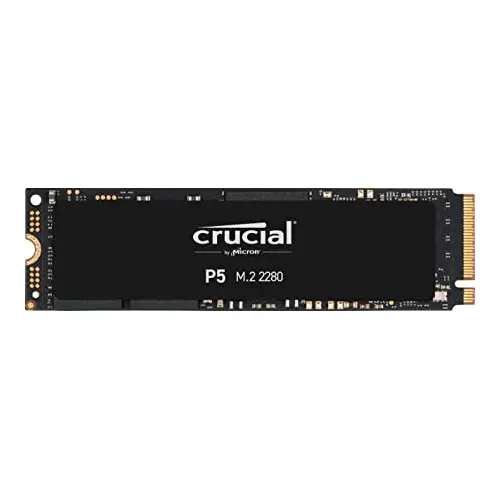 A speedy PCIe 4.0 SSD that will last and last
Crucial is yet another globally known brand but they are not known very much for making other things apart from RAMs since Crucial makes some of the best RAMs most of their income is generated from there but the company has expanded their operations and started making other PC parts.
The Crucial P5 Plus is the most expensive SSD on this list if you decide to go with a higher-capacity model because of its features and characteristics. Starting with the design its looks like any other normal SSD but with a specialized aluminum heat sink on its top which is both durable and effective in cooling down the SSD.
Moving on to the hardware side the SSD is capable of reading speeds at 6600MB/s with a writing speed of 7200MB/s. The Gen 4 PCI-E expansion slot with M.2 feature enables advanced software features like hardware-based encryption, Dynamic Write Acceleration, NAND, Error Correction, and Adaptive thermal protection to keep your data safe and secure.
The Gen 4 PCI-E availability unlocks extremely faster speed for quicker operations and a smoother gaming experience. To justify its higher price even more the company has given 5 year warranty period with the SSD. The much higher price makes it a difficult product to recommend however if you like the Crucial P5 plus then you can go for the lower capacity model which starts from 500GB and goes to a max of 2TB.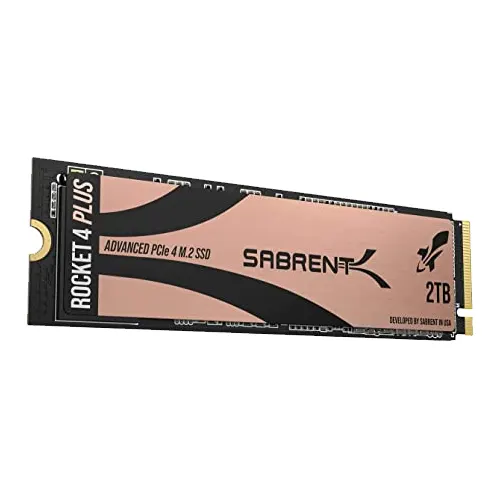 best NVMe SSD for PCIe 3.0 speed
Sabrent Rocket is also a good company despite its manufacturing on a lower scale the company makes sure that its customers get the best of their product without paying much money and this is also the case with the Rocket 4 Plus as it's a cheaper and good product at the same time.
The design of the Rocket 4 Plus is a little bit different from other SSDs. Most of the SSDs are colored in black color but the Rocket 4 Plus has a combination of black and pink beige on its front heat sink and it does look very nice on it improving its look also the heat sink is of aluminum for faster heat dissipation.
The Specs are also good enough for a price like this giving you a reading speed of 7000MB/s and a write rate of 5200MB/s which is good enough for faster data transfers and quicker loading times. Luckily the Rocket 4 Plus also uses the M.2 Security feature with the PCI-E gen 4 availability for a quick boost in its performance.
So if you are looking for a cheap yet effective SSD in the list of Best NVMe SSD for Gaming, then the Rocket 4 Plus is certainly the best choice overall as it also has good design which is different from all the other SSDs and it also includes some features like error correction and Sabrent own software in it for quick health monitoring and performance.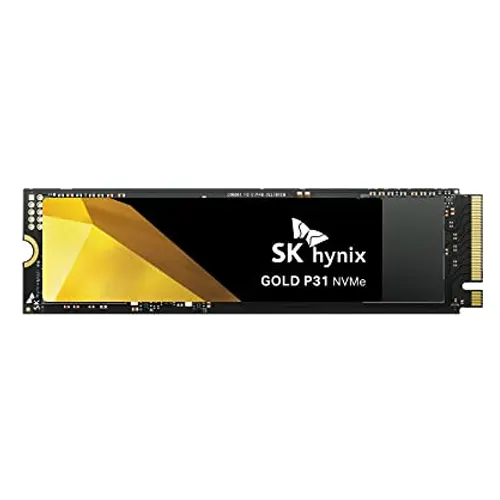 best value second-gen PCIe 4.0 SSD
AS you might have got the hint from the gold in the name this SSD happens to use a layer of P31 Gold inside the SSD PCB component. SK Hynix is a company that is all about taking risks and with different experiments they happen to make a completely different thing like the Gold P31 SSD.
This company was the first-ever company to use a layer P31 Gold inside of an SSD which not only helps in performance but also in better heat management. So if the SSD is ever used for a longer period under heavy load it does not lose its performance and life expectancy over time.
The good thing about this best nvme ssd for ga-z170x-gaming 7 is that it's not overpriced in any way and considering its reading speed of 3500MB/s and write speed of 3200MB/s it is much faster than a normal PCI-E Gen 3 slot SSD and hard drive. SK Hynix is also a very trusted brand in the gaming community so if you are willing to spend a lesser amount of money and still want a great performing SSD then you can easily go with the SK Hynix Gold P31 as its more efficient and faster than most of the PCI-E Gen 3 storage devices.