If you are looking for the best motherboard for AMD Ryzen 9 5900X, you've come to the right place. We will tell you about the specs, features, and pricing, and recommend the best motherboards for the AMD Ryzen 9 5900X CPU.
In case, planning on building a gaming PC using a Ryzen processor, that is fine considering the current market conditions, as these processors offer the best in class performance at a reasonable price. Currently, their most dominant CPU is the AMD Ryzen 9 5900x which is a flagship model processor based on AMD's new Zen 3 architecture and it competes with other tougher CPUs. This processor comes at a whopping 12 cores and 24 threads and provides great performance on benchmarks and in everyday use. The Intel 10900k processor at the time performed significantly lower in results which became the reason for users preferring Ryzen processors over the longer recognized Intel I-Series processors. As a result, AMD gained more popularity in the market.
However, one of the main challenges that you will still encounter after you purchase a high-end processor for your PC is to find the best compatible motherboard with which you can pair the CPU so that you can truly enjoy the performance of the investment. Buying a motherboard can be both simple and complicated. What you need to know about it will determine how simple or complicated it is for you. For knowledgeable users, they can easily pick one for themselves but those who lack knowledge may experience problems they would rather avoid. To make it easier for beginners, we've created a guide on the best motherboard For Ryzen 9 5900x so that they can easily pick one for themselves.
Best Motherboard For Ryzen 9 5900X Reviews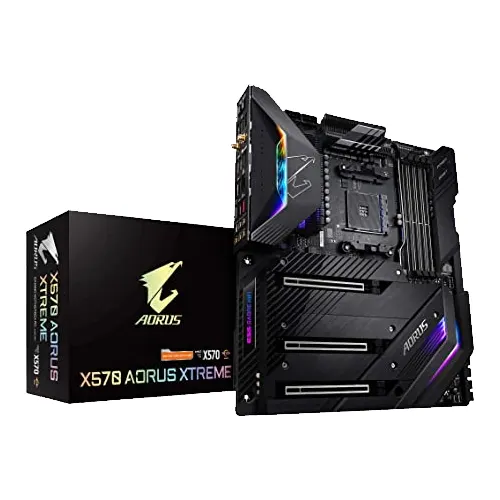 Best Premium Motherboard for Ryzen 9 5900X
View on Amazon Read Customer Reviews
Want a trusted and reliable Motherboard for your upcoming PC, then the gigabyte is a perfect solution for you in terms of reliability and quality. Concerning performance, you may face some downgrades but that's what makes them affordable and reliable for longer usage and the X570 is no exception. No doubt that this best Premium Motherboard for Ryzen 9 5900X is built of high-quality components. The design part of this motherboard is also stylish and keen looking. It has an all-black look with metal plates on top of it that includes RGB lighting on them.
Aside from design, motherboard hardware must also be considered in terms of what it can do. The motherboard equips the latest and finest chipset for the Ryzen series processor the X570 and an AM4 socket for handling the Ryzen CPU from the 5th gen to the 2nd gen series and this includes the G-Series processors in it. Besides a faster CPU, you may have faster RAM as well, and for this, the Gigabyte X570 comes with 4 DDR4 DIMM slots that can handle 128 gigs of RAM with the support of dual-channel NON-ECC unbuffered memory. Not only do you get two of the fastest NVME PCI-E 4.0 x16 slots but you have three on them and they support both NVidia SLI and AMD Crossfire.
Featuring the latest WI-FI 6 connectivity, this best Motherboard for Ryzen 9 5900x enhances your gaming style as well as your gaming performance. The utilization of advanced heat sink thermal designs ensures excellent heat dissipation against hot components. Sync all of your RGB Lighting with RGB Fusion 2.0 and arrange them more fashionably. Additionally, it provides a charging port that helps the user charge their phone while using the system. Overall, an excellent motherboard that goes well with your Ryzen 9 5900X processor.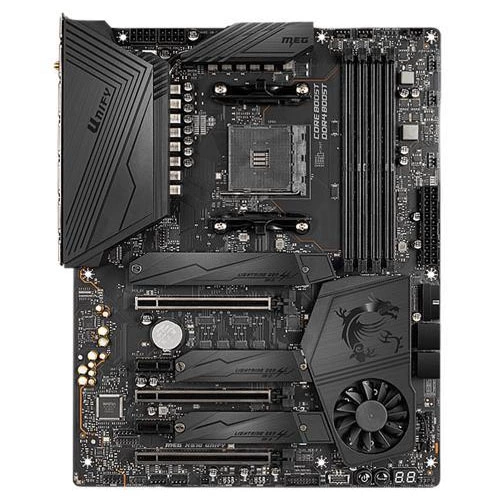 Best Overall Motherboard for Ryzen 9 5900X
View on Amazon Read Customer Reviews
MSI also has a reputation for delivering a high-quality product that is reliable in terms of the longer life spans of its hardware, and that's thanks to the high-quality components they use, whether the product is high-end or low-end. So you can count on their products if you have any trust issues. MSI MEG X570 Unify features a more openly designed motherboard for you and for that reason maybe you have to make a compromise on the design of it in case you don't like it. Even with all the black coats, it still looks good, and we don't seem to mind it.
As for its hardware peripherals, this Best Overall Motherboard for Ryzen 9 5900X is not disappointing at all they are the best in its price range. It is also based on the high-end X570 chipset with AM4 socket but it only supports Ryzen CPU from 2nd gen to 3rd gen processors but it can support 4000-G series processors. With four DIMM DDR4 slots, your RAM can reach speeds of over 5000MHz and can handle up to 128GB. The RAM support is the dual-channel along with both ECC and NON-ECC and uses un-buffered memory. 3 PCI-E slots are given and they are great for gaming and other purposes because they are all 4th gen x16 slots while also supporting AMD crossfire.
MSI's approach with this best Motherboard for Ryzen 9 5900x is to keep it as simple as possible with premium support at a lower price. That's why you still have the latest built-in Wi-Fi 6 and Bluetooth 5 connectivity, multiple RGB, and fan ports. MSI has also implemented its new Frozr heat sink design in this motherboard. These new heat sinks work more efficiently in keeping the components cool along there is also a dedicated fan to the X570 chipset.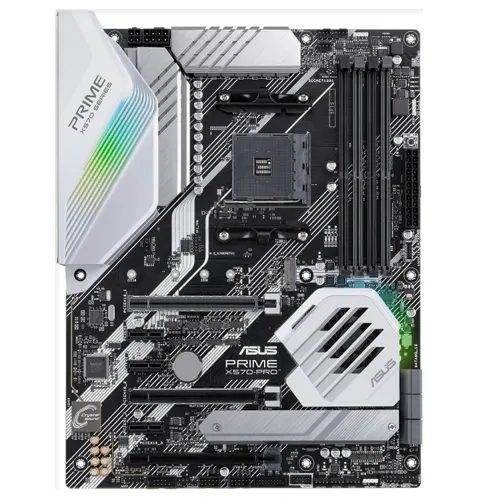 Best Enthusiast Motherboard for Ryzen 9 5900X
View on Amazon Read Customer Reviews
Ryzen 9 5900x requires some serious power management along with powerful components that can utilize its performance very well so that you can get the most out of your processor. In this case, ASUS Prime X570 Pro can also be the best suitable choice for you to pair your Ryzen 5900x CPU with it. The motherboard suddenly gives you the impression of it being a premium-level product with its mix of black and arctic white colors. However, it doesn't have any shiny or stylish plates on it.
The greatest thing about this Best Enthusiast Motherboard for Ryzen 9 5900X is its power delivery management to the components. ASUS Prime X570 comes with 12+2 DRMOs power stages and high-quality capacitors on it for stability during overclocking. The X570 chipset is perfect to be paired with the AM4 socket that supports 3rd and 2nd gen Ryzen CPUs. Memory support is the same for it however a little subtle change is that it can support RAM at 5100MHz rest of them go the same along with other motherboards. 2 PCI-E 4th gen x16 slots are great for pairing high-end cards. These slots also have the support for both AMD crossfire and NVidia SLI.
With all the basic stuff aside we can talk about the little features that this Best Motherboard for Ryzen 9 5900x has to offer. The first one is the single-click optimization tool. This tool optimizes the CPU RAM and GPU to run more easily with dedicated profiles. M.2 heat sinks are a great addition to this motherboard to help run your SSD as cool as possible. The availability of 3.2 USB type C ports on the front and the back makes it easier to connect peripherals relatively easily. With current-gen all about RGB lighting, this motherboard also gives you multiple headers for RGB lighting and has dedicated RGB on plates as well.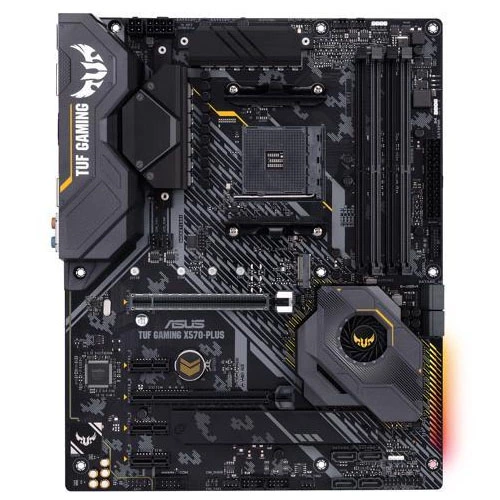 Best Overall Motherboard for Ryzen 9 5900X
View on Amazon Read Customer Reviews
An additional entry in this list of top motherboards from ASUS is the TUF Gaming X570 Plus. Now as the name of the motherboard already resembles what the motherboard is capable of you can already expect some things from it that you can get in a high priced motherboard but keep one thing in mind that it's a smaller version so there are some ups and downs to keep it as budget-friendly as possible. The focused part of this motherboard is its performance delivery to its consumer so the design can be an issue for some users. It's not like that's bad we love the combo of black and yellow.
The X570 is a great deal in this package along with the AM4 socket capable of running 3rd gen and 2nd gen processors of Ryzen. Memory slots go the same with the rest of the motherboards however little subtle changes can be noticed with this that includes RAM Memory speeds supporting at 4400 MHz with the Ryzen 3 processor. The latest PCI-E 4th gen x16 slot is yet still present in this small package which can still support crossfire X from AMD.
ASUS TUF Gaming X570 Plus is a great all-in-one solution for people with smaller cases. The most attractive thing about this best Overall Motherboard for Ryzen 9 5900X that we admire is that you still have 4 RAM slots on it which other manufacturers don't provide hence limiting it to only 64Gb of RAM. Other than these little changes there are not many differences, all the same, stuff is still present like overclocking abilities, USB 3.2, and RGB Sync with ASUS Aura. If you feel insecure about its colors and design then let me add something in here which is that both of the colors pop out in the dark when RGB lights are on whereas the yellow color can still be spotted on it even in dark without RGB.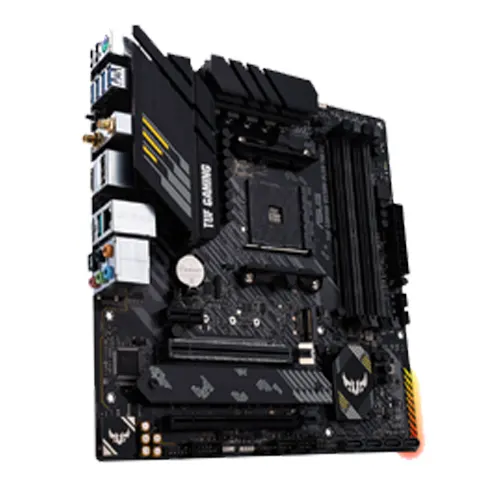 Best Micro ATX Motherboard for Ryzen 9 5900X
View on Amazon Read Customer Reviews
If you were not impressed by the Gaming X570 plus and don't want to purchase it then this motherboard can certainly be the next choice for you to consider here. This Best Motherboard for Ryzen 9 5900x comes with some changes in its package so that you can go even higher in a small form factor for instance.
The biggest change to be seen here is the new chipset that this Best Durable Motherboard for Ryzen 9 5900X comes with which is the B550M along with the same AM4 socket which houses the Ryzen processors from 3rd gen to 2nd gen. The 4 dual-channel memory slots that support ECC memory can handle 128GB of RAM at 4866 MHZ and that is a massive improvement over the previous ASUS TUF gaming X570. The higher the speeds of Ram the motherboard can handle and the CPU the better and faster the PC is. Once again the slot choice is not very wide as well in this motherboard so you have only 1 PCI-E 4th Gen x16 slot but the good part is that now it can support both AMD crossfire and NVidia SLI.
Storage is also another important factor that needs to be taken into consideration before buying one motherboard. The 2x M.2 slot gives you the ability to install two SSD in them whereas the 4 SATA ports provide an excellent transferring speed of 6GB/s and they offer the support of RAID as well. Another noteworthy feature of this motherboard is the built-in noise cancellation mic so that you can have the perks of a mic inside of your PC USB 3.2 GEN 2 ports with the support of both Type A and C. In the end and overall this Best B550 Motherboard for Ryzen 9 5900X is a solid improvement over the last ASUS motherboard and you can go with it without any worries.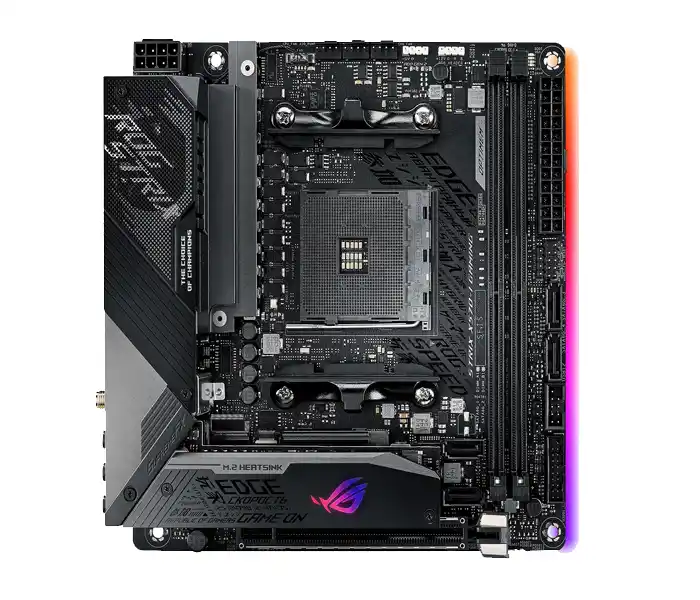 Best Mini ITX Motherboard for Ryzen 9 5900X
View on Amazon Read Customer Reviews
ASUS ROG series motherboard brought amazing deals in a nice stylish looking package first of all if you were worried about the size of the motherboard and were considering an even smaller motherboard then this Best Mini ITX Motherboard for Ryzen 9 5900X can be helpful for you in this situation or this can be a great addition to your build for saving even more money. ROG Strix X570-I has a very nice stylish looking design along with its metal plates. Its design language is very aggressive which resembles the ROG lineup of ASUS. The motherboard comes in black color for a dark vibe.
Once past the design, the ROG Strix comes with an X570 chipset which is again the high-end chipset for the AM4 socket. This chipset can help run your processor more efficiently and improve its performance in many situations. This Best Motherboard for Ryzen 9 5900x can take 2nd and 3rd gen Ryzen CPUs like the rest in its category. Due to its smaller size, it's very easy to be fitted in almost every single case but having a smaller motherboard has its compromises. The motherboard does feature a PCI-E 4th gen x16 slot for higher GPU installation but it only has 1. The memory slots are now 2 to keep it as small as possible but these slots can handle 64GB of RAM with ease and they also support dual-channel kits.
You can't expect to work with bigger storage with this X570 chipset motherboard because of its ports availability for SATA connectors. You have 2 slots that provide 6gb/s of speed and 2 M.2 slots for SSDs. For faster data transfers for the external devices the USB Type-A ROG Strix handles power delivery efficiently with 8+2 power stages.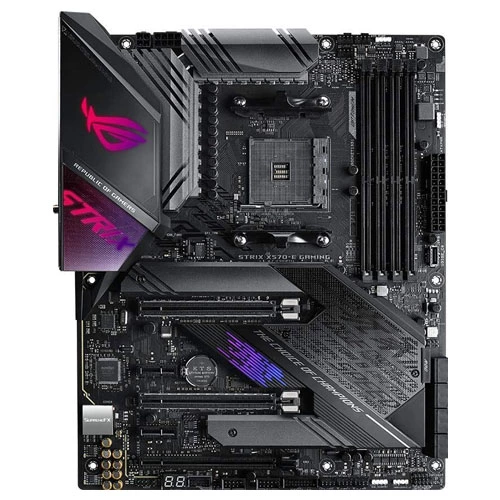 Best X570 Motherboard for Ryzen 9 5900X
View on Amazon Read Customer Reviews
The ASUS ROG Strix X570-E is a bigger version of the X570-I so it has a bigger size and specs compared to it. The Stylish sleek aggressive-looking design is brought back from the X570-I with some improvements. So the X570-E looks have significantly improved and it looks more premium to the eye. This time the signature black color is paired with a purple color and it has metal plates with premium ROG signatures on them. There are no complaints about the design of it.
ASUS ROG Strix comes with premium-level features so that you can get the ultimate performance out of it. The X570 chipset is well optimized with this motherboard to work alongside the AM4 socket that can support Ryzen CPU from 2nd gen to 5th gen so there is more ease of access with this Best High-Performance Motherboard for Ryzen 9 5900X. 4 DDR4 DIMM slots on this motherboard takes up to 128GB of RAM with dual-channel support and using ECC and NON-ECC both un-buffered. PCI-E 4.0 x16 with M.2 Slots is a great combo for a seamless and fast experience.
The ROG Strix is a good motherboard with all the premium level of features that you can expect to find with a high-end motherboard, not to that extent but they are here in this Motherboard for Ryzen 9 5900x. The availability of USB 3.2 both Type A and C on the front and the back, High-quality Audio capacitors, Advanced cooling solution with new heat sinks along with dedicated heat pipes with water cool pumps headers, and RGB headers are a great addition to it. Overall it's a solid step up from the X570-I and can be the perfect choice for heavy use purposes because it is built with the most high-quality capacitors and components to keep its life span longer and safer.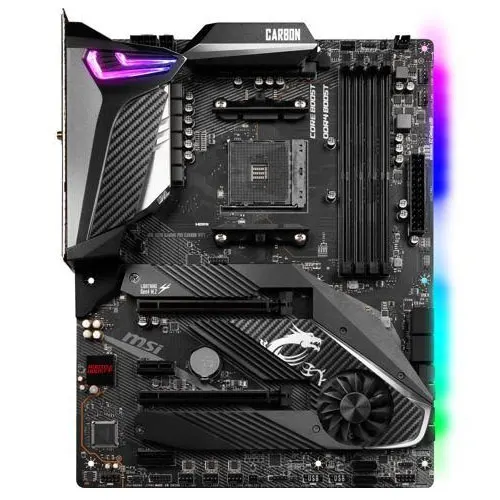 Best ATX Motherboard for Ryzen 9 5900X
View on Amazon Read Customer Reviews
MPG X570 also carries a stylish sleek design with it. The great addition in its design is the salient lines that run alongside on top of it the reflection that they make looks incredible. There are some white colors on top of it that also look decent on it.
Apart from design, the hardware is also pretty incredible to be seen in it. MSI MPG has the X570 chipset which is covered with a heat sink and a fan to keep it cool and it can support the Ryzen 5th gen to 2nd gen processors including its G-Series. The 4 DDR4 slots can cover up 128 GB of RAM with RAM clocks at 4400MHz with the support of a dual-channel which makes the RAM work more efficiently. The latest PCI-E 4.0 x16 slots are no exception in this motherboard there are two of them and they support AMD crossfire. Store MI and AMD Turbocharge 3.2 is yet another addition to the list of features in this motherboard.
MSI Dragon center is also a plus with this Best ATX Motherboard for Ryzen 9 5900X it is a one-click optimization tool in which you can also see the temps and control your fans and RGB lighting it provides you complete control over your Ryzen 9 5900x Motherboard and can auto-adjust its setting according to your way of using it so it can run more efficiently. RGB lights are now synced with MSI Mystic lighting that produces 16.7 million colors and is way brighter than other RGB lights.
Best Motherboard for Ryzen 9 5900X Buying Guide
Now once you have reviewed all of the given motherboards and you have to decide between buying one of them, then here are some quick buying tips you may find helpful.
On the surface, motherboards may seem appealing, but you have to make sure that they are compatible. All of these motherboards have almost the same specs but the biggest difference in them is the CPU support so look for the product which offers more CPU support.
Once you have decided on the CPU category it's time to look forward to the other most important part: select the motherboard that offers higher Ram management with higher RAM speeds. Lastly, you can choose the design part of them so choose the one which looks more premium to you so that way you can have the satisfaction of a premium motherboard.
Conclusion
To conclude all these products out in a short manner, all of these products enlisted here are the best that you can find. All of them offer you a wide variety of features which can also make you confused to choose one for yourself. IF you can't decide one for yourself and want our recommendation we would prefer you to go with The ASUS Prime X570 plus. This best motherboard is recommended to users who have more money to spend on something worthwhile.
As for the people who have low bank balance or aren't in favor of spending all their money on one single product then ASUS TUF B550-M could be the perfect pair for them as it has a smaller looking package so that you can save space and it still has all the aspects of a premium level motherboard even in a lower price tag.
Read For: Best Motherboards For Ryzen 7 5800X
Read For: Best Motherboards For Ryzen 9 3900X
Read For: Best Motherboards For Ryzen 7 3700X
Read For: Best Motherboards For Ryzen 5 5600X
Read For: Best Motherboards For Ryzen 5 3600
Frequently Asked Questions
Which motherboards are compatible with the Ryzen 9 5900X?
Many motherboards can be used with the Ryzen 9 5900X as long as they have the features and requirements to support the CPU. You just have to look for the right one to perform the chip at its full capacity.
Which motherboard is the best for Ryzen 9 5900X?
When looking for a motherboard there are many options to be explored especially with the motherboards that are Ryzen supported but the best bet would be the Gigabyte X570 AORUS Xtreme.
Is Ryzen 9 5900X a good CPU in 2022?
Ryzen series processors are based on AMD Zen Architecture which is fairly new and powerful to run intensive tasks. The Ryzen processors are the best budget processors and the Ryzen 9 5900X with its new 3rd Zen architecture is no exception to that. It performs well above expectations so it's still a good choice in 2022.