The moment AMD unveiled its new processors based on the Zen architecture it recaptured what Intel has been providing to its users for many past years. A good decent CPU in a midrange budget and fact their Zen processors not only came close and equal in the performance at a low price but their high-end chips completely dominated them in both the price tag and the performance which has become the reason why you can see so many other people using Ryzen processors in their PC instead of the Intel. The AMD Ryzen 9 3900x is a high-level chip in the list of AMD Zen processors with 12 cores and 24 threads. You get ultimate performance in both games and other high intensive CPU tasks. You can't beat the performance for the price that you are getting it for.
To get the maximum performance of this high-end processor, it will also need to be housed in something better. A lot of motherboards can be seen around but that does not necessarily mean that they can provide you everything that you are looking for even if you have a motherboard that is capable of running this high-end chip in heavy use, you still need other mandatory things to put your other parts in like latest ports and better compatibility otherwise you will end up wasting your money. It's better to research something before deciding on whether or not to buy it. That is why this list of best motherboards for Ryzen 9 3900x is filled with high-end motherboards for your high-end CPU without wasting your money in any way. The explanations we will give you will be straightforward and will help you make your choice. Now let's explore each of them and decide which one is best for you to choose from.
Best Motherboard for Ryzen 9 3900X Reviews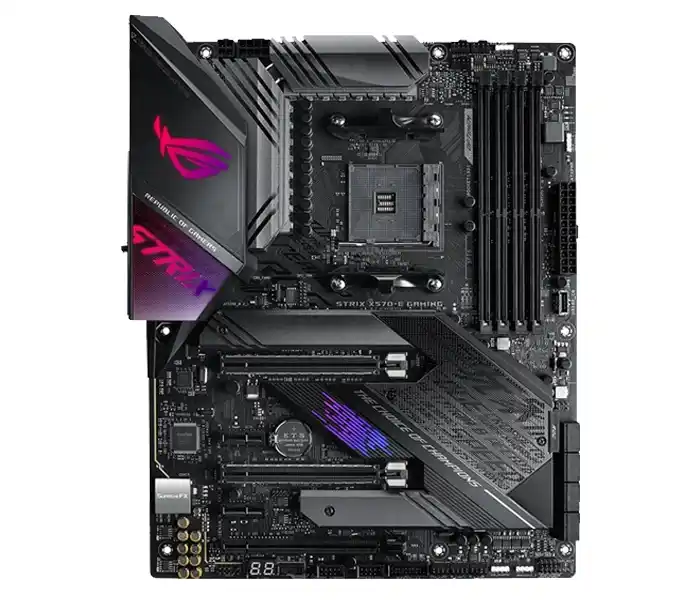 Best Premium Motherboard for Ryzen 9 3900X
View on Amazon Read Customer Reviews
ASUS has been a reliable brand in the gaming industry for many years and several reasons. Their build quality is exceptional and their price tag is always something to look at before buying any other thing. The first one in this list is the ROG Strix X570 E which is the flagship motherboard in the ASUS ROG series lineup. This motherboard equips all the features needed to provide you with a comfortable gaming experience. The motherboard has a beautiful black-colored design with metal plates and a heat sink on the latest AMD high-end X570 chipset to keep it cool for prolonged sessions.
The most striking aspect is the AM4 socket in which you can plug the Ryzen processors from 5000 series to 2000 series (Including G-Series) so no need of worrying about compatibility. The motherboard houses 4 DDR4 DIMM slots that can handle 128GB at a max 4400MHz. The slots use Dual channel Un-Buffered technology for faster response times. Gaming is relatively easy on this motherboard as you can easily plug in any of your favorite cards in the PCI-E x16 4 Gen slot which is the fastest slot for better graphic card usage and you also get the support for both AMD Crossfire and NVidia SLI.
This best premium motherboard for Ryzen 9 3900X also gives you 2 NVME 2.0 slots in which you can use SSD that can drastically improve your loading times much better. A large amount of data can't be stored in the SSD Since SSDs are too slow, and of course an HDD is needed, Furthermore, the ROG Strix provides six SATA ports which are fairly fast as it can transfer data at a rate of 6GBP/s. The external devices can also be plugged in easily through the built-in USB Type-A 3.2 and USB Type C 3.2 both on the front and the back.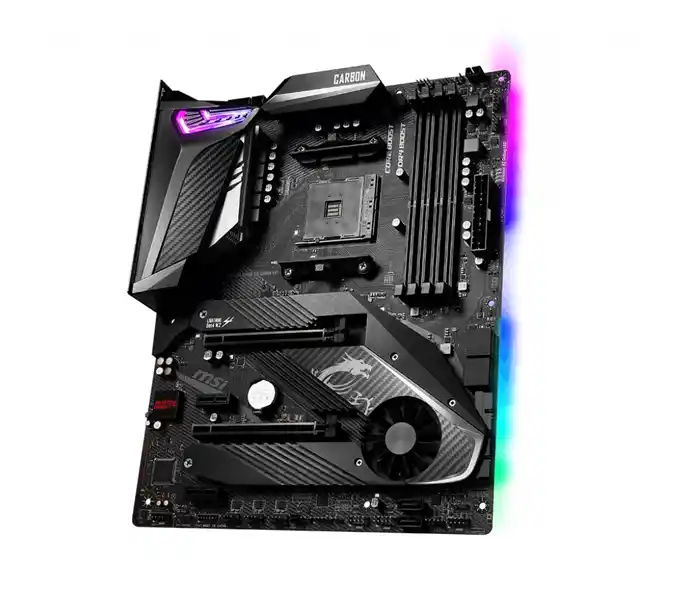 Best Flagship Motherboard for Ryzen 9 3900X
View on Amazon Read Customer Reviews
Another leading brand in the gaming community is the MSI but the MPG series are built for extreme usage along with a sleek design that can maximize the effect of beauty in your PC. The MSI MPG is a great motherboard for gaming. The biggest relief of this best motherboard for ryzen 9 3900x is that you don't have to worry about the heating issues anymore because the X570 chipset is protected with a more effective design adding a fan to the heatsink. The Ryzen 9 can tend to become hot when used for long gaming sessions. That is why this motherboard has an extensive heat sink design so that you can plug in your large-size coolers easily.
MPG X570 is equipped with the aesthetics of a premium-level motherboard so that you can comfortably handle it without any issues. The AM4 socket helps you with incompatibility issues allowing you to house Ryzen processors from 5000 series to 2000 series also including the G- Series. The RAM specifications are somewhat similar to the ASUS X570 ROG Strix. This best flagship motherboard for Ryzen 9 3900X also allows you to plug in 128GB of RAM at 4400MHz. The slot uses Un-Buffered memory with dual-channel support, but it is this time compatible with both the ECC and NON-ECC memory types. Users often know that gaming requires a premium quality graphic card to fully have the experience of playing it, which is where the PCI-E 4gen x16 slot comes into play.
Once you are past the basic stuff you can start to explore other features of this motherboard which includes Lightning gen 4.0 M.2 slot for incredibly fast accessing data and AMD Store MI and AMD Turbo USB that can be used by the USB 3.2 gen slots including both Type A and Type C. You can even overclock some of your other components using the dedicated boost controller which can be accessed by MSI dragon center.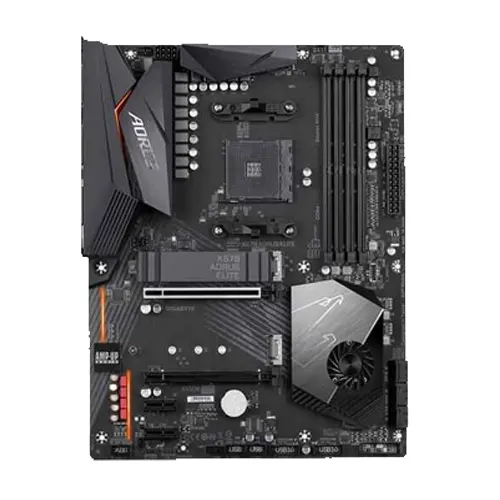 Best Overall Motherboard for Ryzen 9 3900X
View on Amazon Read Customer Reviews
In terms of leading brands in the gaming industry, gigabyte stands out. It is a trusty reliable brand for which you can go with, if you are having reliability issues on it, the first impressions of the motherboard are above good it may not be the best-looking motherboard because all the design effort is inducted in the Aorus series and they are well known for it but it still has some gorgeous look in it The motherboard comes in black color for a darker gaming vibe the dark color also makes the RGB glow effective on it looks more visible compared to other colors.
A Premium X570 chipset is a high-end chipset for Ryzen processors which is why this best overall motherboard for Ryzen 9 3900X is equipped with one inside of it which is covered by a heatsink and a fan to help maintain it cool. Along with this chipset is the AM4 socket which can also handle Ryzen processors from 5000 series to 2000 series including the G-Series. This motherboard also accommodates 128 GB of RAM with 4 DIMM slots that are dual channel and uses NON-ECC and ECC both Unbuffered memory. Furthermore, With this motherboard overclocked, you can get RAM speeds up to 4733MHz.
This best motherboard for Ryzen 9 3900x is packed with features that can get you a smooth as well as reliable experience. Gigabyte X570 has a 12+ phase digital, Advanced enlarged heatsink design for better CPU coolers and their compatibility, 2 Fast PCI-E 4.0 x16 slots, and 1 m.2 slots for SSD, Seamless audio quality with high-quality Audio providing capacitors. Support for RGB Fusion 2.0, the most useful feature is the Smart fan 5 which can get you real-time monitoring of different parts through the multiple temperature sensors on the board, USB 3.1 Gen 2 on the front and the back with both Type A and C. Overall a good pair for a Ryzen build.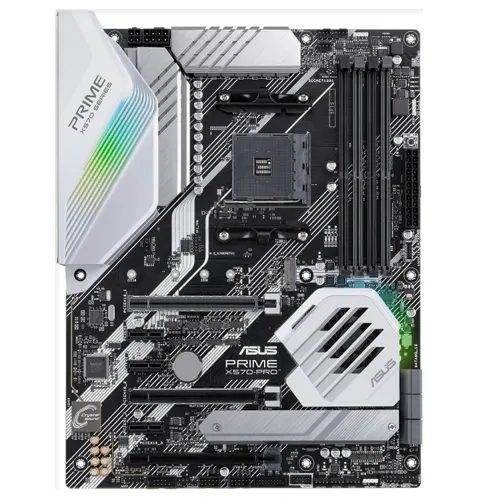 Best Budget Motherboard for Ryzen 9 3900X
View on Amazon Read Customer Reviews
ASUS Prime X570-P is the best go-to solution for lower-budget users looking for better performance. This motherboard equips all the things required to provide you with a comfortable interaction with it. The prime X50-P features a little stylish-looking design due to its mix with black and white aesthetics. A little touchup to the design it also has addressable RGB headers located on the front and the side of the motherboard.
As mentioned in the name you can already guess that it comes with the latest and greatest X570 chipset from AMD. Something a little different that you can find in this motherboard compared to the others is its compatibility with the processors X570 prime can only support Ryzen processors from 3000 to 2000 series but it is still doable and can provide you no interruptions in gaming or anything. The plus side of this motherboard is its support for RAM. It still has 4 DIMM DDR4 slots but now you can install RAM up to 5100MHz. It's still a dual channel and supports ECC mode. You can still install a high-end graphics card with no problems in the given PCI-E x16 4gen port.
The software features that this best budget motherboard for Ryzen 9 3900X comes with are also incredible. You can find and install a ton of them from AMD and ASUS. You can already see some of the options in the motherboard bios that help it to run more efficiently and if you want to overclock any component you can do it by either entering the BIOS or you can download separate software for it in the windows.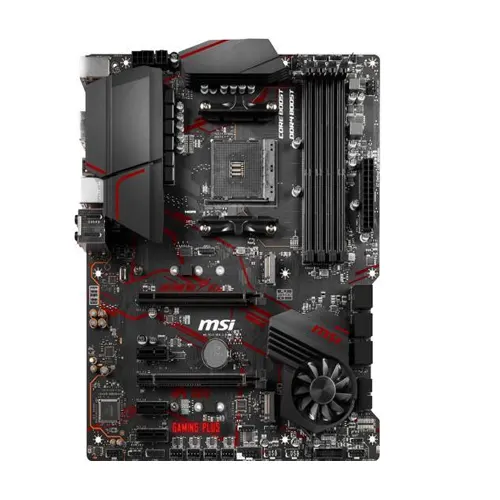 Best Enthusiast Motherboard for Ryzen 9 3900X
View on Amazon Read Customer Reviews
MSI MPG features with little improvements over both the design and the hardware. Let's first get to the looks of the motherboard since it's the first thing you are going to take a peek at. MPG X570 Plus also has a beautiful design like the other motherboards in this list but if you compare it to the X570 Gaming edge WIFI then you can see that this motherboard has red accents around it with the black look and it does look amazing with it. The X570 chipset is covered with even a bigger fan now for more effective cooling and the AM4 socket is here alongside the chip. This socket can handle Ryzen processors from 5000 to 2000 series along with the G Series for a premium level of gaming and productive tasks. Memory management is same for the both with both supporting 128GB with dual-channel Un-Buffered memory at 4400MHz. For a seamless gaming experience, you need faster loading times and for this best enthusiast motherboard for Ryzen 9 3900X has a PCI-E 3.0 x16 gen slot for the GPU and NVME 2.0 slot for SSD installation both of these slots are the latest and greatest improving response times much faster.
The heatsink on the top of the X570 chipset is not normal it is the MSI Frozr heatsink design that comes with double ball bearings ensuring a longer lifespan. RGB Lighting has also taken a little bit of improvement with Mystic lighting that provides 16.7 million colors that are controlled by one single click. There is not much difference between the MPG X570 and X570 gaming edge wifi. It's your personal preference which one you want to go with.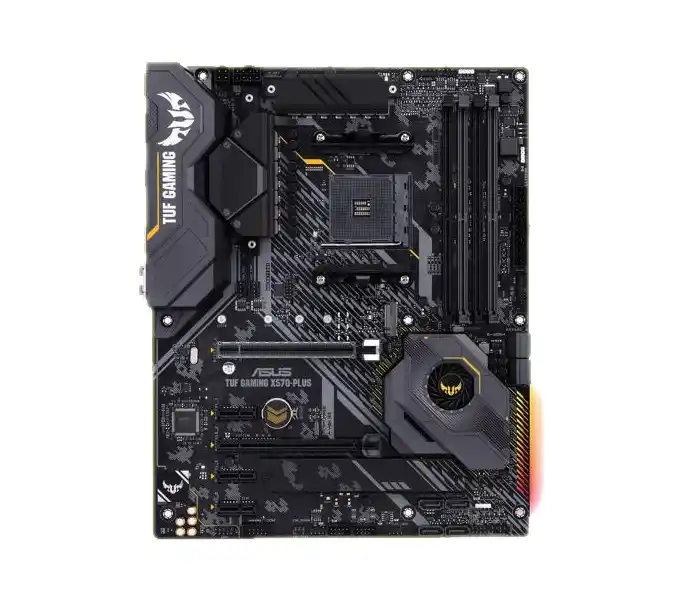 Best ATX Motherboard for Ryzen 9 3900X
View on Amazon Read Customer Reviews
Asus TUF X570 plus can also be considered as an option for a mid-range budget motherboard. It also features only enough things to get you a comfortable experience in your buying process. This best ATX Motherboard for Ryzen 9 3900X is also very good for its price tag and you will not be feeling any regret about buying it which is why we have included it in this list. The design is good on the front with a black and yellow combination, the back, however, is not much good looking but it still does the job of providing necessary ports.
Once past the design let's take a look at the basic things. The X570 chipset is included with the AM4 socket that supports only 3rd and 2nd gen Ryzen series processors and they are also good. Plugging in 128 GB of RAM is still possible with the dual-channel support at 5100MHz however only ECC is supported and this varies by CPU how the currently installed CPU supports it. Unexpectedly you have two dual PCI-E 4gen x16 slots which also means that AMD crossfire is supported on it. For competitive gaming and a high-speed internet connection, the Realtek L8200A Ethernet is present along with Intel's built-in Wi-Fi support.
6 SATA ports are present at a convenient location for easier access. You can have the full advantage of these ports by installing a higher RPM HDD that has a higher data transfer rate. These ports can provide you with speeds up to 6GBP/s. For external USB connections, there are both type A and C 3.2 connectors on the front and the back. High-quality audio is not a problem with motherboards either because of the high-quality Realtek audio capacitors. Now in case you were not impressed by the colors of it then don't worry you still have the RGB support on this best motherboard for ryzen 9 3900x also.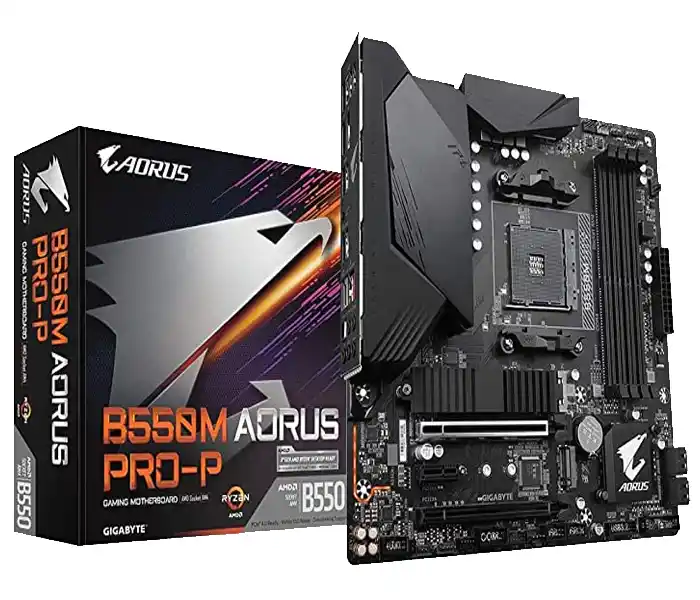 Best Micro ATX Motherboard for the Ryzen 9 3900X
View on Amazon Read Customer Reviews
If you have an even lower budget then no worries, because there is still a decent option for you that you can consider buying. The Gigabyte B550M pro is focused more on your comfort level than its looks or fancy things which makes it the best low-budget motherboard. Design is not very special but it still looks decent and can do the job of attracting because of its mix with black and arctic white color. The quality of this motherboard is also superb solid being protected with metal plates.
Although the chipset is significantly degraded in this motherboard it still is very good and can do the job without any issues at all however the plus side is that the AM4 socket can still support Ryzen processors from 5th gen to 2nd gen which solves the problem of compatibility. Another plus side is that the RAM slots are dual channels with both ECC and NON-ECC support. The maximum limit of the motherboard for RAM is 128GB at 4733MHz which is impressive to see in this price range. PCI-E 4.0 x6 with Dual NVME slots is also present in this motherboard so you can still plug in any of your favorite cards without any issues.
Gigabyte has built this best Micro ATX motherboard for the Ryzen 9 3900X with the user performance factor in their minds. Most of the users in this price range are more focused on the ease of access that it can give them. They don't care much about the design and just want it to perform better in day-to-day usage of their PC and this best motherboard for Ryzen 9 3900x does that beautifully compatibility is a no issue with it. It still packs the perks of a premium-level motherboard in performance.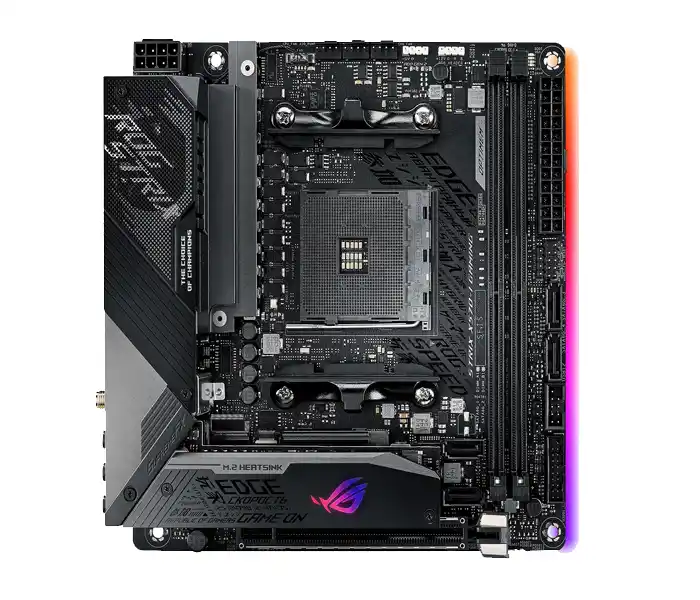 Best Mini ITX Motherboard for Ryzen 9 3900X
View on Amazon Read Customer Reviews
The ROG STRIX X570-I is a complete all-in-one solution for those consumers who don't want a much bigger motherboard or don't have enough space in their PC case that can house a big size motherboard in it. ROG STRIX X570-I is a small form factor motherboard that can be fitted with ease in any smaller case. Of course, you have to compromise on some things in a smaller motherboard but this motherboard can still provide you with the necessary items needed to install all the major components in it.
The first thing that you have to make a compromise on is the availability of the rest of the ports of the basic stuff is all good. This best Mini ITX motherboard for Ryzen 9 3900X comes with the X570 chipset which is good and the AM4 socket. You can still use a Ryzen processor from 5th gen to 2nd gen in this motherboard so no worries here. There are 2 DDR4 DIMM slots on this motherboard capable of handling 64GB of RAM at 5100MHz. These slots use Non-Ecc and Unbuffered memory types. The good news is that you can still install your favorite high-end card thanks to the availability of the PCI-E x14 4gen slot and the SSD with the M.2 slot.
Due to the smaller size of this best motherboard for ryzen 9 3900x, you can't find any fans on it but you have heatsinks on it that can do the job just fine. You can still find high-quality audio capacitors on it and along with this, you can get 2 SATA ports on it. They both provide excellent high-speed transferring speeds if paired with a good hard disk.
Best Motherboard for Ryzen 9 3900X Buying Guide:
If you are unable to understand and can't figure out which one you want then always look for a motherboard that fulfills all your needs in one single package so that you don't have to buy any additional things for it. The things that you need the most in a motherboard are different.
The first and the most important is processor compatibility. The longer it can support the list of processors and the latest the better it is. That way you don't have to buy another motherboard specifically to use another processor with it.
Furthermore, it should provide easy access to the motherboard, indicating how reliable that motherboard can be for your usage. For this, you have to look for the most ports in a motherboard. Typically you can find the standard amount of ports in a normal-sized motherboard and they can also be reliable for gaming and other stuff.
Conclusion
The best motherboards for the Ryzen 9 3900x are laid out in front of you and you can pick any motherboard which you consider can live up to your needs. If you are a beginner and don't know which one to go for then we would recommend you the Gigabyte X570 Elite, a massive quality board with a high-end price. This motherboard has all the premium aspects of a high-level motherboard and you can't just go wrong with it.
If you don't have a huge budget and want something in a lower price range, you should consider either the Gigabyte B550-M pro or the ASUS X570 Tuf X570 Plus Wi-Fi. They both provide massive performance according to their prices. If you have a little higher budget then definitely an ASUS motherboard would be a great option but if you are a little short on cash then the gigabyte is certainly the choice for you.
Read For: Best Motherboards For Ryzen 7 5800X
Read For: Best Motherboards For Ryzen 9 5900X
Read For: Best Motherboards For Ryzen 7 3700X
Read For: Best Motherboards For Ryzen 5 5600X
Read For: Best Motherboards For Ryzen 5 3600
Frequently Asked Questions
Is Ryzen 9 3900X compatible with the B450 Chipset?
No, it's not a good idea to pair a Ryzen 9 3900X with a motherboard that has a B450 chipset because it's an under-volt motherboard that made the chip run hot and performed poorly.
Which chipset is good for the Ryzen 9 3900x?
Ryzen 9 3900x performs very well with the latest and greatest X570 Chipset and has no trouble running with it.
What motherboard is needed for the Ryzen 9 3900X?
Ryzen 9 3900x is a powerful processor so it needs a motherboard that is capable of handling its requirements. So the best bet would be to go with the motherboard that has an X570 chipset, better power delivery, and the latest features to run the CPU more efficiently.